Acer Aspire One A150 in black with 6-cell battery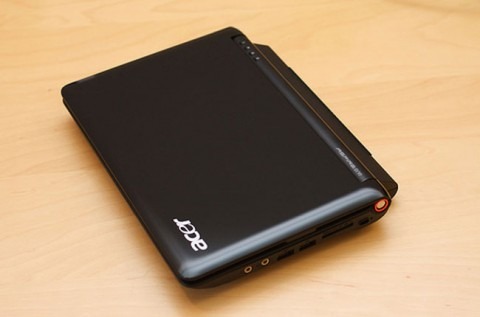 Photos of a black Acer Aspire One with a 6-cell battery pack have emerged, believed to be the Aspire One A150.  The photos are by Flickr user unten44; specifications of the netbook are in keeping with the current Aspire One netbook range, with a 1.6GHz Intel Atom N270 CPU, 1GB of RAM and 160GB hard-drive.  In fact, the only key difference other than the case color is the battery life, which Acer rate for up to 6hrs use.
The Aspire One A150 has three USB 2.0 ports, VGA output, audio in/out and dual memory card readers.  It also has WiFi a/b/g and wired ethernet, and weighs 1.26kg with the new, double-capacity battery (that's 160g more than the 3-cell variants).  User feedback suggests around 5hrs runtime from the larger pack.
It's expected to launch soon, It's already available, priced at €399 ($498) and to be, at least initially, the only way to get a black netbook from Acer.  You can see our review of the Acer Aspire One here.