Acer Aspire One 751: 11.6-inches, Atom Z520 & May launch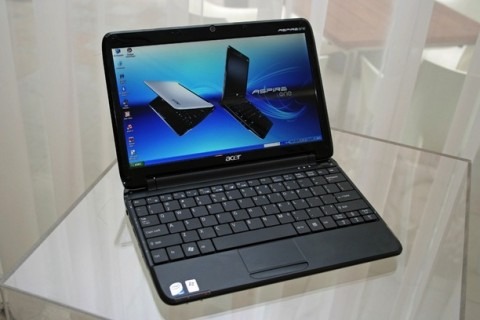 When Acer announced their 11.6-inch Aspire One netbook last month, they were pretty loose on the ultraportable's full specifications.  Now the largest netbook the company offers has been listed on their German site, as the Acer Aspire One 751, confirming that Acer have used the Intel Atom Z520 processor paired with the US15W Express Chipset and up to 2GB of RAM.
That's slightly different from the original rumors - when the netbook was believed to be the Aspire One 731 – that pegged the CPU as Intel's Atom Z530.  Otherwise the specifications match what we've heard previously: an LED-backlit 200-nit display running at WXGA 1366 x 768 resolution, integrated WiFi b/g and optional Bluetooth 2.0+EDR and triband UMTS/HSPA WWAN.
Both 3-cell and 6-cell batteries are available, with runtime estimated at up to 8hrs with the latter.  Pocket-lint were on hand for a 751 launch event, and snapped these live photos of the netbook, which is set to hit the UK in May for around £349 ($518). 
Acer Aspire One 751 specifications (translated):
Aspire One 751

Herewith we offer Acer's first 11.6 "wide screen Netbook before – the Aspire One 751! Let hochdefinierte content on the large LED backlit display to present and enjoy the amazing sound of 5.1 channel audio system with Dolby headphones. The ground-breaking advances and other forward-looking Netbook features of this new generation can not be desired.

Breathtaking sights and sounds

The Aspire One 751 brings life into your favorite movies! It offers a perfect visual effects on the 11.6 "screen with a 1366x768 pixel resolution and a top-quality sound through the headphones with the very real discernible 5.1 channel surround sound.

Always ready

A unique charging enough for the battery of your 751 Aspire One with an endurance of up to 8 hours of supply. Do limitations in your applications through the latest, small but powerful processor. Save a big workload to files on the rugged hard drive and take part in multimedia events via the Multi-in-one card reader and optional Bluetooth.

The focus of attention

The shell in glossy ruby red, shell white, sapphire blue or black diamond certainly attracts all glances! Only 1 "thin, has the delicate shape of the Aspire One 751 a futuristic look. A look inside reveals the final, while you flat and clear Acer keyboard FineTip an even greater comfort for your input supplies.

The Acer Linking

Use the multi-functional interface for effortless navigation. To always stay in touch, you can sign up for the Wireless, Fast Ethernet or 3G connection (on selected models) to decide. The integrated Acer Crystal Eye webcam and digital microphone provides online chat of the highest quality.

Technical specifications

Operating System Genuine Windows ® XP Home Edition

Genuine Windows Vista ® Home Basic

Processor & Chipset Intel ® Atom ™ processor Z520, supports Intel ® 32 Architecture

Mobile Intel ® Express Chipset US15W

Memory channel with a single SODIMM slot

DDR2 667/800 MHz SDRAM memory interface design

SODIMM slot: Supports 512 MB / 1 GB / 2 GB SODIMM for total system memory up to 2 GB

Screen 11.6 "HD 1366 x 768 (WXGA) pixel resolution, high-resolution (200-nit) Acer Crystal Brite ™ LED backlight TFT LCD

16:9 aspect ratio

Drives 2.5 "HDD 9.5 mm

Multi-in-1 Card Reader

Audio Dolby ® Headphone

High-definition audio support

Two built-in stereo speakers

MS-Sound compatible

Integrated Digital Microphone

Communication Acer Video Conference:

Integrated Acer Crystal Eye webcam, supporting enhanced Acer PrimaLite ™ Technology

WLAN: Acer InviLink ™ 802.11b / g Wi-Fi CERTIFIED ® network connection, supporting Acer SignalUp ™ wireless technology

LAN: 10/100 Mbps Fast Ethernet

WPAN: Bluetooth ® 2.0 + EDR (Enhanced Data Rate)

(Manufacturing option – not all models)

WWAN: UMTS / HSPA to 850/1900/2100 MHz and quad-band GSM / GPRS / EDGE (850/900/1800/1900 MHz), upgradeable to 7.2 Mb / s HSDPA and 2 Mb / s HSUPA, receiver diversity and supports Equalizing to 2100 MHz

(Manufacturing option – not all models)

Dimensions & Weight 284 (W) x 198 (D) x 25.4 (H) mm

1.25 kg with 3-cell battery

1:35 kg with 6-cell battery

Black diamond color

Sapphire Blue

Ruby

Mussel White

Battery & Power 30 W adapter with power cord

24.4 W 2200 mAh 3-cell Li-Ion Battery

• up to 4 hours of battery life

(actual duration depends on application and configuration)

57.7 W 5200 mAh 6-cell Li-Ion Battery

• Up to 8 hours of battery life

(actual duration depends on application and configuration)

Keyboard 86-/87-/91-Tasten completely Acer FineTip great keyboard with inverted "T" cursor layout

Multifunctional Touchpad Display:

• Circular-motion scrolling

• Pinch-action zoom

• Page flip

10 function keys, 4 cursor keys, 2 Windows ® keys, hotkey controls, integrated numeric keypad, international languages are supported

Power button with LED

Start Buttons with LED: Bluetooth ® *, WLAN / WWAN (* manufacturing option – not all models)

3x USB 2.0 ports

1x Monitor (VGA)

1x Headphones / speaker / line-out j

1x microphone-in-line

1x Ethernet (RJ-45) connection for Internet

1x mains connection

Productivity software applications:

• Acer Recovery Management

• Microsoft ® Works SE 9 with Office Home and Student 2007 Trial

• Google Toolbar ™

• Google ™ Desktop

• Google ™ Setup

• Adobe ® Reader ® 9

• Adobe ® Flash ® Player 10

• Microsoft ®. NET Framework 2.0

• Consumer-friendly Internet Explorer ® 7.0

• eSobi

• Carbonite Online Backup

McAfee ® Internet Security Suite (60-day trial version)

Windows ® Media Player 10

Acer GameZone

Communications Applications:

• Acer Video Conference Manager 4.0

• Windows Live Essentials ™ – Wave 3 (Mail, Photo Gallery, Live ™ Messenger, Writer)

Storage bag options

Additional Lithium Ion Battery

Additional power supply

External HDD

External optical drive

Warranty 1 year warranty including 1 years International Travelers Warranty (ITW)