Acer Aspire One 11.6-inch netbook official: 3G & 8hrs battery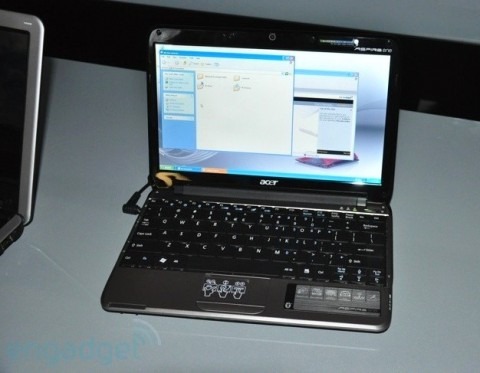 Acer have finally taken the wraps off of their 11.6-inch netbook, the predictably-named Acer Aspire One 11.6.  The subject of numerous photo-leaks over the past months, the 11.6-inch Aspire One packs the usual Intel Atom processor, paired with the Mobile Intel US15W Express Chipset, 160GB hard-drive and WiFi b/g, Bluetooth and 3G connectivity.
All that is packed into a chassis just 2.5cm thick.  Acer also include a soft-touch keyboard, Dolby Pro Logic sound and an LED backlit WXGA display; the whole thing weighs just over one kilo and can run for up to 8hrs on the 6-cell 5,200mAh battery.  We're not entirely sure which Atom CPU Acer have picked; previous rumors tipped it as the Z530.
Other specs include a webcam, VGA and LAN outputs (that have, as we saw in the early leaks, been pushed back to the hinge section so as to save space), and a multitouch-capable trackpad.  We're still waiting to hear back on pricing and availability for the Acer Aspire One 11.6-inch. 
Press Release:
A New Way to Say Netbook

Acer to announce the new Aspire One 11,6"

Born as a niche phenomenon, the netbook has been dispersed throughout the world, and with Gartner reviews estimating an increase in sales for 2009 that will mean 21 million units distributed sold at a global level (with a more cautious prediction 8 millions made 6 months ago).

Netbooks represent a fully strategic category of products that complete Acer's mobility products, which have always been the core of the business. Acer has taken care of every detail, from winning design to personalized interface and diversification of connection options. All these combined elements have allowed the Aspire One to be the most sold netbook on the market.

Being always-connected anywhere represents a diffused trend in the habits of the end-user. Younger generations seek a tool that allows them to communicate with instant messaging or to always be connected to their social networks. Professionals want a device that unites connectivity with mobility, a second or third computer to always carry with them be able to enjoy multimedia contents, internet or e-mail in every instant.

Today, Acer is taking on different dimensions: A new extended family, custom made for all. Where a variety of people in different stages of their life can gain satisfaction in the way they choose to communicate. Acer's strategy winning is to enrich it's product proposition to multiply affinity between user and their product.

Design therefore becomes a fundamental element for transmitting this world of ideas and meanings that it is connected to.

Today, Acer extends this family with an all-new the new 11.6" format.

Besides offering full connectivity, the new line is characterized for its defined style. Available in four glossy colors – white, dark blue, red and black – its design aspects do not go unobserved. Thin and aerodynamics, the new Acer netbooks evoke speed and mobility, underlining the ability to surpass the boundaries of space and time and to experience connectivity anywhere in full freedom.

The 11.6" Aspire One is equipped with an Intel® Atom™ processor and Mobile Intel® US15W Express Chipset. Notwithstanding the small size, the 11.6" Aspire One features a large 160 GB internal hard drive and a multi-in-one card reader.

Thickness reduced to one inch (only 2.5 cm), it's made for portability. The integration of WiFi 802.11b/g and Acer Signal Up technology allows easy access to available wireless networks, while Bluetooth connectivity and 3G guarantees even greater freedom: connection at 360 degrees, full control of the online experience, without limits on time and space.

This way, there are no limits to social interaction online, if not for those of the imagination. Acer developed the Aspire One 11,6 inch following a very clear point: by observing the daily life and the formal procedures of end users, and to combine them into special experience.

Elegant details, like the hinges of the screen and the aerodynamic metal shape with a drop of color inside or the activation switch on immersed in color that contrast with the surface texture, capture attention.

In the 11.6 inch versions, the attention to detail is extreme: the keyboard is 'soft-touch', to increase typing conform and give a pleasant feeling while chatting on-line with the friends. Dolby Pro Logic® sound and high-definition WXGA screen WXGA back-lit LED screen simulate the most advanced multimedia entertainment station; the extreme slimness, reduced to 2.5 cm of thickness, weighing just a little more than one kilo and with an 8 hours based on 6 cell 5200 mAh battery make the Aspire One easy to take with you, always.

Furthermore, there is a digital microphone and Acer Crystal Eye a webcam built into the frame: a small window to the world, to maintain the contacts by means of real-time video streaming, video chat and conference calling.

To make these netbooks thinner and to improve portability, the VGA and LAN doors were placed in the back angles of casing for comfortable access to cable management. Portal icons were printed on the borders to identify them more easily and to make them visible even when the cover is closed. One last practical detail: the touchpad is 'multi-gesture', allowing you to leaf through pages in the same manner as of a newspaper and allowing you to zoom with just a touch.
[via Engadget]