Acer Aspire One 532G Ion 2 netbook priced at €379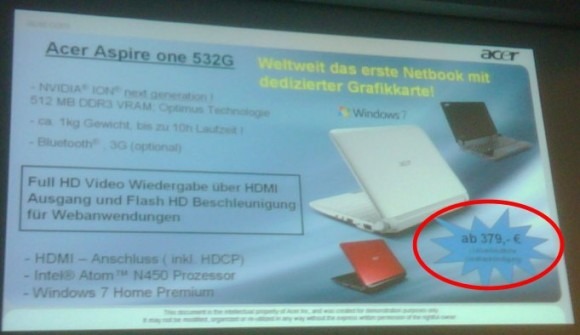 Acer may have brought their Aspire One 532G netbook
last month, but they were keeping quiet on what the NVIDIA Ion 2 toting netbook would cost.  They've
on that at their CeBIT 2010 press conference today, however; the 10-inch netbook will run to €379 ($516) when it arrives on shelves.
Your money gets you Intel's Atom N450 1.66GHz processor along with WiFi, Bluetooth and HDMI connectivity.  However, as we found out earlier in the week, 10-inch netbooks will get
of the NVIDIA Ion 2 chipset with just eight CUDA cores, as opposed to the 16-core version found on 12-inch or desktop machines.
That limitation seems to have resulted in – or at least contributed to – relatively low performance in graphics benchmarking, with the Aspire One 532G
than its first-gen Ion predecessor.  Still, Acer are claiming up to 10hrs battery life from the AO532G, which is considerably more than the previous model managed, and that's a compromise we reckon many would-be netbook owners will be willing to accept.
[
Twitter]