Acer Aspire AS5745DG 3D Vision notebook joins refreshed AS5742G, AS5745 & AS7745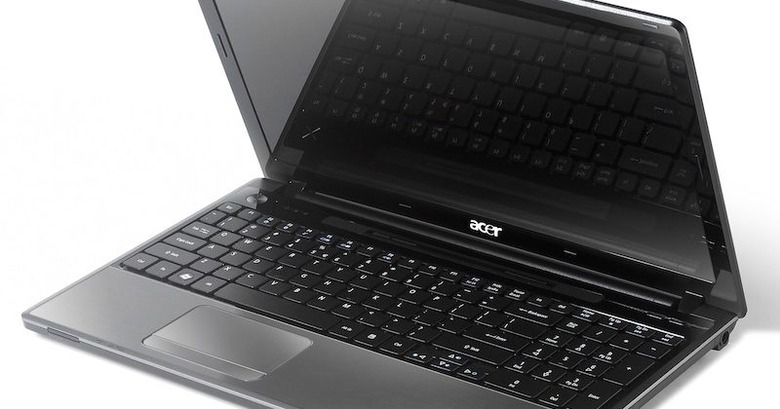 Acer has updated its AS5742G, AS5745 and Aspire AS7745 notebooks, throwing in a selection of new Intel Core i3, i5 and i7 processors, together with a choice of integrated NVIDIA Optimus or ATI Mobility Radeon HD 5650 graphics.  The 15.6-inch 1366 x 768 AS5742G and AS 5745 machines have a choice of HDDs up to 500GB, while the 17.3-inch 1600 x 900 AS7745 gets up to 1TB.  There's also the Acer AS5745DG with NVIDIA 3D Vision courtesy of the NVIDIA GeForce GT 420M GPU.
The AS5745DG has a Core i5 CPU as standard, along with a 15.6-inch 1366 x 768 display capable of 120Hz refresh rate.  There's also a pair of NVIDIA active shutter glasses in the box.  Acer also preloads software to convert 2D visuals to 3D, and there' WiFi a/b/g/n, an HDMI port, 1.3-megapixel webcam, four USB 2.0 ports and a 9-cell battery.
The Acer Aspire AS5745DG will arrive in late October, priced at $999.99.  As for the updated machines, they kick off at $749.99 for the Aspire 5742G, $649.99 for the Aspire AS5745 and $799.99 for the AS7745.
Press Release:
ACER UNVEILS NEW ASPIRE NOTEBOOK PCs PACKED WITH ENTERTAINMENT FEATURES INCLUDING ADVANCED NVIDIA 3D CAPABILTIES AND OPTIMUS™ TECHNOLOGY

SAN JOSE, Calif., Sept. 27, 2010 – Acer America today announced its new lineup of entertainment-driven notebooks, offering advanced performance features including the latest in 3D viewing technology, Blu-ray and branded discrete graphics. Geared for consumers who want to enjoy multimedia and mobility, the updated Aspire AS5742G, AS5745 and Aspire AS7745 notebooks series are available for U.S. customers at retail and e-tail outlets with prices beginning at MSRP $749.99 for the 15.6-inch Aspire 5742G, $649.99 for the Aspire AS5745 and $799.99 for the 17.3-inch AS7745.

"Consumers desire the best of both worlds when buying a new notebook PC, including advanced productivity and outstanding entertainment capabilities that may be enjoyed anywhere, anytime," said Preeta Anil, senior manager of product marketing for Acer America. "The new Aspire AS5742G, AS5745 and AS7745 notebook series upholds Acer's strong tradition of combining innovation with value by delivering leading-edge technology at a price that's accessible to many consumers."

Mobile Performance for Work and Advanced 3D for Play

Bringing entertainment to a new dimension, the Aspire AS5745DG offers the latest in 3D viewing and display technology, allowing images and games to literally pop from the screen. The AS5745DG brings 3D movies and games to life with stunning realism thanks to the superb combination of the most advanced 3D technology, fast Intel® Core™ i5 processors, and powerful NVIDIA® GeForce® GT 420M graphics, which accelerates applications to make visual effects more realistic.

Utilizing NVIDIA® 3D Vision™ technology, the AS5745DG notebook features true 120Hz LCD technology to deliver a full-resolution 3D experience. The notebook's 15.6-inch Acer CineCrystal™ HD widescreen display (1366 x 768 resolution) paired with advanced active 3D shutter glasses with a built-in IR receiver, deliver left and right images on alternating frames to the user, while each eye continues to see a full 60Hz signal. This allows each eye to receive the full resolution of the display with wide viewing angles, rendering premium 3D optics with added depth to on-screen visuals, text and objects.

A complete 3D entertainment center, the AS5745DG features Acer Arcade™ Deluxe to convert 2D to 3D images with a single click. Customers can enjoy the latest 3D movies with Dolby® Home Theater® v3 surround sound or engage in action-packed gaming, with many PC games easily transformed into stereoscopic 3D right out of the box. Customers can also use the notebook's HDMI port to connect to HD displays and TVs to create cinema-quality entertainment in the living room.

Beyond 3D enjoyment, the Aspire 5745DG provides multi-purpose computing performance along with plenty of ways to access, store, share and enjoy their digital files and applications. The spacious 500GB hard drive can store a vast library of music, video, photos, spreadsheets, documents and email. An integrated multi-in-one media reader enables a convenient connection to peripherals and electronic devices, while the four USB 2.0 ports provide ample connections to peripherals and consumer electronics.

The Aspire AS5745DG notebook's integrated 802.11a/b/g/n Wi-Fi CERTIFIED wireless technology and Gigabit Ethernet facilitates smooth and trouble-free emailing and web browsing. The Acer Crystal Eye 1.3 megapixel HD webcam enables high-quality video chats and VoIP with friends, family and work associates. The notebook's ample 9-cell battery also keeps users untethered to a power source for hours of mobile entertainment enjoyment.

The new Acer Aspire AS5745DG will be available at select online retailers beginning in late October with prices being at MSRP $999.99.

New HD Notebook Tech Features for Better Cinematic Playback and Productivity

In addition to the 3D model, the Aspire AS5742G, AS5745 and AS7745 lines offer an attractive range of features including NVIDIA® Optimus™ technology, Blu-ray drives and quad-core processing on select models.

For serious multitaskers, content creators or multimedia enthusiasts, the Aspire AS5742G features NVIDIA's Optimus™ technology, a hybrid graphics engine which intelligently optimizes a notebook to provide outstanding graphics performance, all while extending battery life for longer enjoyment. Completely automatic and performed behind the scenes, NVIDIA® Optimus™ technology seamlessly selects either UMA or discrete graphics, based on the application. Users will not detect or have any interruption while continuing to enjoy applications and games.

The Aspire 5742G notebooks are housed in textured mesh black covers, while the Aspire AS5745 and AS7745 notebook lines come in a handsome, thin-and-light industrial design with a glossy black cover. With LED-backlit display options to suit entertainment needs and provide outstanding visual experiences, the AS5742G and AS5745 Series sports a 15.6-inch high-definition (HD) widescreen display (1366 x 768 resolution), while the AS7745 Series touts a 17.3-inch HD+ widescreen display (1600 x 900 resolution).

The Aspire AS5742G and AS5745 Series offer up to a 500GB(1) hard drive for storing a vast library of music, video, images, movies and games. The notebooks are powered by the latest Intel® Core™ i3, Core™ i5 and Core™ i7 processors, which enable even the most demanding users to multitask quickly and easily. Notebooks with Intel® Core™ i5 or Core™ i7 processors boast Intel® Turbo Boost Technology, which automatically speeds up the processor when the PC requires extra performance.

The Aspire AS7745 Series also touts discrete ATI Mobility Radeon™ HD 5650 graphics option, which infuses videos, movies and games with dramatic detail, vivid color and realism. Powered by Intel® Core™ i7 quad-core processors offer four instead of two memory slots, the AS7745 allows users to economically configure 8GB of system memory via four 2GB memory modules or maximum system memory with 16GB via four 4GB memory modules. The notebook also packs a giant 500GB(1,3) hard drive and support for a second hard drive, giving ample room for a huge library of movies, music and more with up to 1TB of storage capacity.