Acer Aspire AS5745 and AS7745 media notebooks debut, bring Aspire value line along too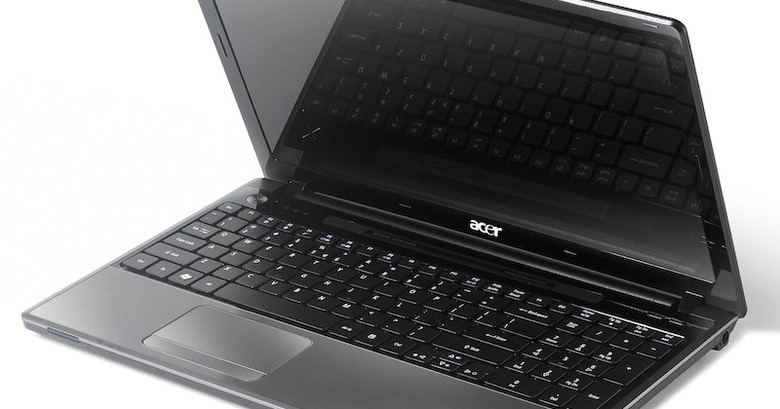 Acer has announced two new sets of mainstream notebooks, with the Acer Aspire AS5745 and AS7745 offering up to Core i7 CPUs, discrete graphics and optional multitouch displays, while the new regular Aspire notebooks kick off from $429.99 and have a choice of Intel or AMD chips and integrated or discrete graphics.  The AS5745 has a 15.6-inch display, Core i3/i5/i7 CPUs and NVIDIA GeForce GT 330M GPU, while the AS7745 gets a 17.3-inch display, Core i7 CPU and ATI Radeon HD 5650 GPU, Blu-ray and room for a second HDD.
Up to 16GB of RAM is supported, and the AS7745 can have up to 1TB of onboard storage.  The Acer Aspire AS5745PG gets a multitouch display, discrete graphics and a Core i5-450M CPU from $899.99; the AS5745G starts at $1,049 with a Core i7-720QM CPU instead.  $1,399 gets you the larger AS7745G, with the Core i7-720QM, 8GB of RAM, ATI Mobility Radeon HD 5650 GPU and Blu-ray.
As for the value line, there are 15.6-inch or 17.3-inch models with a choice of ATI Mobility Radeon HD 5470 or 5650 discrete graphics, ATI Mobility Radeon HD 4250 or Intel HD graphics.  Connectivity includes HDMI and WiFi b/g/n, while CPU choices include Core i5 and i3 processors as well as AMD Phenom II, Athlon II, Turion II and V Series processors paired with up to 4GB of RAM.  More details on all models in the press releases below.
Press Release:
Acer Enhances Value-Based Mobile Computing Category with New Aspire Line of Attractive, Feature Rich Notebooks

With prices starting at $429.99, new affordable Aspire notebooks deliver practical features for staying productive and connected

SAN JOSE, Calif., June 22, 2010 – Acer America today expanded its Aspire® notebook line with new value-based models that deliver a nice balance of performance, features, attractive design and affordability for consumers on a budget.

The new Aspire® notebooks offer mobile users the power of next-generation Intel® or AMD® processors, a choice of robust graphics solutions, ample memory, large hard drives and a choice of large 15.6- or 17.3-inch screen sizes, with prices starting at $429.99.

"Acer's newly redesigned line of value-based Aspire notebooks gives consumers with basic computing needs all the performance, features and mobility they need at an outstanding value," said Preeta Anil, Acer product marketing. "This new notebook line is ideal for anyone who needs a full-function notebook PC to keep them connected and productive while working, studying or enjoying digital media and casual games."

Power Packed for Efficient Multitasking

The new Aspire notebooks offer new Intel® Core i5 and i3 processors as well as new AMD Phenom II, AMD Athlon II, and AMD Turion II, and AMD V Series processors that delivers a fast and responsive computing experience by speeding up multitasking performance. Additionally, the 4GB of DDR3 memory is significantly faster than DDR2 memory, ensuring faster, more efficient performance on applications.

The latest communications technologies keep users in touch at all times. Internet access is provided through the 802.11b/g/n WiFi CERTIFIED® wireless or fast Gigabit Ethernet LAN connectivity, making it easy to browse websites, check email, enjoy online entertainment, and stay in touch with social media networks.

An integrated Acer Crystal Eye™ 1.3MP (1280 x 1024 resolution) webcam delivers smooth video streaming and high quality images for online chats and business video conferences, even in low-light situations. The built-in digital microphone conveys superior voice quality, keeping background noise levels low and minimizing echoes. Consumers can also enjoy music and video sound with the high-definition audio support and two built-in stereo speakers.

High-Definition Support for Striking Visuals

The high-definition, LED-backlit Acer CineCrystal™ widescreen display delivers crystal-clear images and color with a true 16:9 aspect ratio that increases the viewing area. Users can choose from several models with either 15.6-inch or 17.3-inch screens.

Next-generation graphics solutions offer users excellent visual quality for the latest games, movies, photos or videos. The new Aspire notebooks come with ATI Mobility Radeon HD 5470 or 5650 discrete graphics, ATI Mobility Radeon HD 4250 or Intel® HD graphics. Taking the visual experience one step further, the Aspire notebooks also come with an HDMI port for connecting to a HDTV, providing crisp, high-quality visuals and audio through a single cable.

Cool Styling and Features Boost Mobile Computing Experience

The Aspire notebooks are available in black or silver and feature rounded edges and smooth lines highlighted by a textured mesh cover that brings an attractive appearance while preventing fingerprints and scratches.

To protect media files, photos and video while on the go, the Acer Aspire notebooks include MyBackup functionality that gives customers a way to quickly and easily back-up all important files. Easily accessible with the integrated software, customers can conveniently back up files to another location such as a USB drive, external hard disk drive, or another hard drive partition. The notebook line is incredibly easy to use with a multi-gesture touchpad, touchpad lock, and dedicated numeric keypad.

The new notebooks come with 250GB to 500GB large-capacity hard drives with generous storage for work and multimedia files. Several models also include a Blu-ray Disc™ drive for the ultimate entertainment experience while watching high-definition movies.

Price and Availability

The new Aspire notebooks will be available later this month at leading U.S. retailers with prices ranging from $429.99 to $899.99.
Press Release:
New Acer Aspire AS5745 and AS7745 Notebooks Offer True HD Playback of Movies and Videos for Cinematic Entertainment On the Go

Select systems boast multi-touch technology, Blu-ray and discrete graphics

SAN JOSE, Calif., June 22, 2010 – Acer, the world's second largest vendor of notebook PCs,(1) today announced its new line of Aspire notebooks geared toward consumers looking for more than just essentials. These notebooks are a cut above entry-level notebooks offering a range of features including quad-core processing, four memory slots, second hard disk drive (HDD) support, branded discrete graphics, multi-touch screen technology, LED-backlit displays and/or Dolby® Home Theater® v3. The new Acer Aspire AS5745 and AS7745 notebooks are available for customers in the U.S. at select retailers with prices beginning at just $699.

Both lines of notebooks come in a handsome, thin-and-light industrial design with a glossy black cover. With display options to suit entertainment needs, the AS5745 Series sports a 15.6-inch high-definition (HD) widescreen display (1366 x 768 resolution), while the AS7745 Series touts a 17.3-inch HD+ widescreen display (1600 x 900 resolution).

Featured models include the Aspire AS5745PG offering multi-touch screen capability for a natural, intuitive way of interacting with applications and digital data; the Aspire AS5745G delivering blazing Intel® Core™ i7 power and discrete NVIDIA® GeForce® GT 330M graphics for a first-rate multimedia experience; and the Aspire AS7745G, a mobile powerhouse outfitted with Intel® Core™ i7, discrete ATI Mobility Radeon™ HD 5650 graphics, second HDD support and Blu-ray.

"Acer continues to deliver on its promise to bring to market leading technology with a superb blend of quality, performance and portability," said Preeta Anil, senior product marketing manager for Acer America. "The AS5745 and AS7745 Series pack plenty of power and convenient features to suit the gamut of consumers wanting to enjoy cinematic entertainment, including HD movies and casual games."

Acer Aspire AS5745 and AS7745 Benefits

Both the AS5745 and AS7745 Series tout HD widescreen LED-backlit displays (true 16:9), designed to provide an extraordinary visual experience. The 15.6- and 17.3-inch LED-backlit displays are super slim and use less energy than traditional cold cathode fluorescent Lamp (CCFL) displays.

In addition, Dolby® Home Theater® v3 combined with S/PDIF support for digital speakers delivers extraordinarily clear audio. Every notebook is outfitted with Microsoft Windows 7 Premium, Acer Nplify™ 802.11 b/g/n wireless and a digital media reader.

The Aspire AS5745 Series offers up to a 500GB(2) HDD for storing a vast library of music, video, images, movies and games. These notebooks are also powered by the latest Intel® Core™ i3, Core™ i5 and Core™ i7 processors, which enable even the most demanding users to multitask quickly and easily. Notebooks featuring Intel® Core™ i5 or Core™ i7 processors boast Intel® Turbo Boost Technology, which automatically speeds up the processor when the PC requires extra performance. The AS5745 with Intel Core™ i7 quad core processors offer four instead of two memory slots allowing users to economically configure 8GB of system memory via four 2GB memory modules or maximum system memory with 16GB via four 4GB slots. The systems in this series weigh about 5.72 lbs. with a 6-cell battery and offer up to 3.5 hours of battery life.(3)

The Aspire AS7745 Series touts discrete ATI Mobility Radeon™ HD5650 graphics, which infuse videos, movies and games with dramatic detail, vivid color and realism. Powered by Intel® Core™ i7, a giant 500GB(2, 4) HDD and support for a second HDD, these multimedia monsters can fuel and store some of the most power-hungry applications with up to 1TB of storage capacity. These systems come with a 6-cell battery providing up to 2.5 hours of battery life(3) and weigh about 7.1 lbs.

Featured Models

Acer® Aspire AS5745PG: Multi-Touch Screen Technology With Prices Starting at $899.99

In addition to a standard keyboard for traditional data input, the Acer Aspire 5745PG offers a multi-touch screen display and Microsoft Windows® 7 multi-touch support, designed to make entertainment and multimedia experiences more intuitive, interactive and just plain fun. As it frees users to interact with their PC in a natural way, the multi-touch screen gives users an exceptional level of flexibility and control. Customers can touch anywhere on the screen using one or two fingertips to play movies and music, zoom in and out on websites, edit photos and video, handwrite notes, resize windows, launch entertainment applications and more.

Complementing the HD display, the system's Intel® Core™ i5-450M processor and NVIDIA® GeForce® GT 330M graphics with 1GB of dedicated memory, provide the horsepower to fuel casual games, videos and movies with vivid color and crisp detail. The system also comes with Acer Backup Manager for backing up important files and information and the PowerSmart button for maximizing battery life.

Acer® Aspire AS5745G: Discrete NVIDIA and Core i7 With Prices Starting at $1,049

Fueled by fierce Intel® Core™ i7 720QM power with Intel® Turbo Boost Technology up to 2.8GHz and discrete NVIDIA® GeForce® GT 330M graphics with 1GB of dedicated memory, the Aspire AS5745G-6538 displays true home theater entertainment with crystal clear images and brilliant color. Users will be riveted by the superb image quality and clarity of movies and other visuals showcased in up to 1080p when connected to a 1080p display via HDMI®. The optical drive lets users burn CDs and DVDs of their favorite music, photos and files, while four SODIMM slots enable them to upgrade to 8GB memory economically.

The system comes with a built-in 1.3 MP HD webcam that presents vivid images even in low light situations, so users can go face-to-face in online chats and capture still pictures and videos for sharing with family and friends. A bundled keyboard touts practical features, including a dedicated numeric keypad.

Acer Aspire AS7745G: Second HDD Support, Discrete ATI and Blu-ray With Prices Starting at $1,399

A digital dream, the Aspire AS7745G-6214 offers Intel® Core™ i7 720QM quad-core processing power with Intel® Turbo Boost Technology and 8GB memory for incredibly fast and efficient multitasking. Discrete ATI Mobility Radeon™ HD 5650 graphics and a Blu-ray drive showcases the latest Blu-ray movies and games in brilliant color and realistic detail. Outfitted with 5.1 channel output, users can enjoy intuitive surround sound through speakers or headphones.

This mobile powerhouse provides plenty of room for expansion. It has four SODIMM slots, enabling users to upgrade to 16GB memory and a second hard drive bay, which allows storage capacity to be increased up to 1TB(2,4) for archiving a giant library of applications and data. The 17.3-inch HD+ display with a high 1600 x 900 resolution increases the enjoyment of movies, casual games and videos with a large viewing area and fantastic picture quality. In addition, the system features HDMI®, a 1.3 MP HD webcam and Bluetooth® technology, enabling users to wirelessly connect to other Bluetooth-enabled devices, including phones and printers.

Useful Software Suite

The systems come loaded with Acer Arcade™ Deluxe 2010, an all-in-one media portal for managing today's digital media. Acer Arcade archives songs, photos, movies and videos; Arcade Photo optimizes graphics acceleration for fast photo sorting and creation of memorable slide shows; Arcade Video converts videos quickly for playback on a favorite media player and uploads videos to YouTube and Facebook; and Arcade Music browses and organizes music collections.

Pricing and Availability

Acer's newest notebook PCs are now available at leading technology and electronics retailers with prices beginning at $699.99.