ABC Player updated: 3G streaming, UI improvements, more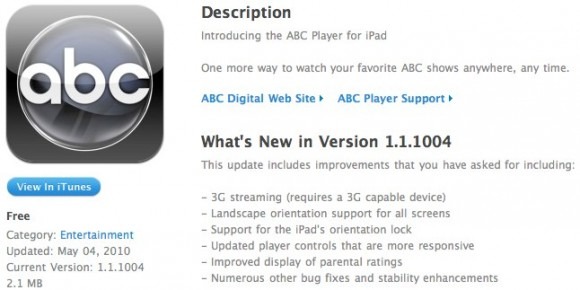 ABC have updated their ABC Player for iPad app [iTunes link] to support 3G streaming, after it was discovered in the aftermath of the iPad WiFi + 3G launch this past weekend that the app would only allow for WiFi connections.  The limitation, ABC had said, was down to "a variety of business and technical considerations," with the latter likely being down to Apple's rules on low-bandwidth video streaming modes for 3G access.
That rule says that software looking to stream video over a 3G connection to an iPhone OS device must offer a "low resolution" mode of no more than 64 Kbps "when network conditions demand it".  Likely intended to limit network impact from multiple high-resolution streams, the end result has been surprisingly poor quality video over 3G in the iPad's YouTube and Netflix apps.
It remains to be seen how ABC have managed their own video quality settings in this updated version of the Player app; we're seeing reports that on reasonable AT&T connections the picture is better than in the YouTube or Netflix apps.  The update also adds landscape orientation support for all screens, recognizes the iPad's hardware orientation lock switch and tweaks the on-screen controls for better responsiveness.
[via Business Insider]