Welcome back to our "Week With" series starring the L1 v2 Laser Pico Projector from AAXA. If you'd like to see this little monster being taken out of its box, head back to the Unboxing and Hands-On post – if you'd just like to see it in action, feel free to proceed below. In this first review post we take a look at everyday uses of this device from bringing it to school to keeping it at home to watch a movie on your wall (or projector screen.) Keep your eyes peeled for usability and functionality.
Hardware
If you take a look back at our original post announcing availability of this projector, you'll see that this device is a three-color laser light source projector, one they call "revolutionary." It also includes proprietary despeckling technology, and an LCoS imager to produce 800 x 600 resolution and 20 lumen output. It has a built-in speaker, ports for VGA, A/V, USB, and power (for both charging and using whilst plugged in,) plus there's a headphone jack on the other side.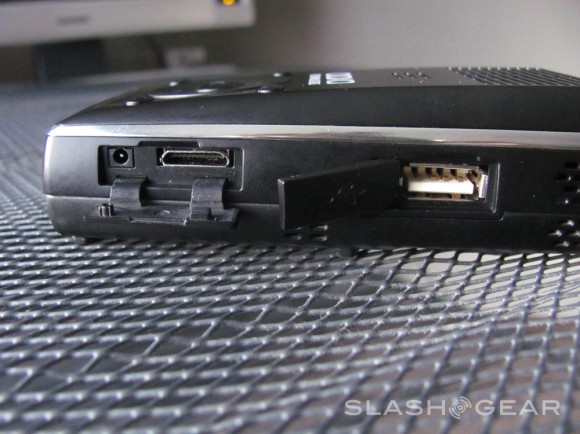 It fits right in the palm of your hand and all the controls are in plain sight. Once you get into working the menu, you'll more than likely have a short learning session as the UI is slightly imperfect. But just speaking on behalf of the hardware here, everything seems really slick, all buttons extremely responsive and hearty. Once the projector is running, you'll hear that the fan has its work cut out for it. You will hear the fan running more than 60% of the time you've got the device on. It's not the quietest fan I've ever heard, but you'll probably get used to it quick after you hear it.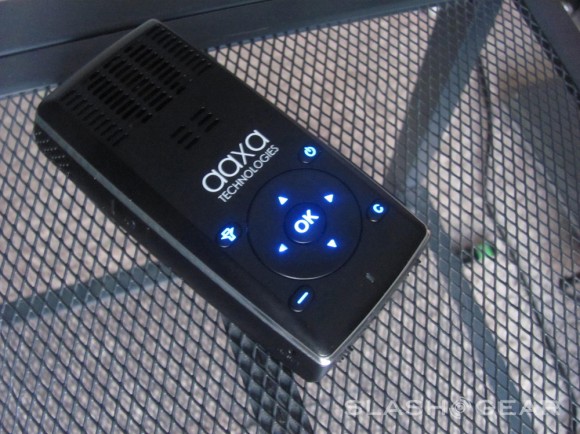 As far as cords go, you'll have to see what your situation is when you get to the point where you're going to decide what to use this device for. You've got a few cords included in the package, but there's definitely room for want. For instance you might want a USB to USB cord to connect the device to your computer to add files to the device's onboard storage.
Software
Once you have the device in your hand and you'd like to start playing some movies or looking at some photos projected high up in your classroom when the teacher isn't looking, you'll notice that there's no screen from whens you can see selections. Wait a second, you'll say, of course there's no screen, this is a projector! So you turn the device on and sure enough, the menu is staring you right in the face, right over there on the wall.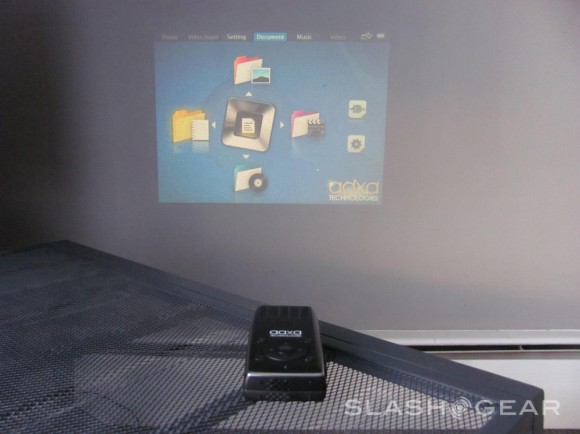 The menu is confusing. Apple didn't design this user interface, and sure as heck Google and the people at Android didn't take a whack at it. It's got five different items on the screen that you can highlight – four of them around an image of your controller (same as on the device,) and two more to the right. Around the controller are Documents, Photos, Video, and Music. To access each of these, you've only to press up, down, left, or right. When you've highlighted an item, its name is also highlighted at the top of the screen. This would be great, but the rest of the names are up there too, flanking the highlighted name. Say what? Confusing, very confusing. Then to get to the other two options: Sources (Input) and Settings, you've got to press right two times. You've got to select movie, but continue moving to your right to access these two additional items. Weird. Once you've got it, you've got it though, and the confusion doth never return.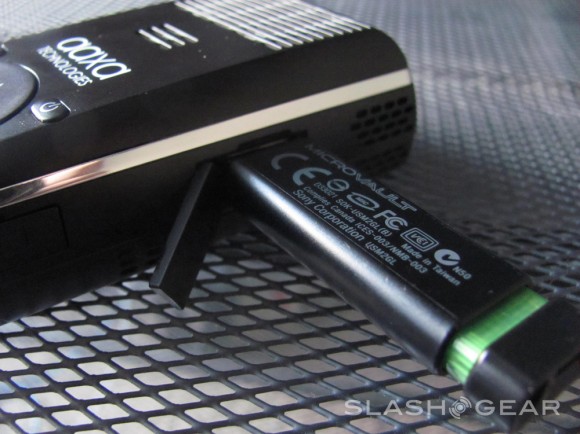 A couple of the greatest things about this device are it's ability to play and project all sorts of files and its ability to hold files inside itself for playing without anything connected. The most convenient way you're going to end up using this device is to bring a USB stick along with all the content you'd like to display. Your stick plugs right into the side and your files appear basically instantly.
Picture
The picture is really nice, especially for such a tiny projector. I've used it to watch a couple of movies in my wife and I's living room in the dark and have had basically no complaints. There is a bit of a learning curve when it comes to getting certain movies and etcetera to project at full quality, but it's nothing a person who can read the instructions manual (a very nicely laid out manual I remind you) wouldn't be able to understand quite quickly. The picture is bright, the picture is colorful, and the picture is always in focus. Always always always. As I mention in the video, I remember the teachers and professors at the schools I went to constantly having to set the projector up to focus on the screen. No more of that, I say.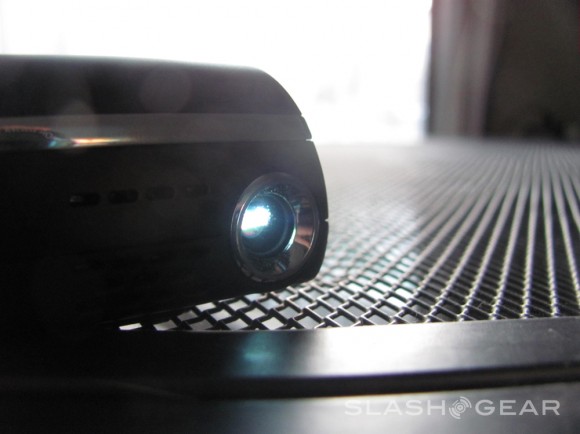 The picture projects as well as you'd expect it to in light and dark. Projected images obviously look better in the dark than they do in the light because, you know, there's no competition. On the other hand, this projector deals a better game than they speak of in the advertisements as far as displaying in the light goes. NOTE: In the video when you see lines (or "waves") moving through the projected image, note that these are only the result of my video camera having a different frame rate than the projector projects. The video is indeed clean.
Everyday Use
In most instances you'll end up placing this device down while you're displaying the media you'd like to display. This device is small though, and was clearly designed to be brought along for presentations in the office, school, or otherwise to be held in the hand. When you do either of these, your primary concern should be the heat. This device does get pretty hot pretty quick. You're not going to be wanting to hold the projector in your hand for the entirety of its battery life (about an hour, a little more), because your hand will thusly become uncomfortable. The device does not become so hot though that you should worry about it overheating and breaking, but don't go wrapping it in a warm towel just to test it.
We (my wife and I) have used the projector at home now to watch a couple movies up on the wall before we go to bed. We generally like to watch terrifying horror movies so we can't sleep for weeks, so we watched one of those and Anchorman, a comedy movie you may have heard of, and both worked out really well. We of course turned the lights down for both (got some popcorn too), and definitely recommend doing this when watching anything on the projector if you've got the option. Poltergeist is, of course, terrifying either way. This device is clean.
[vms 6801ca1eaca97b3e1918]
A Week With the L1 v2 Laser Pico Projector from AAXA
Take a look at all of our "Week With" posts for the L1 v2 projector in this ever-growing list right here, starting with the first announcement and ending with the final word:
L1 v2 Laser Pico Projector Revealed by AAXA [Original Press Release]
A Week With the L1 v2 Laser Pico Projector : Hands-on and Unboxing
A Week With the L1 v2 Laser Pico Projector : Everyday Use