A Dell display is an iPad devs' best friend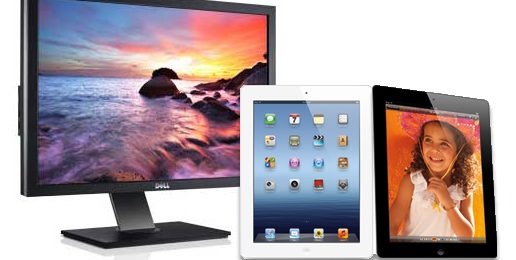 The iOS developer's best friend might not be a new iMac or even a Mac Pro, when looking to create Retina Display apps for the new iPad, but in fact hardware with the far less fashionable Dell logo. Apple's Phil Schiller joked during the new iPad keynote yesterday that the 2048 x 1536 tablet actually had more pixels than the floor to ceiling presentation screen behind him; however, that resolution presents a significant issue for iOS app developers, since none of Apple's own OS X hardware supports the new iPad's full resolution.
The 27-inch Apple Thunderbolt Display, for instance, runs at 2560 x 1440, meaning it has sufficient horizontal resolution but insufficient vertical pixels to show a full-res Retina Display iPad graphic at once. For developers, that means panning, scrolling and zooming to make sure their app layout looks right.
That's where Dell steps in. The company's UltraSharp U3011 LCD display is a 30-inch panel running at 2560 x 1600 resolution, meaning it's capable of matching the new iPad's Retina Display pixel for pixel (albeit with significantly less pixel density: around 100ppi, versus the 264ppi of the new iPad).
Of course, we'd be very surprised if Apple left Dell to have the iPad developer display market to itself, however. A new Thunderbolt Display with higher resolution has been rumored for some time, potentially alongside the long-anticipated Mac Pro update, and it would be an odd decision indeed if Apple didn't turn its pixel-packing attentions to the new screen.
The Dell UltraSharp U3011 is available now, priced at $1,299.