The Reason Nobody Knows What Truly Happened To James Dean's Cursed Porsche 550 Spyder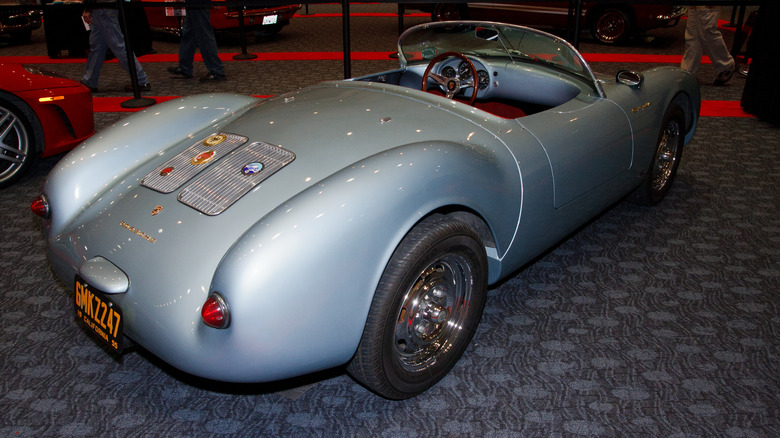 Radoslaw Lecyk/Shutterstock
The legend of James Dean's cursed Porsche 550 Spyder still lives on to this day, but its actual whereabouts are another baffling yet intriguing story. James Dean, best known for his roles in "East of Eden," "Giant," and "Rebel Without a Cause," was as promising as a racer as he was as an actor. In fact, Dean participated in three races, even going up against the likes of motorsport icon Ken Miles in one of them. Some might say Dean's passion for racing is what ultimately led him to his demise, but is that truly the case? Well, this is where the late actor's Porsche 550 Spyder comes into the picture: a legendary model that was even reincarnated as a Porsche concept car in 2019. 
Of course, it was also the last car Dean ever purchased and drove. Dubbed "Little Bastard," Dean's Porsche apparently emanated such an ominous presence that fellow actor Sir Alec Guinness even warned him he would die the following week if he drove it, as seen in a YouTube video by Discovery UK. During his trip to a race in Salinas a week later, Dean crashed onto a turning vehicle on Route 466, killing him in the process (via SFGate). Although this certainly marked the end of the celebrated actor's career, it was only the beginning for the iconic James Dean Porsche and its salvaged remains.
Case of the missing James Dean porsche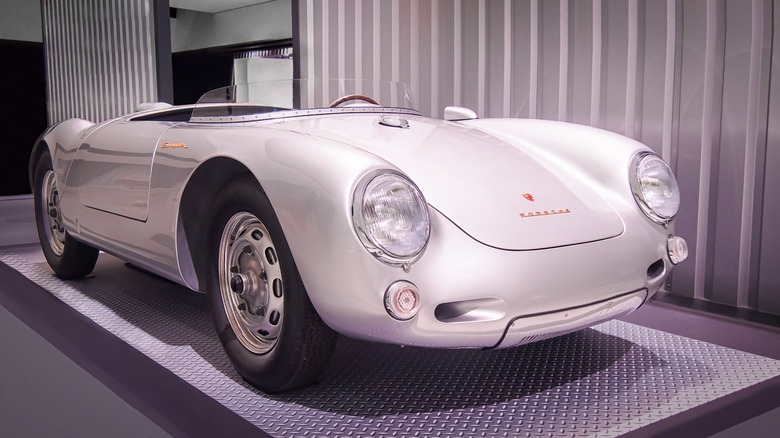 Roman Belogorodov/Shutterstock
So, what happened to the wreck of James Dean's "Little Bastard"? In an interview with SFGate, Porsche historian Lee Raskin claimed its parts were stripped and sold to Dr. William F. Eschrich. Although Eschrich kept its engine, he sold the rest to fellow racer Troy McHenry, who died in a crash after using parts from Dean's Porsche. Among these allegedly cursed parts was a transaxle sold again in 2021 for a whopping $382,000. This eventually ended up in the museum of celebrity paranormal investigator Zak Bagans, ultimately putting an end to the mystery, or did it?
Well, not exactly, since the bulk of Little Bastard's crumpled chassis was bought by Hollywood car designer George Barris. The thing is, Barris never got it back after lending it to various organizations and car shows. Barris claims it simply vanished during its trip back to L.A. from Miami in 1960 and has been missing for over 60 years (via Fox News). When asked to divulge information about its disappearance, Barris merely answered, "I like the story as it is.", per SFGate. Barris passed away in 2015 (via The New York Times), but the body of James Dean's Porsche is yet to be found. Now, did Barris take secrets of its mysterious disappearance to the grave, or did his answer leave some sort of clue regarding its whereabouts?
The James Dean car mystery thickens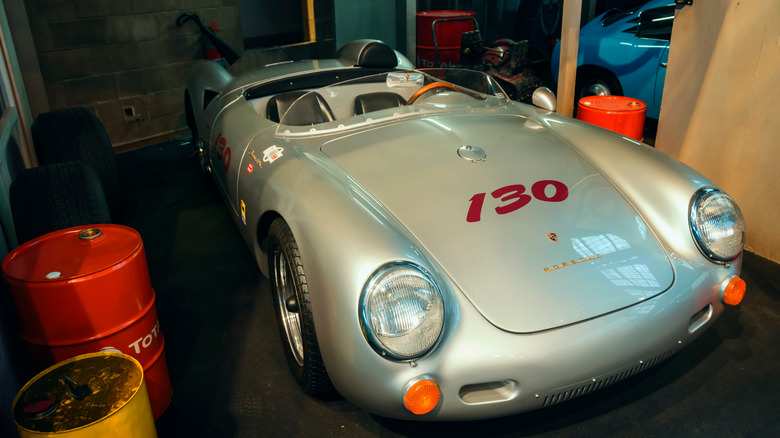 Stefan Lambauer/Shutterstock
Volo, a Chicago-based auctioneer and auto museum offered $1 million to anyone who could supply them with the remains of James Dean's cursed Porsche in 2005. According to the Volo Auto Museum, someone claiming to know its whereabouts came forward in 2014. Museum director Brian Grams revealed that this person — identified as Las Vegas resident Shaun Reilly — told him he actually witnessed it being hidden behind a fake wall. Per the USA Today article, attorney Jim Johanson said Reilly "passed with flying colors." Apparently, the building housed the 550 Spyder's remains somewhere in Whatcom County, Washington.
However, the man would only specify its exact location if he was given partial payment, and Volo would only pay once it gained legal possession of the alleged James Dean car (via Volo Auto Museum). What complicates this further is that Reilly doesn't own the said building. Grams explained that Reilly would have to "figure something out" with the owner first. It's now become quite a dilemma for both parties as they work on the various legal hurdles involved in not only finding the Porsche but acquiring it as well. While there hasn't been any word on how that worked out, Volo did find the James Dean Porsche, albeit in movie form. Volo managed to auction and sell a custom-made 550 Spyder that portrayed Little Bastard in the 2000 film "The Darkling." Well, at least that's some sort of consolation for a car whose fate might forever remain a mystery.