How To Copy And Paste On iPhone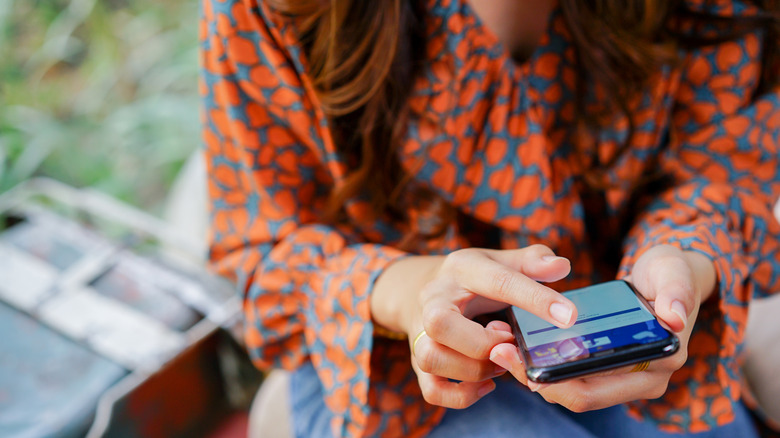 chainarong06/Shutterstock
Whether you want to save important information or don't want to type something out many times over, the copy and paste function on the iPhone is useful. It may seem like a simple task, but how it can be done may not be immediately obvious. There are a few different ways it can be done, depending on what it is you're trying to copy and paste. If it's words, for example, the process is different on the iPhone than copying and pasting pictures.
If you do already know how to copy and paste, there's actually a secret, quicker method to completing the action that you may not know of. This iPhone hack went viral on TikTok when it was discovered by a user. Most people weren't aware of the trick before this. We'll tell you about this method as well as the more typical routes to copy and paste in this article.
How to copy and paste text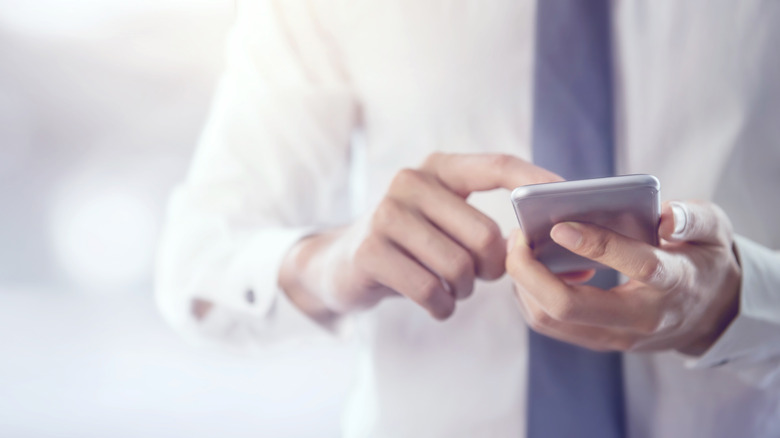 oatawa/Shutterstock
Copying text and pasting it into another text field is pretty easy to do. But where you're copying the text from determines the steps you should take. First, here's how to copy and paste text that you find on a webpage (via Apple.) 
1. On the text you want to copy, tap and hold on to it. 
2. A blue highlight should show up on some of the text. There will also be blue bars on the ends of the highlight. You can tap and drag these to highlight less or more of the text you want to copy. 
3. A black box will also appear with a few options. After highlighting the text you want, tap on Copy to copy the text to your iPhone's clipboard. 
4. Now, head to the text field you want to paste the text into. Tap and hold on to it, and when the black box appears, tap Paste. 
You may also want to copy a text someone has sent you. This is even easier to accomplish. 
1. Go to the text you want to copy, and then tap and hold on to it. 
2. In the options that appear below the text, tap Copy. 
3. Now, you can go to the text field you want to paste it in, tap and hold and select Paste. 
How to copy and paste an image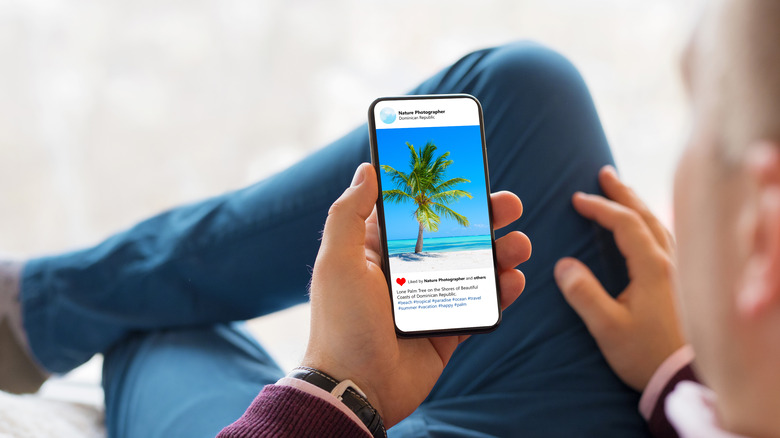 Kaspars Grinvalds/Shutterstock
There are also some ways to copy and paste images. This works best to paste into your Notes app or other note-taking apps. How you copy the picture depends a lot on where you're looking at it, as some apps won't let you copy an image directly. However, if you found the image while browsing the internet, you should be able to copy and paste it. Here's how. 
1. On the image you want to copy, tap and hold until a black or white box appears.
2. Tap on Copy in the box. 
3. Now, you can paste the image in an area that allows images, such as your Notes app or text. To do this, tap and hold on to the text field and tap on Paste in the black box that appears. 
Some websites won't allow you to copy their images. If you tap and hold and nothing comes up, that's likely the case. 
Copy and paste iPhone trick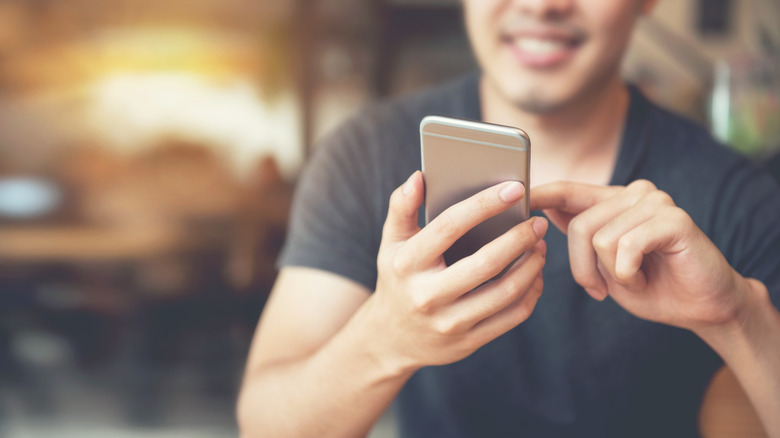 oatawa/Shutterstock
There's another way to copy and paste photos quickly and easily right from your Photos app. This simple iPhone hack became popular on TikTok as many weren't aware of the technique. Though it may save you only a few seconds or so, it's an interesting tip to know, especially if you're copying and pasting many images. Here's how to do it. 
1. In your Photos app, find the picture you want to copy, then quickly swipe three fingers inward on the photo. At the top, you should see a Copied notification. 
2. Head to your Notes app or a text and either use three fingers to slide outward to paste or tap and hold and select Paste. 
3. The picture will paste into the text field.
To do this trick, make sure your iPhone is updated to the latest version. Because if your iPhone has an older version installed, the trick might not work.