The McLaren Solus GT Is A Gran Turismo Hypercar Literally Made Real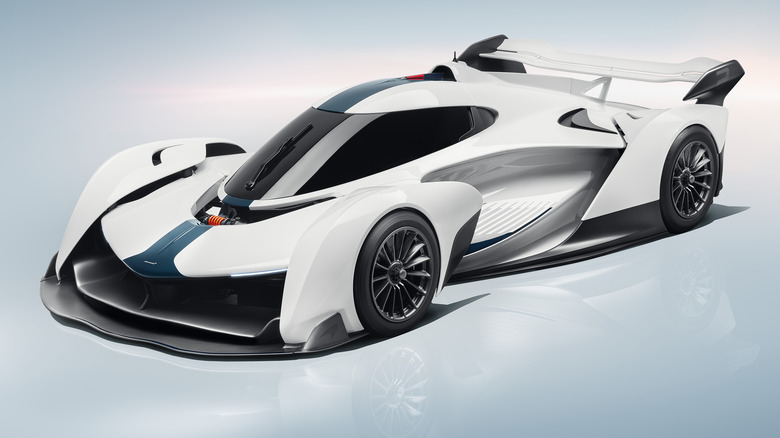 McLaren
McLaren has revealed its latest super-exclusive hypercar, the Solus GT a single-seater V10 coupe with space-age design and no shortage of speed. While supercars going from real roads to virtual racing isn't unusual, the Solus GT took the opposite approach: it started its digital life as a concept car in "Gran Turismo SPORT," a single-seater with a futuristic pod canopy roof and wild performance. Now, though, McLaren is making 25 of them for the real world.
The result is legitimately incredible speed, with the British automaker promising the fastest lap times of any McLaren outside of single-seater racing. The 5.2-liter naturally-aspirated V10 brings more than 829 horsepower and 479 lb-ft of torque to the party: enough, supposedly, for a maximum speed above 200 miles per hour.
Official 0-60 mph times will have to wait until the Solus GT can be validated fully, but McLaren is predicting something under 2.5 seconds from the F1-inspired coupe. Saying that, the limited-edition car looks striking even when it's standing still.
Styling from your favorite console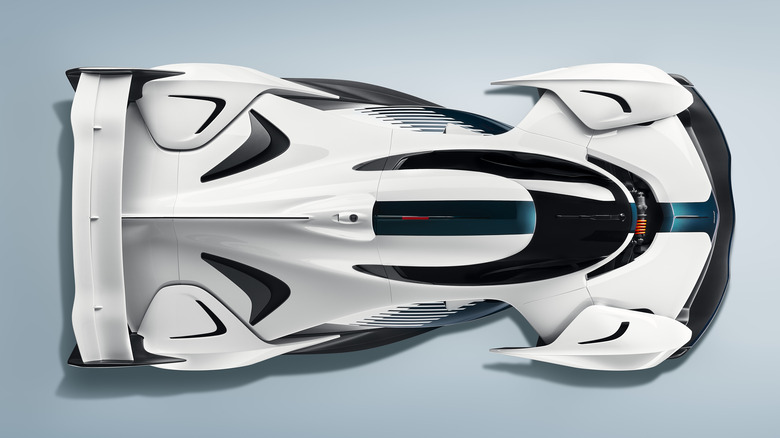 McLaren
Sticking closely to the "Gran Turismo" car enjoyed by gamers, the real Solus GT is over 15 feet long but less than 4 feet high. McLaren turned to race-inspired fluid dynamics modeling to figure out how to coax airflow through the split, segmented bodywork. The wheels get individual aerodynamic pods mounted on suspension arms; the front splitter feeds ground-effect tunnels, leading all the way to the huge rear diffuser.
At the top, there's an air intake to feed the greedy V10 engine, while an outsized fixed rear wing delivers more than the still-to-be-finalized 2,017-pound dry weight of the Solus GT itself. As you'd expect from McLaren there's a whole lot of carbon fiber, but it's been combined here with 3D-printed titanium.
That's used, among other places, for what's arguably the most striking element of the coupe's design: its lengthy cockpit canopy. Rather than the dihedral doors familiar from the automaker's other cars, the Solus GT's roof slides forward to allow access to the single-seat cabin and uses titanium for the roll hoop and halo cockpit protection structure. Because of the 3D printing, McLaren points out, it can even tailor those titanium components to suit the individual owners.
A cabin like no other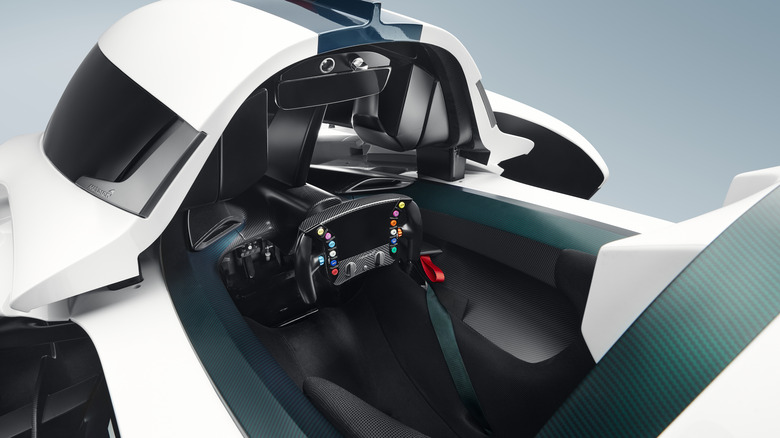 McLaren
It's not the only bespoke adjustment, either. The F1-style halo protection wraps around a custom molded seat, shaped to the body of the lucky buyer. The whole interior can be modified according to individual tastes and requirements, McLaren says, but there'll be a 6-point safety harness, adjustable pedal box (since the seat is fixed in place, true racer-style), and — probably important, given the nature of that canopy — air conditioning.
Most of the car's controls are clustered on the carbon fiber steering wheel, though overhead switches handle the engine ignition and a plumbed-in emergency fire extinguisher. They're positioned alongside a rearview display camera since traditional visibility out of the wildly-styled coupe isn't exactly plentiful. 
The customized seat is part of what McLaren is calling a "racing driver experience" that also includes an FIA-homologated race suit, helmet, and HANS device tailored to each driver. McLaren has plenty of experience delivering unique cars thanks to its MSO program, but the Solus GT will take that several steps further still. The package also comes with radio-enabled ear inserts, plus a driver-development coaching program. 
Designed for the track, not the road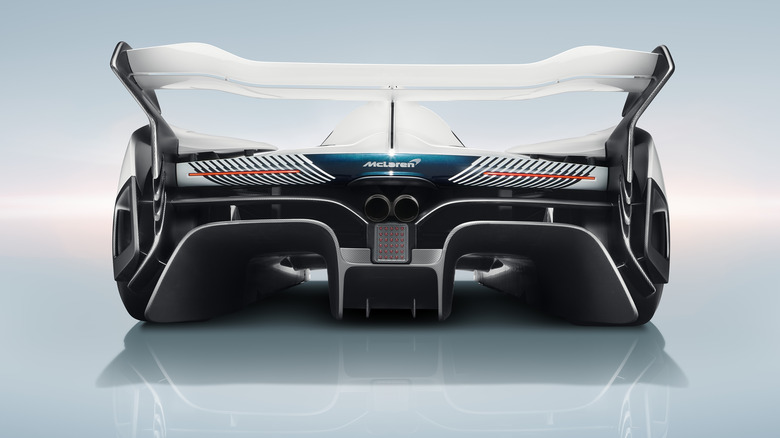 McLaren
Taking advantage of that program sounds like a pretty good idea, too, given what the Solus GT is capable of. The V10 engine has a redline north of 10,000 rpm and is designed to be a structural part of the car's chassis to help cut weight and boost stiffness. It's paired with a seven-speed sequential gearbox, with a multi-plate carbon fiber clutch and straight-cut gears.
The 18-inch center-lock forged aluminum wheels are mounted on F1-style double wishbone suspension, with pushrods at the front and pullrods at the rear. Le Mans Prototype-specification rubber will be offered in both slick and wet compounds while slowing comes courtesy of 6-piston monobloc machined aluminum calipers and carbon fiber discs and pads. Front and rear brake bias will be adjustable from within the cabin.
Don't expect to see the Solus GT on public roads, though. As well as being made in vanishingly small numbers, the coupe will be for race tracks only, and all 25 examples have been sold prior to the covers being pulled back at Monterey Car Week 2022 today. Those lucky buyers will have to wait until 2023 for the first examples to be delivered, giving them plenty of time to be fitted for their custom seats, suits, helmets, and HANS devices.