It's No Secret Why The 2012 Lotus 340R Was Banned In The US
It doesn't take a gearhead, or even someone with a modicum of common sense, to — at first glance, no less — understand precisely why the Lotus 340R wasn't allowed in the United States.
This stripped-down car doesn't have a roof, windows, or even doors. There's no trunk or carpeting; it has specialized wheels, comes with the barest of gauges, and hardly even bothers with covering the exhaust system of the mid-mounted engine. But it looks like tons of fun to drive. Ironically, that's not even what Lotus was going for when they first showed off this concept car at the 1998 British Motor Show (now the London Motor Show) in Birmingham, England.
Its goal was to build the lightest, nimblest Lotus possible, with quite literally everything else taking a back seat. Except in the case of the 340R, there was no backseat for anything actually to fit. It was equipped with the same aluminum chassis, springs, dampers, and 1.8-liter Rover K-series engine from Lotus' Elise Sport 190. The engine produced 177 brake horsepower and 126 lb-ft of torque (via Jalopnik).
When first introduced, these bare bones, "motorcycle-inspired" types of cars were few and far between. Remember, this was long before similar vehicles such as the KTM X-Bow and BAC Mono were on the market.
As the magazine Autocar said in a review from its December 1999 issue, it's "an Elise in a bikini rather than a one-piece swimsuit," letting folks see exposed bits and pieces of the car usually hidden beneath the paneling. Reception to the car was so good that Lotus decided to make some for the public, and by "some," we mean 340 — globally.
Safely drive the Lotus 340R... virtually
Of the 340 limited, road legal (in Europe), right-sided 340R's made and sold in 2000, Lotus brought an even more limited subset of eight left-sided versions to the United States meant solely for use on the race track.
The production version came with some differences. Lotus added fog lights; two small triangular winglets called canards in front of each front wheel meant to help the car's aerodynamics and a larger rear wing with a steeper rake (again to help aerodynamics).
It had an overall length of 142.5 inches and a wheelbase of only 90.5 inches. With a curb weight of just 1,485 pounds (via Jalopnik), combined with the Elise's stiffer chassis, the 340R can go from 0-60 mph in 4.3 seconds (via Top Gear), 4.5 seconds (via Autocar), or 5.0 seconds (via Road & Track). Autocar clocked it from 0-100 in 12.5 seconds, with a top speed of 130 mph. Road & Track said it could do the quarter-mile in 13.6 seconds at 99.7 mph. While Autocar wasn't overly impressed with its speed, Road & Track said it was "the most fun and rewarding car in the world to drive on a twisty road."
With its extremely limited availability, it's doubtful you'll ever have the chance to drive a Lotus 340R in the real world, but you can hop behind the wheel of a virtual model and go for a spin. Lotus' concept has appeared in a few virtual racing sims, including "Project Gotham Racing 2," "TOCA World Touring Cars," "Forza Horizon 3" and 4, and "Forza Motorsport 7."
The 340's predecessor was banned, too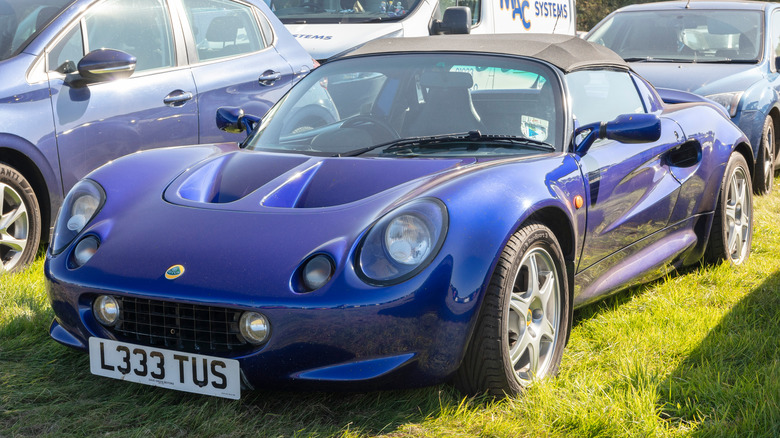 Prophotoo/Shutterstock
It may not come as a surprise that the car the 340R is most closely related to, the Lotus Elise Series 1, was also banned in the United States, in a manner of speaking. The car didn't comply with FMVSS standards and could have failed on a number of points, including basic things like its headlight angles, bumper height, and the number of brake lights fitted. However, the standards get more complex, and it may take more than a bumper boost to get one import worthy. Crash resistance is a major consideration, so the Elise's lack of a roof may mean the vehicle will always be unable to meet the U.S. government's standards. 
There is some good news. You can actually import an Elise as a show and display model. The legislation was introduced in 1999 that allows the import of certain vehicles that are over 25 years old, that were never sold in the United States, and don't otherwise comply with FMVSS import regulations. So you can get one in the U.S. if you're both rich and determined enough. However, the car itself is unlikely to become your daily driver. 
As Dirt Legal explains, the use of show and display vehicles on U.S. public roads is very limited, if it's even allowed at all. The NTHSA may allow you to drive an S&D car up to 2,500 miles a year under certain circumstances, but it also reserves the right to say no. So unless things change, its use may be limited to private land and the track. You could also modify one so it ticks all of the road-legal boxes. But let's be honest — that would be an unforgivable act of vandalism and isn't really an option.