One Of F1's Best Drivers Nearly Appeared In 'Top Gun: Maverick'
One of the most accomplished Formula One champions almost played a meaty role in the Tom Cruise-starred "Top Gun: Maverick", which happens to be one of the biggest Hollywood blockbusters of the past few years. In a recent tell-all interview with Vanity Fair, the Formula One driver in question discussed everything from his career struggles and achievements to his entrepreneurial side and venture into the glitzy world of film-making.
He is not really a stranger to the world of big-budget Hollywood films. His cameo role in Ben Stiller's "Zoolander 2" generated quite some buzz in 2016, while the Mercedes driver called the whole experience of filming "strange" with the star-studded cast. However, his more famous role was in Pixar's "Cars 2" and its sequel, in which he voiced a personal assistant named Hamilton.
As for his potential involvement with "Top Gun: Maverick," it was the record-breaking athlete who reached out to Tom Cruise for a role in the movie, which has now crossed the $1.35 billion figure as its global box office tally. The racing ace said he was a fan of the original film that came out in 1986, and as soon as he heard that a sequel was in active development, he reached out to Cruise, who also co-produced the film. Cruise, in fact, agreed to a role much juicier than the track champion was willing to take.
Cruise out, Pitt in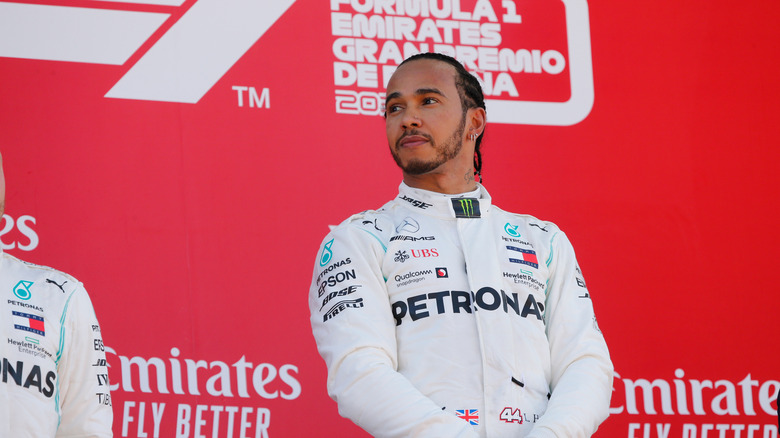 cristiano barni/Shutterstock
If you haven't guessed the personality by now, it's British Formula One legend Sir Lewis Hamilton. "I don't care what role it is. I'll even sweep something, be a cleaner in the back," Hamilton remarked regarding his pitch to Cruise for being included in "Top Gun: Maverick." Cruise, on the other hand, put Hamilton in the role of a fighter jet pilot. However, the dates for filming collided with the Formula One season's last phase, forcing Hamilton to skip the opportunity.
For their respective roles as pilots in the movie, cast members Glen Powell, Miles Teller, and Monica Barbaro had to learn how to fly fighter jets, according to a report from Variety. However, Hamilton's Formula One duties couldn't align with the calendar dates for the film's fighter jet training sessions. Hamilton added that he thinks of himself as a perfectionist, and since he couldn't be there for the preparatory phase, he eventually made the hard decision to pull out of the project. "The most upsetting call that I think I've ever had," Hamilton remarked. 
However, it appears that Hamilton's ties with the world of cinema are far from over. He is currently co-producing a film for Apple that stars Brad Pitt in the lead role "as a driver who comes out of retirement to compete alongside a rookie driver against the titans of the sport."