Samsung Galaxy Watch 5 Boosts Battery And Health Sensor Size For A Better Smartwatch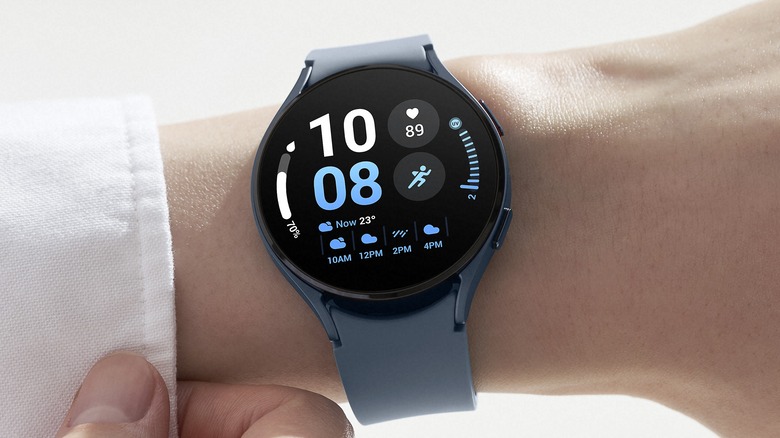 Samsung
Samsung has just unveiled three new additions to its popular Galaxy Watch line: the Samsung Galaxy Watch 5, the Galaxy Watch 5 Pro, and the Galaxy Watch 5 Golf Edition. Made to be bigger, sturdier, and more versatile than the previous iterations, the new smartwatches are arriving soon, each equipped with a host of useful features and big upgrades. Ranging from advanced health tracking sensors to a much larger battery, these new watches are certainly an upgrade over the Galaxy Watch 4. In addition to the specifications, we now also know the exact release dates and the pricing of the new Samsung Galaxy Watch 5 and Galaxy Watch 5 Pro.
In terms of design, the two new watches don't stray from the convention established by the Galaxy Watch lineup. They have a round watch face surrounded by thin protruding bezels and attached to a Samsung-made strap. The design is fairly minimalist and unobtrusive, but you can customize the watch — Samsung touts the ability to build a smartwatch that you like based on various models, sizes, and case and strap colors using the Bespoke Studio on its official website. Out of the box, the Galaxy Watch 5 and 5 Pro both come equipped with a Sapphire Crystal display that Samsung claims has an outer layer that's 60% harder when compared to previous models. Yes, this is the first time Samsung has offered Sapphire Crystal in its wearable lineup.
The new watches will help you plan your workouts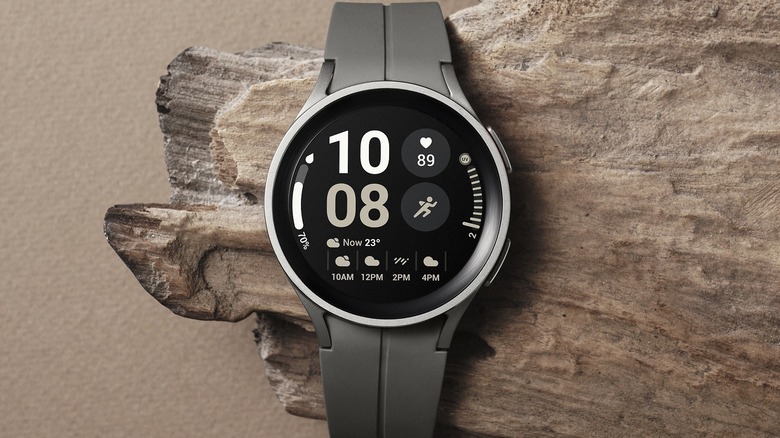 With this next generation of the Galaxy Watch, Samsung introduces improved sensor technology that helps the smartwatch track all kinds of useful things. As with the Galaxy Watch 4 line, the new Watch 5 features the company's BioActive Sensor, which combines bioelectical impedance analysis, electrical heart signal, and optical heart rate sensors via a single chip. These sensors track your heart rate, blood oxygen level, and heart health, and users get access to the popular ECG monitoring feature, something pioneered by Apple (when it comes to smartwatches, that is). Samsung also promises to help you track your own stress levels and various health-related metrics, such as temperature, through the use of infrared and body composition.
Unsurprisingly, there's also a sleep tracker with snore detection that keeps tabs on your sleep stages as you rest. The Galaxy Watch 5 could help improve your sleep hygiene by automatically turning down connected lights and electronics when you're reaching your bedtime. Falling or stumbling will notify an emergency contact to come and help you, and if you're tired after a workout, the Galaxy Watch 5 will collect all of your post-cardio heart data to help you adjust the intensity next time. The watch will even remind you to drink water based on your sweat loss.
Like most smartwatches, Samsung's new gadget is a helpful workout planner that will guide you on your health journey, and then help you get home if you've biked or ran a little bit too far, following the exact same path. It's also an entertainment buddy with access to apps like Spotify and Google Assistant that make it easier to use the small device when you don't want to pull out your phone. The Galaxy Watch 5 Golf Edition takes the sporty aspect a step further and customizes your golfing experience with extra recommendations.
It's not cheap, but it could be worse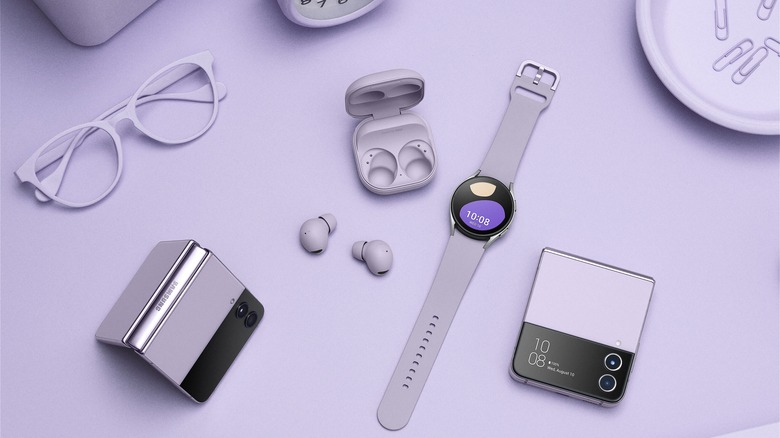 Samsung
Samsung's Galaxy Watch 5 has a larger and better battery by default, with the basic version offering a 13% larger battery than the Watch 4. However, the Galaxy Watch Pro 5 houses a real behemoth in comparison, with a battery 60% bigger than that in the Watch 4. It also comes with an enhanced Sapphire Crystal and a titanium casing to make it extra durable. Of note, Samsung promises users 8 hours of sleep tracking — in terms of battery life — after only 8 minutes spent on the charger. Samsung markets this device toward those who want to get the most out of their workouts, including the ones that take you to rugged, uncharted territories. The new Samsung Galaxy Watch 5 line is now available for pre-order, which will last through August 25. Starting August 26, the watches will be available from various retailers, including both online and brick-and-mortar stores. These dates apply to all three models.
The pricing differs from version to version, and of course, the size also plays a part. The smaller 40mm versions are available in Graphite, Pink Gold, and Silver with a Bora Purple strap, the latter of which will look particularly great alongside the Samsung Galaxy Z Flip 4 foldable, while the large 44m version can be purchased in Graphite, Sapphire, and Silver. 
The base Galaxy Watch 5 model's pricing starts at $279.99 for the Bluetooth version and $329.99 for the LTE version, and it can go up based on the exact model of your choosing. The Galaxy Watch 5 Golf Edition will start at $329.99. Meanwhile, the Galaxy Watch 5 Pro will cost $449.99 and $499.99 for the Bluetooth and LTE versions, respectively. It may not be cheap, but there are much more expensive watches out there.