Galaxy Watch 4 Update Brings A QWERTY Keyboard And Accessibility Options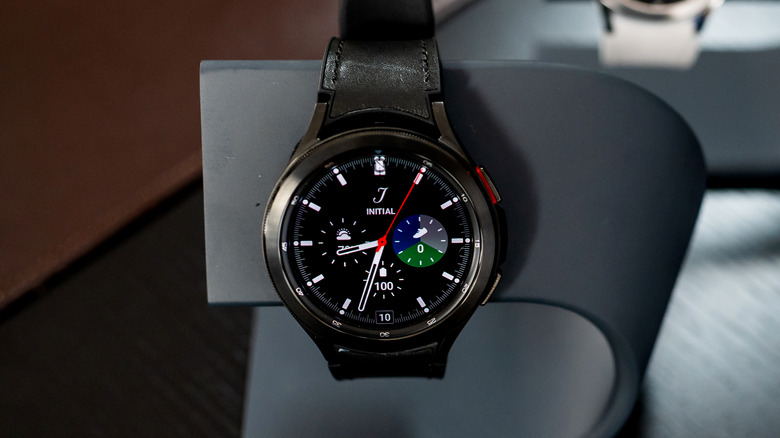 Bloomberg/Getty Images
We may receive a commission on purchases made from links.
In around a month's time, Samsung could be launching its next smartwatch and the industry's third Wear OS 3 device. The Galaxy Watch 5 isn't expected to have much in the way of big new features, but it is rumored to be dropping one iconic staple. In the past, Samsung exhibited short-term memory loss that made it conveniently forget last-gen products as soon as the newest ones hit the stage. That isn't today's Samsung anymore, thankfully, and it seems to be giving owners of the Galaxy Watch 4 some assurance that it hasn't forgotten about them just yet. With plenty of time to spare, Samsung is rolling out a One UI Watch 4.5 update that adds some interesting new features but also raises questions about the company's older wearables.
The Galaxy Watch 4 series is truly one of a kind, or at least the first of its kind. Not only is it Samsung's first smartwatch to use Google's Wear OS, but it is also the first to actually use the latest Wear OS 3 version. Until recently, it was also the only one, but Montblanc launched the Summit 3 last month to become the market's second. That, however, still leaves the Galaxy Watch 4 in the lead, with many features that are a mishmash of both Wear OS 3 and its old Tizen-based platform. It continues to push new features that may not be available to pure Wear OS wearables or even pure Tizen smartwatches, which does seem like how this new One UI Watch 4.5 update is going to play out.
Inputs, faces, and questions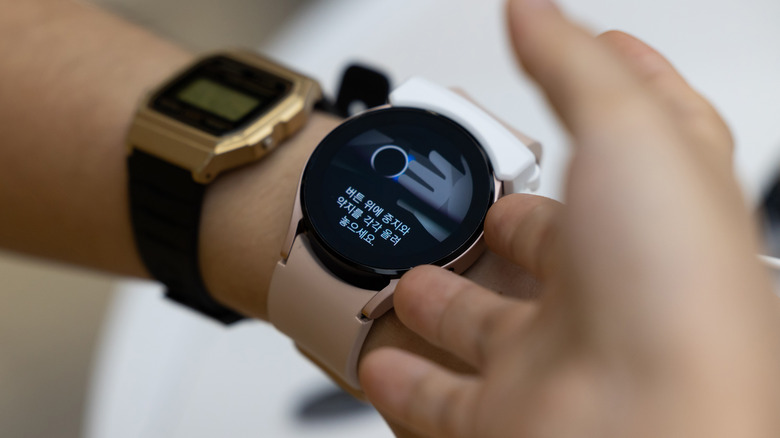 Bloomberg/Getty Images
At the very top of the list of new features is the new full QWERTY keyboard input method. Of course, it would be foolhardy to actually peck your replies and searches on the tiny screen, so Samsung thankfully included swipe gesture typing to complete your words for you. You can also easily switch to other input methods like dictation if you prefer that. And speaking of choice, owners of the Galaxy Watch 4 will now be able to see and choose which SIM to use when sending messages or making calls, at least for those connected to dual-SIM phones.
The update also brings more watch faces to help you see the information you need at a glance. If you have vision problems, however, that might still be a difficult task. One UI Watch 4.5 brings a couple of new accessibility features, including the ability to adjust the hue and contrast of the smartwatch display. Users will also be able to set a delay for taps in case their finger control isn't that precise anymore.
All these new features will be available on the Galaxy Watch 4, the Galaxy Watch 4 Classic, and upcoming Galaxy Watch models like the Galaxy Watch 5. This, of course, confirms that the next Samsung smartwatch will still be running Wear OS. Unfortunately, Samsung is silent on whether these features will be available on older models, at least on the Galaxy Watch 3. Given its promise to continue supporting its previous-gen smartwatch, some but not all of these features could eventually find their way to the 2020 Samsung wearable.