Tag Heuer Keeps Making Expensive Smartwatches, But Is Anyone Buying?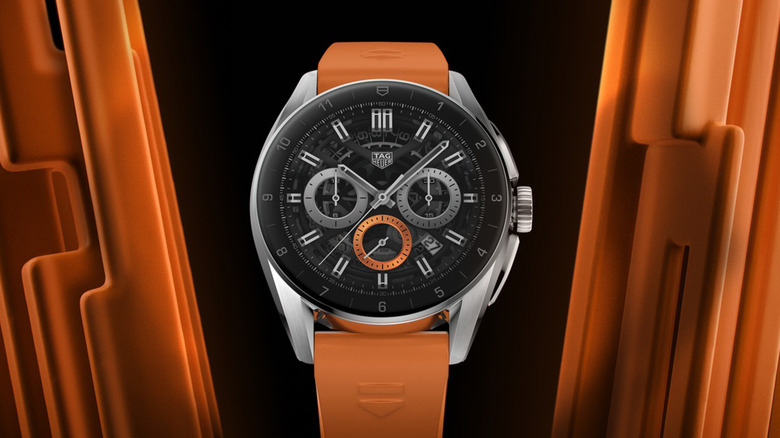 TAG Heuer
Luxury products always come with an added premium, but it's hard not to wonder just how many people bite the bullet and spend massive amounts of money on a luxury product that depends on modern software – like a TAG Heuer smartwatch. On February 10, 2022, TAG Heuer unveiled a new generation of its Connected watches, including a brand-new 42mm model as well as a refreshed version of its otherwise-current 45mm model. Both the devices were part of TAG Heuer's Connected Calibre E4 line of exclusive, high-end watches. The watches sound pretty great on paper, but are they really worth their exorbitant price tag?
While the 45mm model was already part of the Calibre E4 line, the 42mm model presented a smaller take aiming to provide a slimmer, perhaps more elegant look. The company made the watches to be versatile so as to appeal to a wide range of customers. Whether you're looking for a sports smartwatch or a stylish accessory, the new TAG Heuer products were (and are) likely to meet most criteria.  
The only downside of a TAG Heuer smartwatch is its price, and for some more budget-conscious users, their value for the money. After all, TAG Heuer is not alone on the smartwatch market: there are cheaper watches out there with similar features.
Prices for the new TAG Heuer Connected Calibre E4 42mm model started at $1,800 at launch, while the cheapest 45mm watch cost $2,050. The watches are set to start shipping in March 2022, marking two years from the release of the previous Connected watch. What do you get when you buy one of these $2k watches? 
Calibre E4 42mm may be smaller, but it packs a lot of punch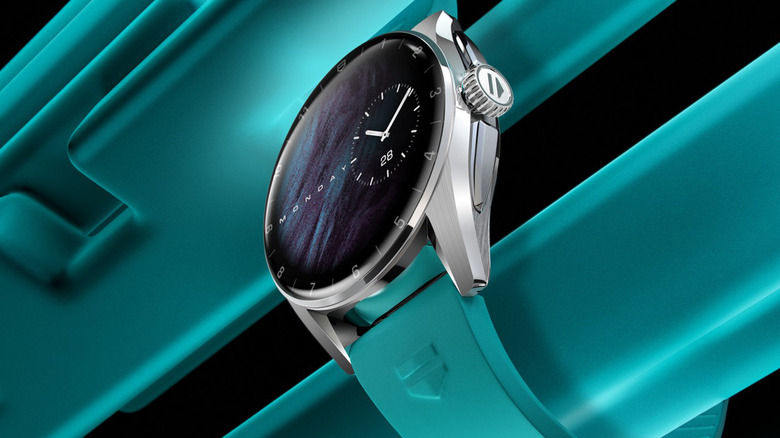 TAG Heuer
For the price of a decent gaming PC, TAG Heuer promised high-end performance combined with an elegant look and an innovative set of features. The Calibre E4 watches were announced with the promise of a number of watch faces, ranging from a wellness tracker to a futuristic, colorful animation. Customers could also opt for a more classic mechanical watch face look based on the many watches TAG Heuer has released over the past 160 years. There were (and are) both sporty looks and elegant, timeless options to choose from.
In terms of features, both the 45mm and 42mm models were announced with a wide range of fitness tracking options. Once set up, these watches can be connected to a smartphone to help plan workouts; they also track your steps, calories burned, and real-time heart rate. A newly added feature with this line was the ability to visualize workouts, guiding users through their entire exercise routine, and reminding them when to take a break as well as when to start the next set. 
It's hard to deny that the feature looks fancy, but it's nothing that couldn't be replaced by a cheaper watch and a free exercise video on YouTube. However, there is the added freedom of not needing a phone or a TV — all the information is displayed right there on the Calibre E4 watch.
TAG Heuer claimed that the watches offer extra-bright screens that work in full sunlight and they come with a charger that can double as a discrete night-time clock as well as a watch stand. Once these watches hit the market, TAG Heuer suggested that users could pick from a number of leather and steel straps to customize their watch further, and there are plenty of colors to choose from.
How many people actually buy TAG Heuer watches?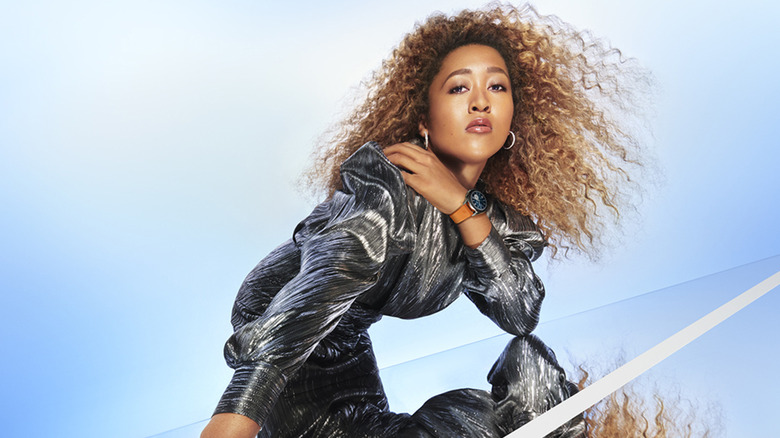 TAG Heuer
The 2022 TAG Heuer 42mm and 45mm watches sound great, they really do, but the price is quite hard to look beyond. These devices are definitely luxury products that are marketed towards users who are fine with paying for the name tag alone. They do provide a number of fantastic features, but the $2k and above price tag does make one wonder how large a customer base TAG Heuer has where these watches are concerned.
LVMH, the French luxury brand that owns TAG Heuer, doesn't publish information revealing how many smartwatches it actually sells. Clearly, it's still capable of making a profit, or else its whole business model would not hold up — but what sort of numbers are we talking about here? It will probably remain a mystery.
The luxury watch market is not an easy one to break into. Apple made an attempt of releasing an ultra-high-end version of the Apple Watch. Priced at a minimum of $10,000, it was released in 2015 and offered a number of upgrade options that hiked the price up even higher, up to $17,000. The watch only received updates for three years: in 2018, Apple announced it would no longer receive software upgrades. It was quietly discontinued in 2016 and never returned. Although TAG Heuer watches must be doing better, it's hard to estimate just how popular they are when there are cheaper models out there doing the exact same thing.