New HomePod And HomePod Mini Could Be The Start Of A Smart Home Line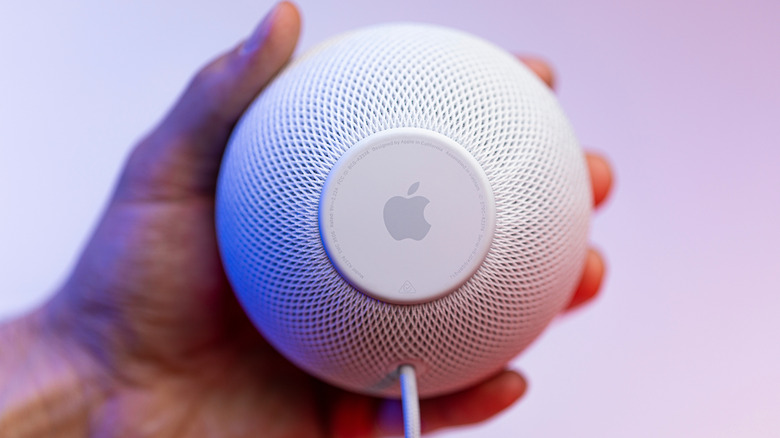 Hopix Art/Shutterstock
Apple was fashionably late to the smart speaker party, and if its total number of products is to be considered, it almost seems disinterested in that market. Of course, the company would greatly benefit if it invested heavily in this aspect of the smart home, but in typical Apple fashion, it is taking its sweet time to make sure all the pieces are in place before making its killer move. It seems that the wait may be over, though, and Apple is picking up the pace with a new HomePod smart speaker coming soon. That, however, might just be the opening salvo, and Apple may have more in store for smart homes in the very near future with devices that could give Amazon and Google a run for their money.
Unlike almost all of its products, the very first HomePod speaker came a year after it was announced, putting Apple fans on edge about whether it would happen at all. By the time the model arrived in 2018, the Amazon Echo and Google Home had already been on the market for years. Reception of the Apple HomePod was also moderately positive, with reviews praising its sound quality but criticizing its lack of features compared to the growing number of smart speakers on the market.
Fast-forward four years later, and the original HomePod was replaced by the HomePod mini. Though Apple has addressed most of the criticism in terms of features, there have only been two HomePod models ever launched. There is plenty of room for improvement in ways that software updates can't deliver, and it seems that Apple is finally ready to take the smart home market by storm.
Apple's alleged smart home agenda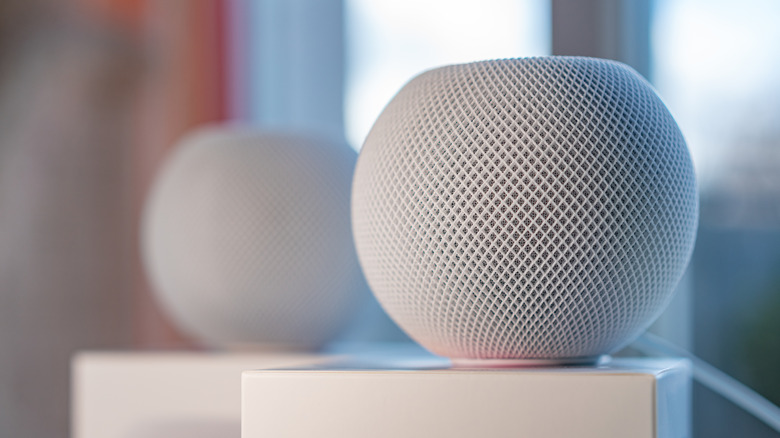 Ugis Riba/Shutterstock
Bloomberg's Mark Gurman has been talking about a new high-end HomePod coming soon, but that's apparently just the tip of the iceberg. According to the tech journalist (via 9to5Mac), this new HomePod will be more like the original in terms of size and audio quality but will have a more up-to-date Apple S8 chip (the same chip expected in the upcoming Apple Watch 8 Series), and support for current wireless standards and features. Although it will reportedly launch on its own, the next-generation model will supposedly be joined by a new HomePod mini that will reportedly also get some upgrades, including, potentially, support for the current Bluetooth 5.2 standard.
But wait, there's more! Gurman says that Apple also has two other smart home devices in the pipeline. One would be a kitchen device that's a mash-up of an iPad and a speaker, while another is said to combine an Apple TV, a camera, and a HomePod. If these descriptions sound familiar, you might have already heard of products like the Amazon Echo Show or Google Nest Hub Max, making it clear that Apple is preparing to take on its biggest rivals in this space — assuming, of course, that the claims are accurate.
These four products could help cement Apple's position in the smart home market beyond just its Home ecosystem. That said, even Gurman is uncertain when — or even if — all of these products will see the light of day, except for the high-end HomePod that might just be a few months away. The HomePod mini, which is a more likely candidate, might launch sometime in 2023, while one of the other smart home devices could debut in 2024, presuming they don't get axed before then.