BMW Reveals Its Cheapest All-Electric Car In The U.S.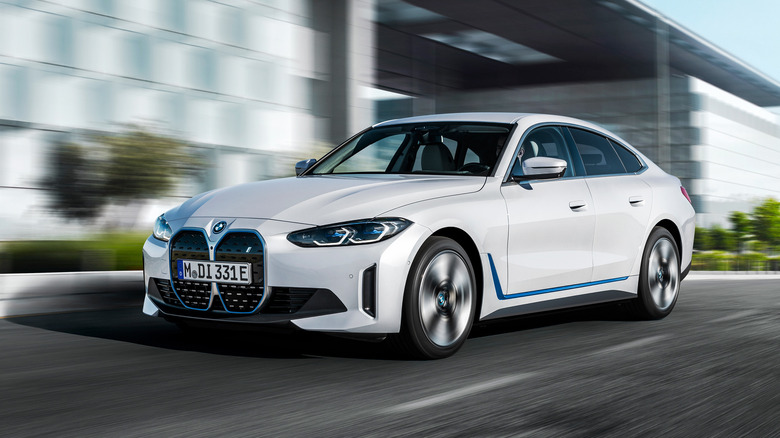 BMW is adding a new EV to its lineup, the confusingly named i4 eDrive35, which also takes home the honor of being the German automaker's most affordable electric ride. Starting at $51,400, production is slated to begin in the fourth quarter of 2022, while the first batch of shipments will land on U.S. soil in 2023's first quarter.
The company is touting a range of 260 miles for the BMW i4 eDrive35, which pits it against the likes of Volkswagen's ID.4 SUV, Polestar 2, and the Hyundai Kona Electric, all of which also fall in the same price bracket. BMW has cut some corners on the i4 eDrive35 by reducing the battery capacity to 66 kWh (down from 81 kWh from the i4 eDrive40), while the charging speeds max out at 180 kW, a small deprecation over the 200 kW figure touted by the i4 M50 model.
Yes, BMW is serving less for the lower asking price, but those are the only two meaningful areas where the i4 eDrive35 might look like a lesser car. On the ground, not much else has changed compared to the pricier eDrive40 model. The latest BMW offering shares the same Gen5 eDrive powertrain as the other i4 series cars and even the premium iX model.
Enter the world of BMW EVs without breaking the bank
When it comes to raw performance, the latest electric car from BMW can muster 281 horsepower, while the torque figure stands at 295 lb-ft. The carmaker claims that the BMW i4 eDrive35's single electric motor can take it from still to 60 miles per hour in 5.8 seconds. As far as the pace of charging goes, BMW says buyers can expect up to 80% juice in just 32 minutes.
While the design is unmistakably BMW, the main attraction is its unified digital dashboard. The car offers a long curved display that combines a 14.9-inch control display with the 12.3-inch information cluster dashboard. The in-house BMW Operating System 8 powers the whole system, complete with ConnectedDrive digital services and OTA update facility in tow.
The i4 eDrive35 is BMW's way of offering an entry point for its i4 EV range at a competitive asking price. BMW has ambitious EV sales plans and aims for BEVs to make up 50% percent of all its shipments by the year 2030. So far, the company claims to have sold 57,000 EVs globally in the first half of 2022. With the i4 eDrive35, BMW is banking on its brand value and luxury pedigree to sell EVs, and it might find buyers when pitted against options from the likes of Hyundai and newbies like Polestar.