The 10 Coolest Features On The Ferrari Monza SP1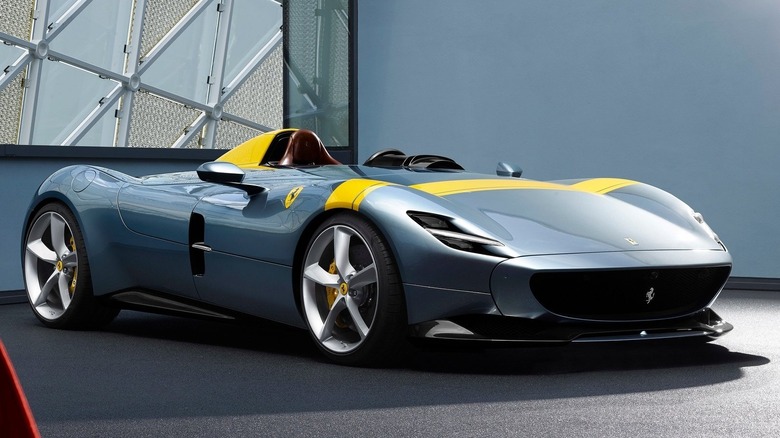 Ferrari
With the advent of electric power and intelligent driver assists, high-performance cars are now more affordable and accessible than ever. Gone are the days when driving something fast meant making compromises, as the likes of the Tesla Model S Plaid and the Porsche Taycan allow drivers to access performance levels previously only available on supercars, without giving up any of their everyday creature comforts.
Ferrari's Monza SP1 is the direct antithesis to these accessible supercars. It's rare, eye-wateringly expensive, and one of the least practical cars on the market, full stop. And yet, when Ferrari's order books opened in 2018, it sold out almost instantly. So, what is it that makes collectors so keen to get their hands on this rare, impractical supercar? To sum it up, it's one of the most unique Ferraris in years. It might be about as far away from a daily driver as it's possible to get, but it's packed with features that will ensure it stays a hotly-contested collector's item well into the future.
One of only 499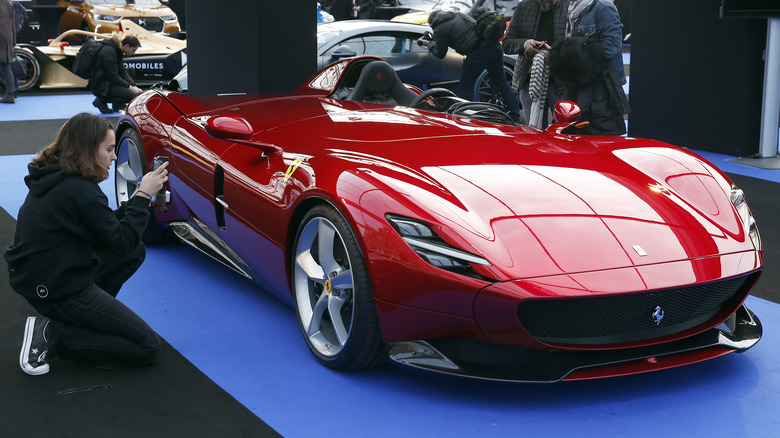 Chesnot/Getty Images
The first thing to note about the Monza SP1 is how few are available worldwide. Now, this isn't exactly new territory for Ferrari, which is well known for making exclusive performance vehicles. But, the Monza SP1 takes this exclusivity to new heights in a number of ways. Firstly, only 499 units have been made for the SP1 and SP2 combined, and potential buyers were individually vetted by Ferrari to ensure they met the brand's strict purchase requirements. Secondly, the car is the first of a new series called "Icona," which Ferrari says "reinterpret[s] timeless style, with technologically advanced components and the highest performance possible." So, in other words, these are guaranteed future collector's grails delivered straight from the factory.
Getting onto the order list for a car like this requires a buyer to not only possess a collection of "lesser" Ferraris but also to be on a friendly basis with their local Ferrari dealer. They may also need to have been on several track days or brand-specific events, simply to prove their dedication to the Prancing Horse badge. Even then, there have been instances where collectors have done everything right, yet still been refused the right to buy an exclusive new car, for reasons completely unknown to them. So, any of the Monza SP1's few hundred proud owners will be part of an ultra-exclusive club that even money alone can't get you into.
No windows or roof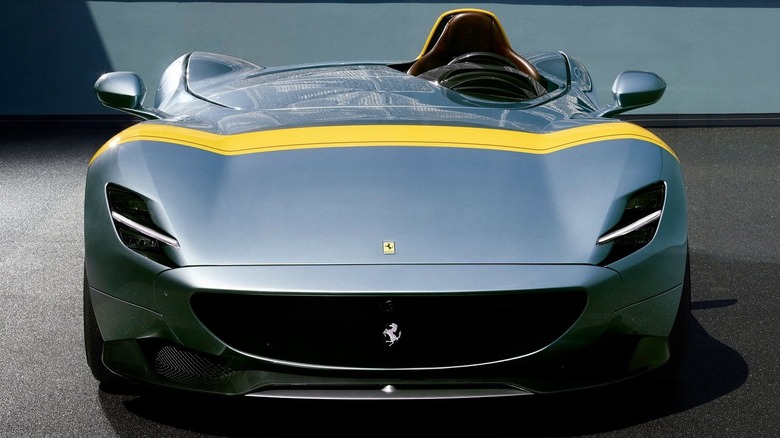 Ferrari
Take a look at the Monza SP1 and there's one thing that's immediately noticeable: there's no roof, no windows, and virtually nothing separating the driver from the outside world. While this undoubtedly makes the car more intense to drive than any other modern Ferrari, it also has the effect of making the car virtually useless in wet or windy weather. So, not only will buyers have to prove to Ferrari that they're worthy of buying the Monza SP1, but they'll also have to live somewhere suitably warm and sunny to be able to even use it.
It might seem like an unusual choice to make a car with such a minimalist design, but it gives the SP1 a strikingly unique look that's unlike anything else on the road. Even on the streets of Monaco or the highways of Dubai, this is a car that will turn heads wherever it goes. The driver had better be used to being the center of attention because it's not like they'll have anywhere to hide driving the SP1.
Virtual windshield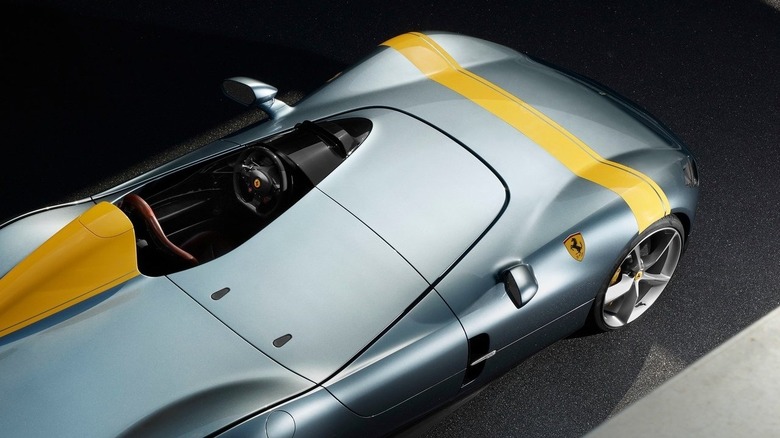 Ferrari
Alongside its lack of windows or a roof, the Monza SP1 also has no windshield. Or rather, it has what Ferrari calls a "virtual windshield." In place of a traditional glass or Perspex screen, Ferrari has developed an airflow system that's supposed to do the same job as a windshield, but without the aerodynamic compromises that fitting a physical one would demand. As the car is driving along, air is sucked in through the large intake at the front of the car, then channeled to an upwards-facing vent that's positioned just in front of the driver's seat.
The idea is that the air is forced directly upwards out of the vent, producing a barrier that stops the driver from being blown around too much. It still won't be able to stop larger pieces of debris like rocks or racing shrapnel, but it should make it a little more bearable to be in the driver's seat. Unfortunately, no one at SlashGear has had the chance to take the Monza SP1 for a spin and try it out ourselves, but Doug DeMuro briefly tested it and was impressed by this innovative system.
6.5L V12 engine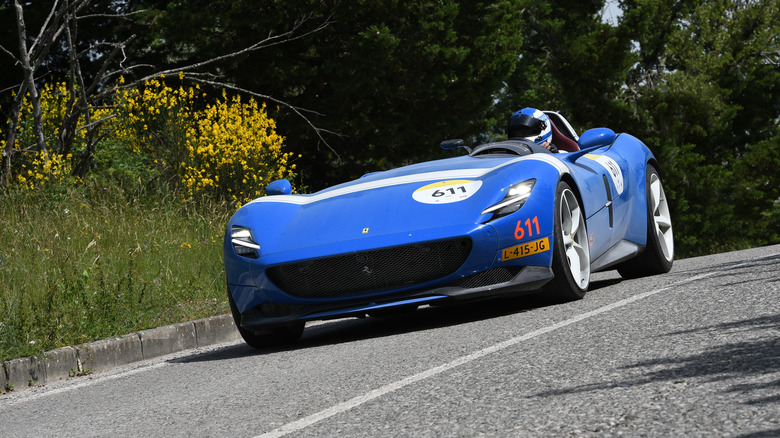 Dan74/Shutterstock
The centerpiece of any Ferrari is its engine, and the Monza SP1 doesn't disappoint. It's the same 6.5L V12 that's used in the 812, but in the Monza SP1, it makes 809 horsepower and 530 lb-ft of torque. Like the 812, the engine is naturally aspirated, and power is sent solely to the rear wheels. The car comes with only one choice of transmission, an F1 seven-speed dual-clutch system. No manuals here, unfortunately.
With all that power and a curb weight of just 3,307 lb, the Monza SP1 can sprint from 0-62 mph in just 2.9 seconds, and from 0-124 mph in 7.9 seconds. Top speed is limited to 188 mph, not that fast compared to other modern Ferraris, but presumably as fast as Ferrari could safely make a car that has virtually zero driver protection. Even at half that speed, the sensation of speed in the Monza SP1 must be incredible, and its engine note must be too. Well, that's if you can hear the engine over the sound of all the air buffeting your face.
A single carbon-fiber seat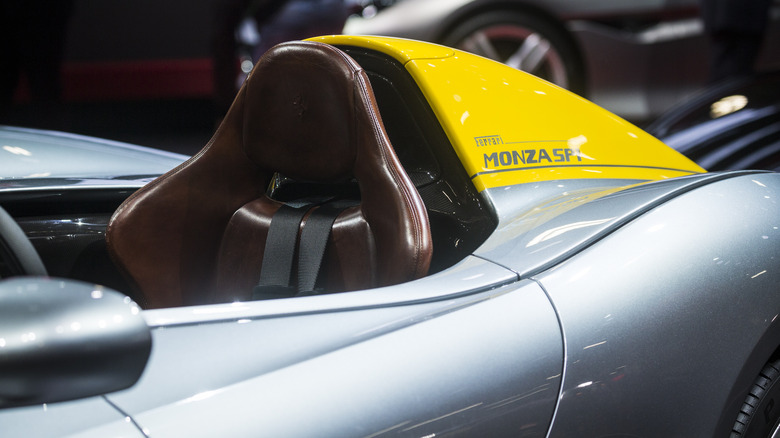 Richard Bord/Getty Images
To make the Monza SP1 as unique (read, impractical) as possible, Ferrari only designed the car with a single seat. It's made of carbon fiber to keep weight down to a minimum, and to get in it, drivers have to lift the comically small door up, then hop over the huge sill, and carefully lower themselves into position. It's not a graceful car to get in or out of, but the standard Ferrari leather interior should at least keep drivers comfy once they've managed to get inside.
Anyone who wants to bring a friend or significant other along for the ride in their new Ferrari is out of luck with the SP1, but they could instead opt for its twin, the Monza SP2. It's an almost identical car, but it has two seats instead of just one. But, before anyone reaches for their wallet and starts Googling the phone number for their local Ferrari dealer, the SP2 is just as tricky to buy as the SP1. It costs just as much, requires the same strict buyer vetting, and they're all sold out already.
Heritage-inspired design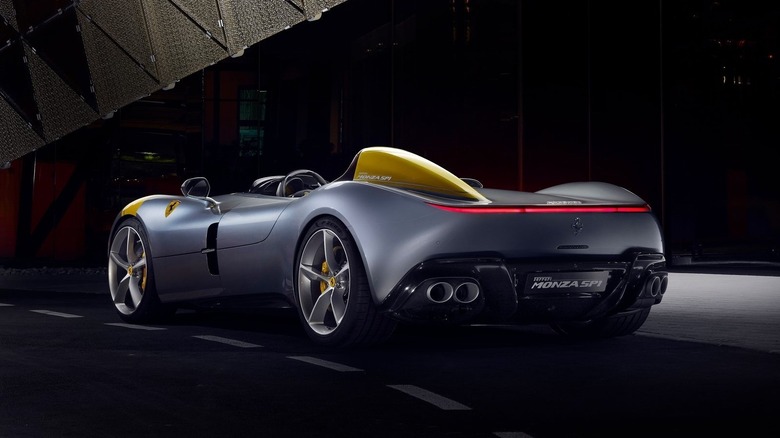 Ferrari
The idea to make a single-seater, aerodynamically extreme car is not a new one. The Barchetta design is deeply rooted in Ferrari's racing history, with many of the brand's racing cars from the '50s looking similar to the design of the Monza SP1. In fact, that's exactly where the brand's designers say they drew their inspiration from, although they made sure to mix in some modern Ferrari DNA for good measure.
According to the brand, the design ethos for the Monza SP1 is reportedly to look "crafted from the wind," with flowing lines and a mix of futuristic and retro touches. Ferrari was looking to capture the essence of its classic racers, but with the performance and technology that Ferrari's latest creations benefit from. It's fair to say that they've done an excellent job, as there's no denying that the Monza SP1 is one of the most striking designs of any recent performance car.
Interior based on the 812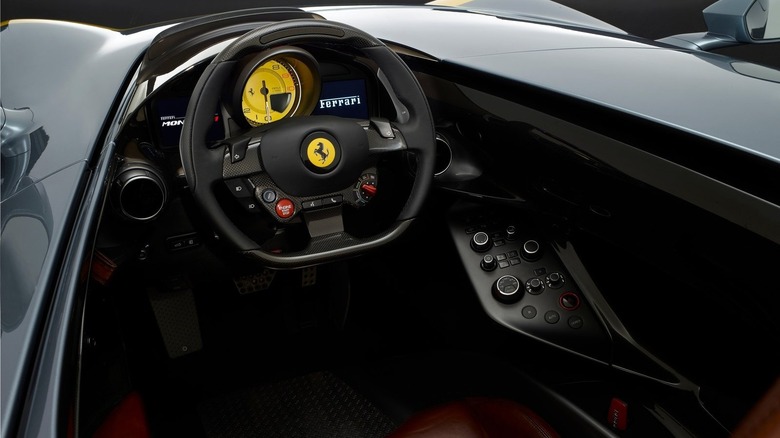 Ferrari
As much as it's easy to wax lyrical about the Monza SP1's unique exterior design, there's no getting away from the fact that this is essentially a very expensive rebodied Ferrari 812. It uses the same chassis as the stock 812, the same engine, and many of the same mechanical components. It also borrows the 812's interior, although the unique layout of the Monza SP1 has forced Ferrari to switch things around a bit in order to make them fit.
For example, the rotary controllers for the two infotainment screens are now wedged one below the other on the right-hand side of the cockpit. In his review of the car, Doug DeMuro noted that controlling either screen was confusing since the layout is unintuitive, which wouldn't be such an issue if those screens didn't contain vital information like the speedometer, fuel gauge, and oil temperature. He also pointed out how little room there was to move around when he was sat in the car, with its racing-style proportions meaning larger drivers might not even be able to fit in it at all.
Air conditioning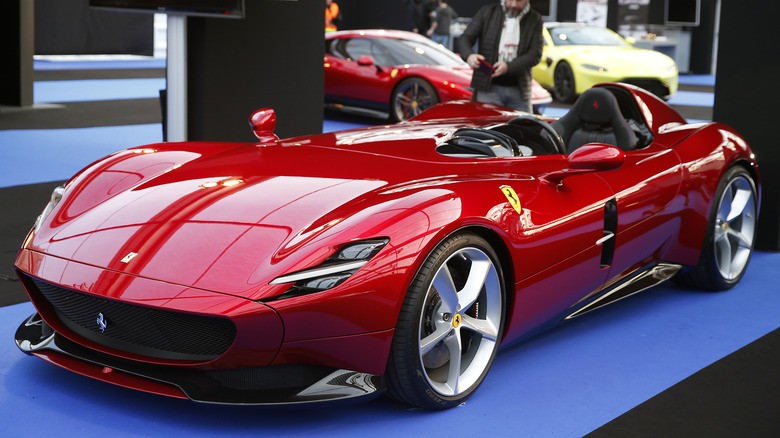 Chesnot/Getty Images
A feature like air conditioning wouldn't usually make it onto a "10 coolest" list like this one, except perhaps in the literal sense. But, the Monza SP1's air conditioning deserves its spot here, as just the idea of having air con and climate control in a car with no windows or roof seems crazy. Nevertheless, the car features a dial that allows the driver to specify the exact air temperature they'd like the cockpit to remain at, and Demuro notes that there are two heavy-duty fans positioned on either side of the steering wheel to keep things cool.
It remains to be seen how useful this feature is when the car is traveling at speed, but perhaps at low speeds, in traffic, or around town, some extra cooling is useful. Although, considering drivers need to wear a helmet or racing goggles at all times when driving the Monza SP1 because of the risk of being hit with debris, they're probably going to get a bit hot and bothered with or without the air con on.
0% practicality, 100% performance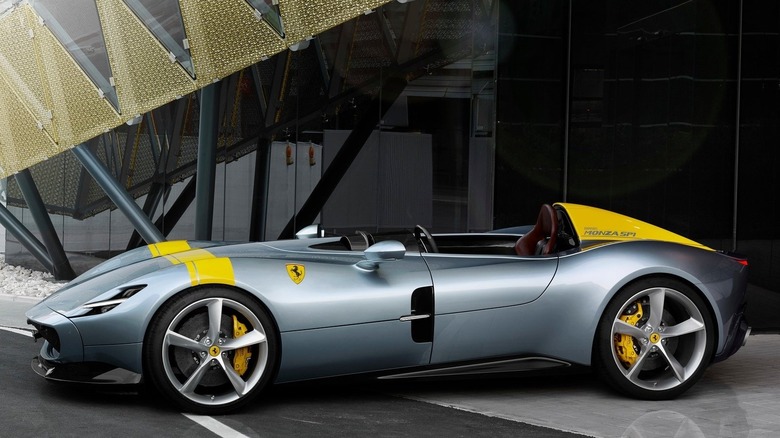 Ferrari
The Monza SP1 was designed purely around performance and aerodynamics, with almost zero regard for the car's practicality. While that in itself gives it a unique appeal, it also comes with some downsides, the main one being that the car isn't road legal in the U.S. It can be imported under a show and display exemption, which in theory allows a car to be used on public roads for up to 2,500 miles per year. But, this exemption is incredibly tricky to obtain, and the NHTSA reserves the right to re-restrict a car at any time. So, it's pretty much only usable on race tracks and private land, at least in America.
The good news for billionaires with SP1s on order is that it is road legal in Europe. Anyone who's rich enough to afford one of these ultra-exclusive machines will most likely have a spare property in Monaco or somewhere similar, so as long as they keep their SP1 out there, it can be fitted with a license plate, no problems.
Starting price of $1.8 million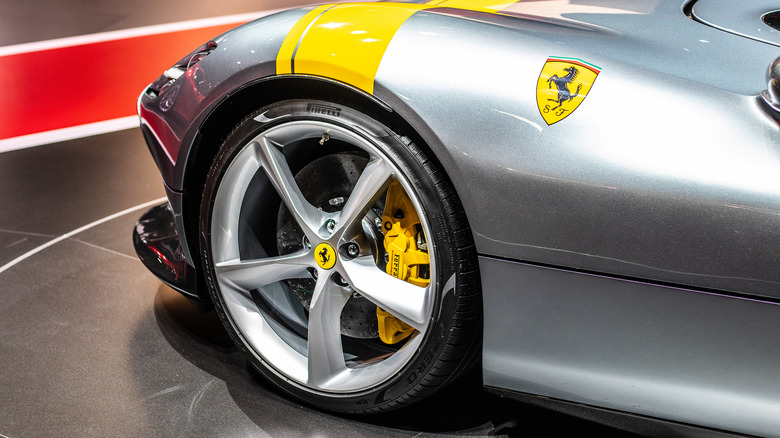 Grzegorz Czapski/Shutterstock
For the lucky few who made the order list for the Monza SP1, price isn't really going to be an issue. It's a good job really, as the car comes with a starting price of $1.8 million plus taxes, and any extras will add even more to that bill. And there will be extras, as every Monza SP1 owner is invited to work with their local Ferrari dealer to spec the car to their exact tastes. So, the total figure is likely to be well over $2.5 million for American buyers, once they've added in their choice of paint, interior finish, and wheels.
In many ways, the Monza SP1 is the ultimate weekend toy, a ridiculously impractical pure-bred performance car that only the world's wealthiest will get a chance to own. It also proves that Ferrari hasn't lost its talent for making wild-yet-wonderful cars, despite caving into the SUV trend and releasing the Purosangue later this year. The Purosangue will undoubtedly print money for the brand, and if it can help fund the development of more crazy low-volume specials like the Monza SP1, maybe Ferrari's SUV isn't such a bad thing.