Rolls-Royce Spectre Turns Soothsayer To Deliver Electric Coupe's Killer Cosseting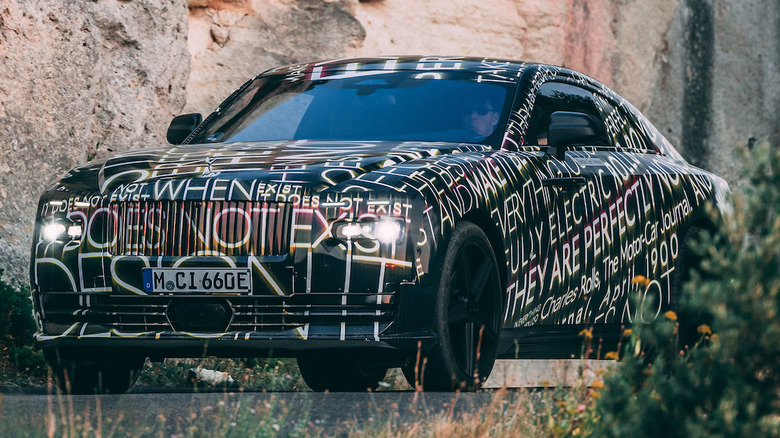 Rolls-Royce
New details about what's shaping up to be the most intriguing Rolls-Royce in decades keep emerging, and the countdown to the big unveil of the Spectre all-electric coupe continues. Set to be revealed in full by the end of the year, the luxury two-door is still currently clad in its distinctive camouflage wrap as testing is underway, but that doesn't mean we don't have some extra clues about what's going on underneath.
It's fair to say that Rolls-Royce hasn't been particularly concerned in the past with the weight of its cars. After all, when you're loading up on leather, wood, and a V12 gas engine, heft is an inevitability. Still, for Spectre and to accommodate the weight of an all-electric drivetrain including its battery, making sure the "magic carpet ride" is present and correct has become a priority — and it can't all be done by putting the mascot on a diet.
The result, Rolls-Royce now explains, is a new "smart suspension system" that integrates with its electronic roll stabilization. It can tap data about the road surface up ahead — built up using cameras and other sensors along with knowledge from the navigation system about upcoming corners — to preload the anti-roll bars and help keep the EV coupe level. It also stiffens the dampers and readies the four-wheel steering for maximum precision in the turns.
Big car, big doors, big deal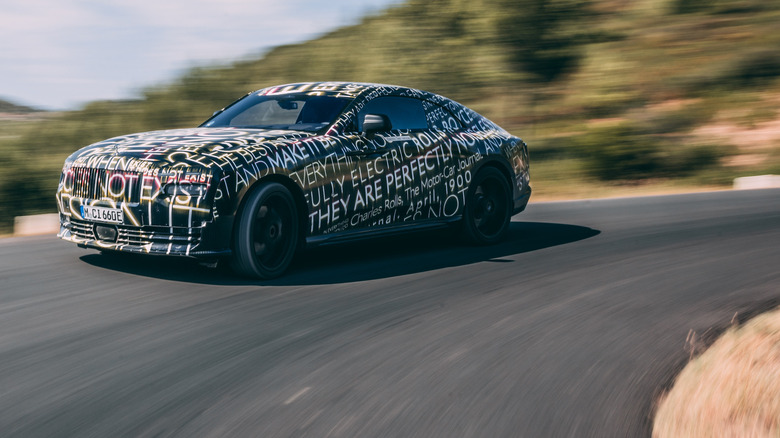 Rolls-Royce
On straight roads, meanwhile, the same system can then decouple the anti-roll bars. That then allows each of the EV's wheels to independently adjust, avoiding any rocking motion on rougher roads. Spectre shares its platform with the Phantom and Cullinan, with Rolls-Royce's so-called "Architecture of Luxury" designed from the outside with an eventual shift to electrification in mind. However, the EV actually improves on those underpinnings in some unexpected ways.
The biggest is likely to be rigidity, where Spectre is said to be 30% stiffer than previous implementations. That's down to integrating the battery pack — and its various protections — into the architecture, effectively using the component as a structural piece. Rolls-Royce also then bakes in extra steel sections alongside the existing aluminum and then throws on the longest pillarless coach doors — rear-hinged, naturally — on any of its cars so far.
They're almost 5 feet in length, a big door for what's going to be a big deal for Rolls-Royce. The automaker has promised to reveal its all-electric model before 2022 is through, though — with development currently around 40% complete — it'll be hard at work still to get things finished in time for customer deliveries to begin in Q4 of 2023.