You Can Now Buy An Xbox Series X|S From Verizon, Believe It Or Not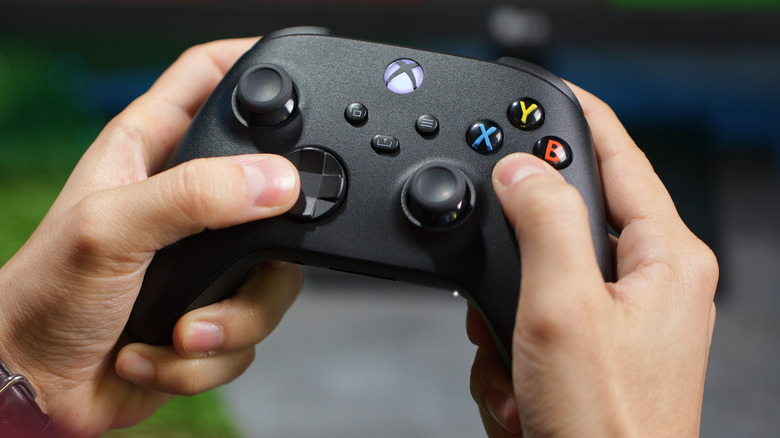 Hopix Art/Shutterstock
It's still relatively difficult to track down the latest Xbox Series X, Microsoft's most powerful Xbox console to date (which should not be confused with the previous generation's Xbox One X) that continues to elude shoppers at major retailers like Amazon and Walmart. Gamers aren't sorely out of luck, however, since they can still usually nab the Series X's lower-powered sibling, the Series S, which is often found in decent supply at major retailers. The latter can be found for a paltry $300, no less, in comparison to the Series X's $500 price.
It sounds like a new Xbox retailer is about to arrive on the block, however. Verizon is traditionally known for providing cellular and wireless internet services to its customers, but in a new partnership deal with Microsoft, it will soon offer new Xbox Series X and Series S consoles via the Xbox All Access deal. The only catch is that this deal works more like a loan instead of a direct purchase, and instead of paying upfront, you'll need to pay the console off in monthly increments over the next 24 months — not unlike paying off a smartphone.
This isn't the only new partnership deal bringing Xbox gaming to new customer bases which may not have had access to the Xbox platform before. Back in June, Microsoft and Samsung announced a partnership that would land the Xbox Cloud Gaming service on 2022 Samsung TV models. The aforementioned service allows anyone with an Xbox Game Pass subscription to stream games from the broad Xbox Cloud Gaming library directly to their smart TVs, provided they have a controller and a sufficient internet connection. 
Verizon is offering a few of its own deals
Verizon PR Manager George Koroneos announced the upcoming Xbox Series X and S offering in a blog post on July 26, saying, "Xbox is here! Starting July 28, Verizon once again proves it's the ultimate network for gamers by teaming up with Microsoft to offer Xbox All Access in select stores and online."
The Xbox All Access service provided through Verizon isn't all that different than the equivalent services provided at any other major retailers. You'll need to pass a credit check, much like you would when purchasing any other device through a Verizon phone plan. If you succeed, you'll get your Xbox Series X or S plus a two-year subscription to Xbox Game Pass Ultimate. Microsoft promises 0% APR, meaning that you likely won't be subject to interest fees on late transactions, as long as you do ultimately pay your bills.
Don't be fooled by the pricing; Verizon claims you'll pay as low as $24.99 per month over 24 months for the whole shebang, but that's a bit misleading. That figure represents the cost of an Xbox Series S, not a Series X. It adds up to about $600, which is still a pretty good deal, considering that an Xbox Series S plus two years of Xbox Game Pass Ultimate would normally work out to $660. The Series X will work out to $34.99 per month — or around $840 total — saving about $20 overall. Verizon is also offering several deals, such as a 50% discount on an Xbox Elite Controller, $40 off the Xbox Stereo headset, and 25% off the premium Razer Wolverine V2 Xbox controller bundle.