MINI Concept Aceman Teases All-Electric Crossover You Can't Help But Smile At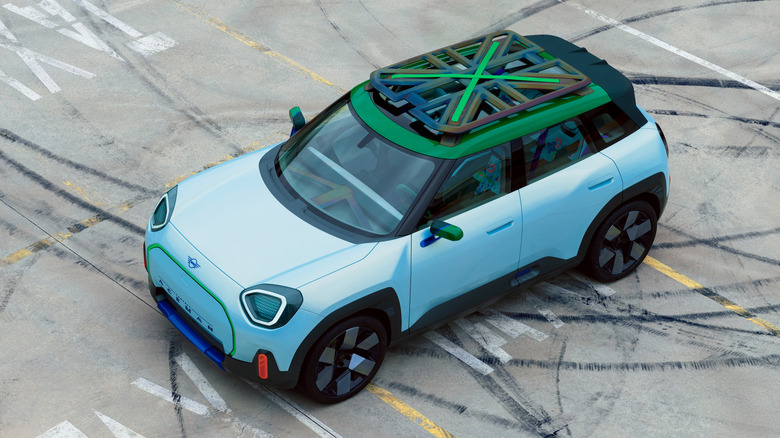 MINI
MINI is no stranger to electric cars, but the automaker's newest concept teases what could easily be its most popular EV so far. The MINI Concept Aceman may only be a vision of the future for the moment, but it's not hard to see how the zero-emissions crossover could show up in production form in relatively short order. Meanwhile, even those not in the market for an electric vehicle should be paying attention.
That's because the MINI Concept Aceman also reveals what the BMW-owned automaker says is its new design language, not to mention a preview of the technology upgrades to come. Although this concept car may be a diminutive crossover, that could mean big changes for the company's three- and five-door versions too, not to mention its convertibles.
MINI calls it "Charismatic Simplicity" and it's arguably another step away from the cutesy aesthetic of the original 1960s Mini range. It's certainly a more tech-first vision, with a pared-back exterior that drops some of the unnecessary brightwork. In fact, the Concept Aceman ditches the chrome altogether, a continuing reflection of the fact that its production is hardly all that green.
Sleeker exterior teases production cars to come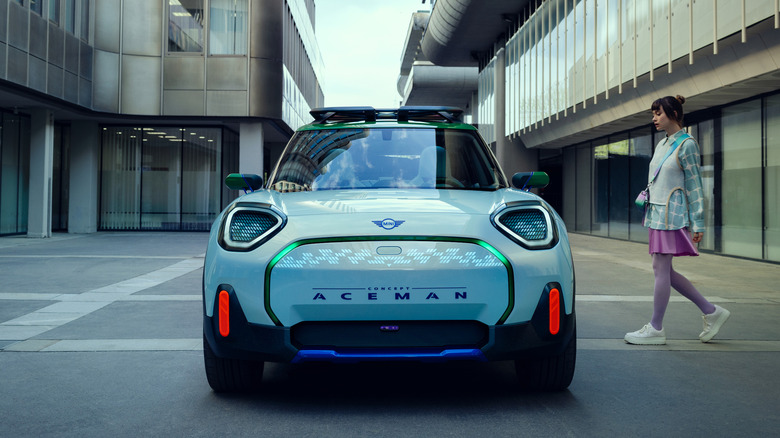 MINI
The exterior surfaces are smoother and more seamlessly transition between body and glass, while bolder wheel arches, new front and rear valance panel designs (with built-in speakers), and wider surrounds all give a burlier crossover look. The grille — blanked out, here, as the MINI Concept Aceman is an EV of course — is now octagonal, rather than hexagonal, and in addition to Matrix LED headlights there are LED contour lights embedded in the rest of the fascia.
On top, there's a bold roof rack — with a Union Jack flag design, naturally, as well as in the rear light graphics — and the concept rides on big 20-inch light alloy wheels. At the back, more Matrix LED lights feature, with a dark roof spoiler and expansive rear glass. MINI finishes the whole thing off with a combination of Icy Sunglow Green paint, which transition from turquoise into gold, using metallic British racing green to pick out highlight details.
Inside, it's another case of trimming out some of the fat familiar from other recent MINI models. That, the automaker points out, is a nod to the original car, where the cabin could hardly have been described as feature-packed. However this time around, the MINI Concept Aceman doesn't stint on tech.
Surfaces are covered in knitted textile, with a round OLED screen embedded with toggle switches underneath. These variously handle drive mode, Experience Modes, and more. The infotainment runs a new MINI Operating System, based on Android, but its graphics can also extend to the dashboard and door panels thanks to digital projection.
A high-tech, pared-back cabin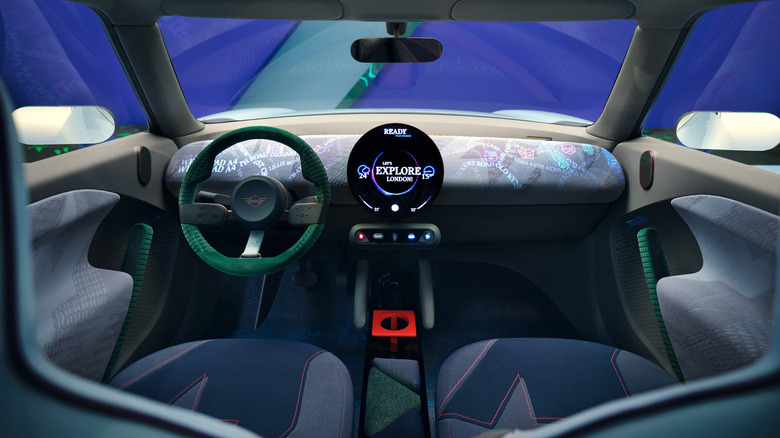 MINI
MINI says that can be as practical as giving a more expansive map, or as dreamy as filling the cabin with virtual clouds. There's no leather, and chrome has been ousted too, part of MINI's focus on environmentally considerate materials. That doesn't mean an austere cabin, however, with iridescent finishes, velour, and backlit textile buttons.
What MINI isn't talking about at this stage is what might give the MINI Concept Aceman its grunt. It'll be pure-electric, the automaker says, and tap electrification's big potential for maximizing interior space on even a small platform. The whole crossover is just over 13 feet long and 6.5 feet wide, but still has four doors and seating for five.
It's entirely possible we'll find out more details when the MINI Concept Aceman makes its full debut at Gamescom 2022 in August. As for production, while there's no confirmed launch for this particular concept car, you can probably expect to see the themes and styling it previews — not to mention some of the technology — show up in future MINI models over the coming years.