This BMW From 1955 Got Better Gas Mileage Than Any New BMW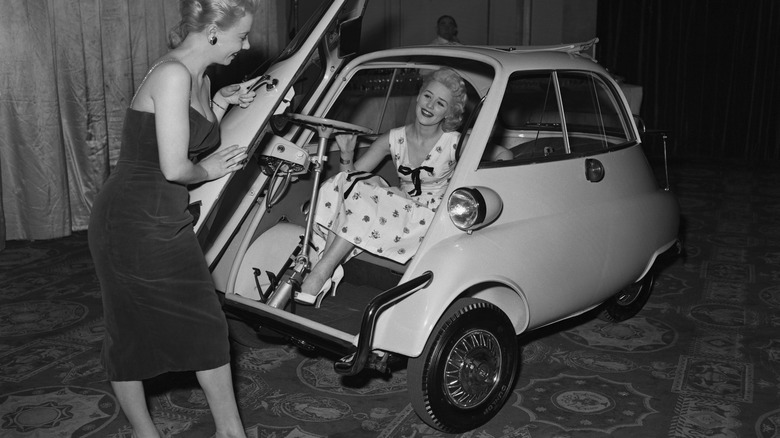 Reg Speller/Getty Images
According to the official U.S. government website for fuel economy, provided by the United States Department of Energy, the 2022 BMW model boasting the highest miles per gallon is the 4-cylinder, 2.0 liter, automatic 330i Sedan. At 30 MPG, it is the only gas-powered BMW to get 26 miles per gallon in the city and 36 on the highway.
It might be a shock to discover that BMW has a history with pushing the boundaries of fuel efficiency. Its Isetta "Bubble Car" from 1955 could get a whopping 78 MPG. Considered to be the vehicle that saved Bayerische Motoren Werke AG from bankruptcy, the Isetta is thought to be among one of the world's first mass-produced microcars.
At only 4.5 feet wide and 7.5 feet long, "micro" it was. Its rear wheels were only 19 inches apart and the vehicle could only hold two passengers. In fact, it was so small the driver only needed to possess a valid motorcycle license to operate.
The Bubble Car won't use much gas, but it will take time to reach your destination
Gaschwald/Shutterstock
This tiny car was "powered" by far less than the 4-cylinder, 2.0 liter found in today's efficient 330i Sedan.
The first Isetta 300's came with a modified 250 cc, one cylinder, four-stroke engine BMW pulled from its R25 line of motorcycles. That single cylinder could only create 12 horsepower, a far cry from the 330i's 255 HP. And with a top speed of 51 miles per hour, the "Bubble Car" wasn't going to get its occupants anywhere fast. Yet, with its meager fuel consumption — the first car to achieve 78 MPG — it was the perfect vehicle to run errands.
A few years later, the 600 model was released with a longer wheelbase that could hold up to four people, had a more powerful 582 cc twin engine (via Autoevolution), and reportedly could reach a top speed of 68 MPH and still get a combined 58 MPG.
BMW sold 10,000 of the Isetta's during its first year in production, with more than 161,000 sold during its 8-year run, making it the top-selling single-cylinder car worldwide.