Ridiculously Expensive Apps Actually Sold On The App Store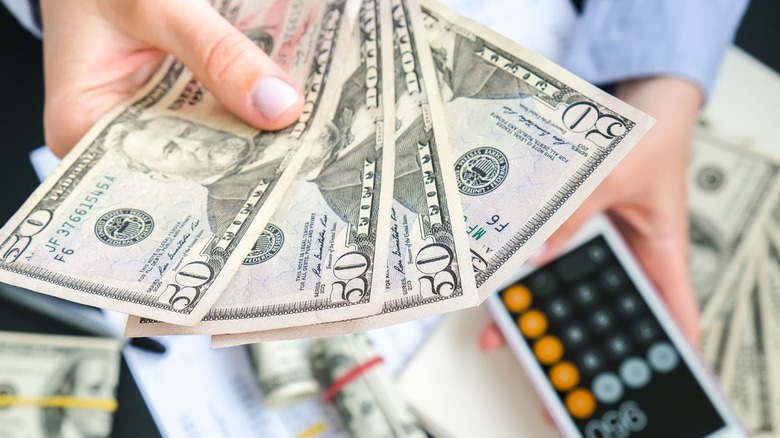 yanishevska/Shutterstock
Phones have come a long way from their original intended purpose. Gone are the days when they were used solely, or even primarily, for making phone calls. It's almost to the point that calling them phones at all is something of a misnomer. Today, they are mostly used for running native or third-party apps and the choices are practically infinite.
Upon getting a new phone, the first thing you're likely to do is head to the app store to load your new device up with all of the games, tools, and entertainment applications you'll spend a significant portion of your life staring at. Most of them will be free, relying on ads to monetize your attention. Some of them will offer in-app purchases and, try as you might, you'll likely throw down a few dollars eventually. It happens to the best of us. Others require a one-time purchase or a subscription of a few dollars a month. All things considered, most of us don't spend a whole lot on our apps, but that doesn't mean it's impossible.
If you want to drop some serious money in the app store, there are some applications that make that ridiculously easy, allowing you to spend the equivalent of a car or a mortgage payment with just a few taps of your index finger. You just have to know where to look.
Crestron Mobile Pro G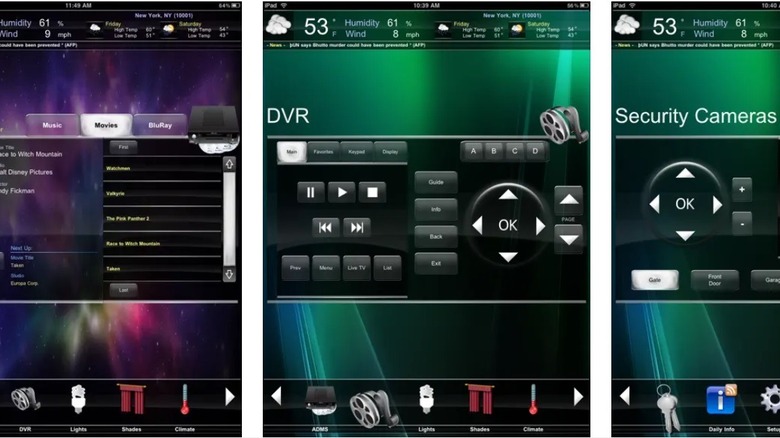 Apple
Smart home systems are nearly ubiquitous at this point. Everything from Google Home to Amazon Echo and countless other competitors allow you hands-free control of your lights, thermostat, locks, security cameras, and a growing list of smart gadgets.
Each system allows you to piece together your own perfect smart home setup by adding the gadgets you want. You can even set up routines that do a bunch of actions all at once, like turning down the lights, locking your doors, and setting your alarm when you're ready for bed. Crestron offers many of the same functions but with the added convenience of professional installation.
Controlling your system, however, is going to cost you. The Crestron Mobile Pro G app is compatible with an iPad and offers full control of your smart home system but it's going to cost you $99.99. In exchange, you get the ability to see the status of all of your smart home devices and make changes to your lighting, security, climate, and entertainment from a single hub.
That said, the increasing availability of smart home tech has made the same functionality available for free through a number of different apps, so it's unclear at this stage in the game why you'd drop the money. Maybe that's why the app is no longer supported and is only intended for legacy support of old systems.
Zollinger's Atlas of Surgery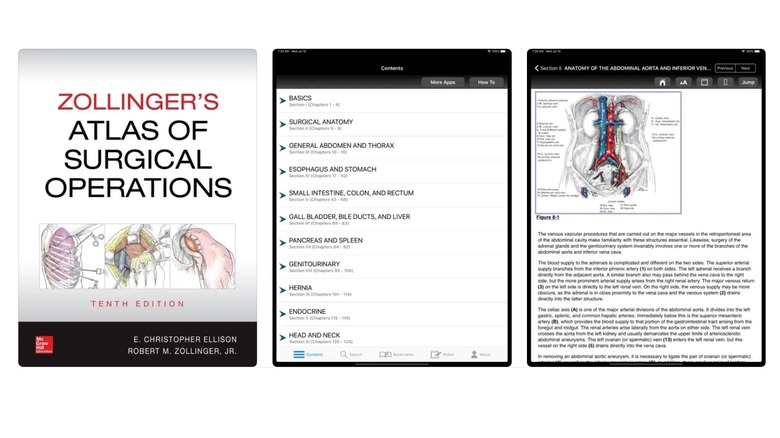 Apple
It might be easy to poke fun at the most expensive apps but some of them have real utility which makes their high price tag a little harder to scoff at. The Zollinger's Atlas of Surgery app is only the first of many which might be a worthwhile investment if you're the sort of person who can put it to good use.
It comes from McGraw-Hill Education, a well-known textbook publisher, and costs $119.99 in the app store. At the time of this writing, the app is available as a tenth edition. It's the latest version of a reference guide that has been used by medical professionals for over 50 years.
Inside, you'll find illustrations both of the anatomy of the human body and the steps for common surgical procedures including but not limited to hernia repair, lymph node biopsies, and thyroidectomy. The latest edition also includes 19 new operations not seen in previous versions.
In addition to the useful information present in a well-rounded reference textbook, it also has the technological benefit of allowing users to search for specific information or terms without needing to check indexes or flip through endless pages. Importantly, the information in the app downloads directly to your device, making it available to you at any time regardless of whether or not you have an internet connection.
Harrison's Internal Medicine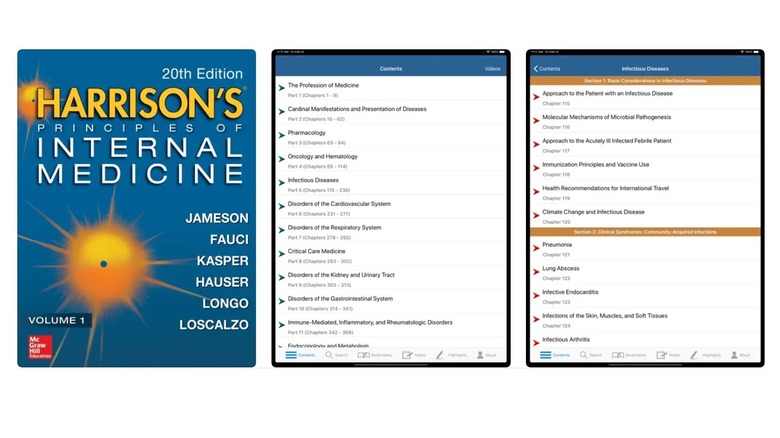 Apple
As the name suggests, Harrison's Internal Medicine app is intended for medical professionals or students working to become one. It also comes from McGraw-Hill Education and serves as a reference text which is regularly updated with new information.
Like any scientific discipline, the field of medicine is constantly evolving as new diseases emerge and better information becomes available. As such, a digital reference textbook can be a critical tool for ensuring that medical personnel keep up to date with the latest and greatest information. Considering the difference timely diagnostic information can make for patients, $249.99 seems a small price to pay.
The current version provides up-to-date content including disease mechanisms linked to applicable treatments. There are new sections that address emerging areas of medicine including global changes in the patterns of infectious disease transmission, something which seems increasingly important as of late.
Each chapter ends with suggested additional readings which reinforce the information within this digital textbook. As with the surgical reference above, it's fully searchable, allowing doctors to find quick and easy access to the information they need, including text, images, tables, and videos.
Classic TC with WordPower
This app will cost you $299.99, but it could make a world of difference to an individual in need of its particular functionality. Classic TC with WordPower, from the Prentke Romich Company, serves as a communication platform and is designed for use by people with autism, Down syndrome, ALS, stroke, or any other condition which impacts their ability to communicate using their voice.
It's compatible with iPhone, iPod Touch, or iPad and has options for either English or Spanish. Using buttons on various screens, users can build sentences out of words, letters, word fragments, or a combination of these. Those sentences can then be played through the device's speakers using one of several synthesized voice options. Alternatively, once a sentence is constructed, tilting the screen causes the selected words to expand and fill the screen so they can easily be ready by another party. That way, the user can communicate silently if and when the occasion requires it.
In addition to real-time communication, the app can also be used to construct digital communications. Text can easily be sent to a number of secondary applications including popular social networking sites like Facebook or Twitter, as well as iMessage and email clients.
iVIP Black
If you've got the money, there is an entirely different class of app available to you. The iVIP Black app is basically a golden ticket to venues around the world for people rich enough to afford them. If you have the app, you gain access to partner venues which will treat you to complimentary upgrades on flights and hotels, priority access to events, and various other VIP amenities. At least, that's what the app claims. There are currently no reviews of the app in any app store so it's unclear if it does what it says it does or if it's just a grift aimed at unsuspecting rubes with too much disposable income.
It used to cost $999.99 but is currently available on the Google Play store for the bargain basement price of $384.99. The true cost, however, is much higher. Simply paying for the app won't unlock its offerings. According to Luxury Travel, there is a vetting process that requires you to prove you have at least $1 million to your name in order to be let into this exclusive digital club. Once you do, the world is your jewel-encrusted oyster.
Assuming you can get through the interview process, the iVIP Black system reportedly gives you access to exclusive hotels, restaurants, private islands, and more of what they classify as "luxury lifestyle services and venues."
DDS GP
Nobody likes going to the dentist, even when your teeth seem to be clean and in good order. Any visit to the dentist will result in what some consider an uncomfortable mouth inspection, and if you've got cavities or other forms of dental or gum disease, it'll only makes matters worse. The DDS GP app, which runs for $399.99 in the app store, aims to act as a sort of buffer zone between the user and the dentist, simplifying the visualization of complicated procedures and difficult-to-explain situations.
The app was designed by a dentist, for dentists, as a way to easily show patients different conditions and treatments, including the severity and progression of their own teeth. It is reportedly in use in over 13,000 dental offices all over the world (via DDS GP) and includes over 230 built-in demonstrations ranging from basic hygiene to implants and other surgeries, in order to clearly communicate diagnosis, prognosis, and potential treatments to patients.
The iPad interface is regularly updated with new information and allows dentists to draw on the screen as well as send pictures and information directly to patients for their records. It might be a high price for an app, but given its potential for improving a patent's understanding of why they'll need to brush they're teeth, it might just pay for itself.
Verituner
Not to be outdone by the medical community, some of the most high-cost apps out there are designed for those who work on musical instruments. While tuning a piano has historically required the skills of a specially trained expert, the task can now be augmented with technological assistance from the Verituner app.
Certainly, properly tuning a piano or any other instrument still requires a great degree of skill, but Verituner promises improved results. As you're tuning, the app measures each note and builds a custom tuning picture for each individual instrument. Verituner costs $599.99, but considering the cost of professional tuning services — which can reach up to and over $200, according to Bankrate — a professional tuner could make back their investment relatively quickly.
In addition to standard tuning, Verituner also offers more than 90 historical temperaments, allowing you to tune a piano in such a way that it could more accurately play classical music from previous musical eras (via Piano Tuners).
The market for such an app might be small, as evidenced by the fact that it only has ten reviews, but all of them give it a glowing score, suggesting that Verituner strikes the right chord with its users.
app.Cash
Not to be confused with Cash App, the well-known peer-to-peer payment platform, the app.Cash app is intended as a full-service cashier system for businesses. The iPhone version has limited functionality — but can effectively act as a mobile cash register.
While the app will cost you $899.99, it's not that far from comparable services like the Square Register Kit, which can cost in excess of a thousand dollars (via Nerd Wallet). The app is designed for ease of use in restaurant environments, allowing users to load any number of food and beverage items on the screen. The mobile functionality also allows servers to take it with them to tables and tally up orders in place.
Unless you're running a restaurant or other food and beverage business, it's unlikely you'll find much need for app.Cash. There are plenty of more affordable peer-to-peer platforms like PayPal, Venmo, and the aforementioned Cash App, which allow you to handle most common transactions without such a hefty initial investment.
CyberTuner
Not to be outdone by Verituner, the most expensive app on our list is also a piano tuning assistant. CyberTuner, from Reyburn Piano Service, will cost you $999.99 — but by all accounts, it's worth every penny.
Despite its higher price, it appears to be more widely used than Verituner and has a long track record among industry professionals. The iPhone and iPad app is only the latest version of a software package that has existed since the days of the floppy disk.
In order to make full use of this app, you'll need to have a good understanding of how to tune an instrument and your own tuning equipment. Like Verituner, it will listen to your piano and make recommendations to improve your results tuning to perfection.
They also offer support directly from the app's creator, either through email or a toll-free phone number if you're in the United States. At the time of this writing, there are 48 reviews on the app store giving CyberTuner a near-perfect score. That seems to suggest that the value of an app can be just as wildly varied as the userbase of the gadgets capable of using it. Even still, we think we'll stick with free mobile games and the never-ending stream of ads.