Kensington Professional Video Conferencing Solution Review: A Starter Upgrade In A Box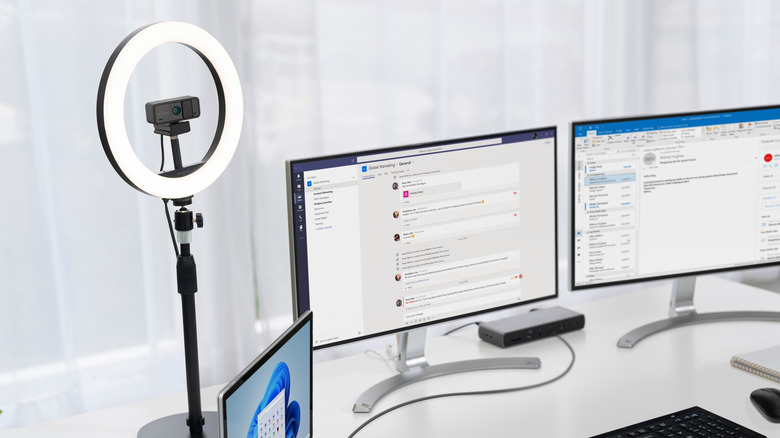 Kensington
With working from home no longer the exception but the rule for many desk workers, spending what seems like half our lives on camera in video conferences could have you looking for a quality upgrade. Though the webcams built into laptops are generally fine, standalone cameras can bring more than extra megapixels. A more detail-rich sensor is only the start of it.
In fact, the sky is the limit for pro-quality video calling systems, which can go to such extremes as co-opting DSLR cameras, studio lighting, and high-end microphones to make you look as crisp and balanced as possible whether it's through Zoom, Teams, or anything else. Don't underestimate the expense or complexity of that sort of rig, however, nor how much space it can take on your desktop. Enter, then, the Kensington Professional Video Conferencing Solution.
That's a fancy name, but Kensington's promise is basically a one-stop-shop for upgrading your video calls. That includes a webcam, of course, but also a ring light for better illumination, software for tweaking image quality, and a variety of different mounting options depending on your desk setup. Simplicity is the key, though.
A bundle to avoid choice-overload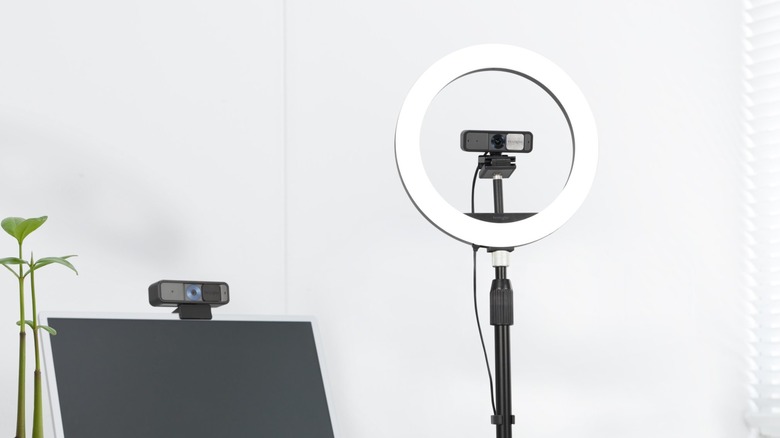 Kensington
Kensington is no stranger to webcams, or indeed other video conferencing accessories, and indeed you could think of this system as more of a bundle than specifically new parts. In the case of the review rig the company sent over, that meant the Kensington W1050 webcam, the L1000 Bicolor Ring Light, and the A1020 Boom Arm on which to mount everything. Alternatively there are simpler telescoping stands, either with a freestanding desk plate or a c-clamp.
You can buy each of those separately — the webcam is $49.99, though Kensington also has more advanced models at up to $89.99 — so the pitch here is more about a one-box solution for those times you don't want to have to think too much about what you're piecing together. Since everything uses industry standards, too, like a regular tripod screw for the boom arm, you could start out with Kensington's rig and then selectively upgrade later on.
Kensington W1050 webcam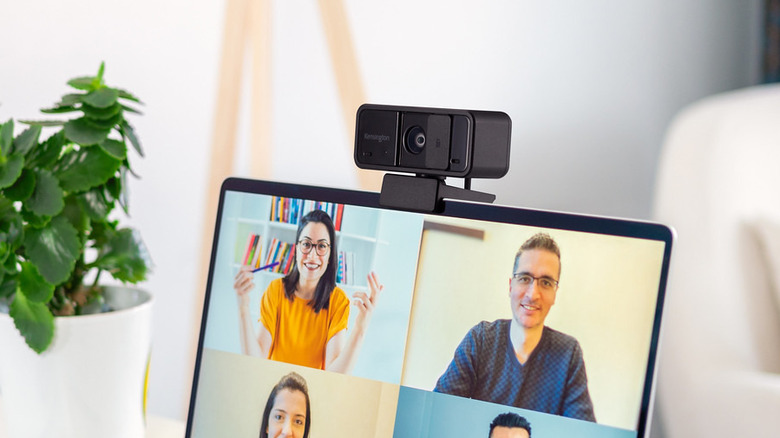 Kensington
The most important part is undoubtedly the webcam. The Kensington W1050 is the cheapest model in the company's catalog, fixed-focus with a 1080p 30fps sensor and a 95-degree field of view lens. There are stereo microphones built-in, with noise-reduction software to cut background hiss, and a physical cover that slides across the lens for privacy. Similarly reassuring, MIL-STD-810H Method 504.3 Contamination by Fluids compliance means you can wipe it down with disinfecting wipes or similar, without the risk of damage.
With a USB Type-A plug, those with newer laptops may need an adapter. So equipped, macOS recognized the webcam straight away, without my needing to install the Kensington Konnect software. That adds features like electronic pan/tilt and up to 2x digital zoom, with the tweaks carrying over to whatever video conferencing app you might be called upon to use.
The mounting clip has a 1/4-inch tripod screw on the bottom or opens up as a clamp for your monitor or laptop lid. It works well, and the 125-gram camera hardly puts too much strain on the plastic. Though, I can't say the whole thing feels especially premium or, indeed, that it's easy to attach to the ring light. I wish Kensington had included at least a soft case for transporting the W1050 in your bag, and indeed a removable USB cable like some webcam-makers upgrade to. Damage the not-especially-long cord and it's game over.
Better than your average laptop webcam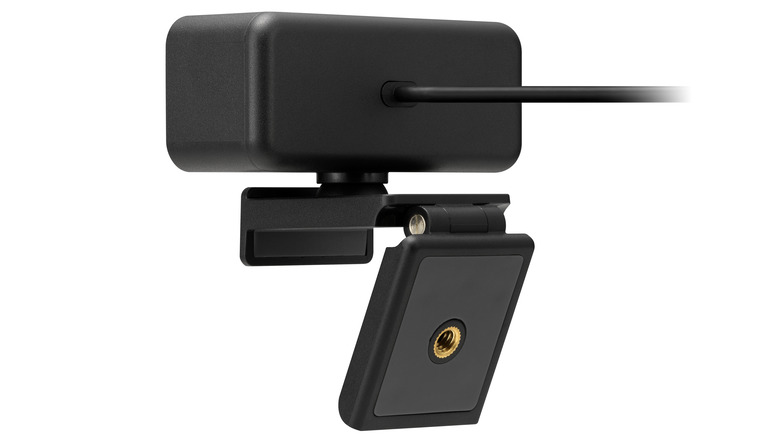 Kensington
That'd be a shame, as there's definitely more detail here than the average laptop webcam. With a fixed-focus lens and a $50 price tag, you're probably unsurprised to hear that you shouldn't expect miracles from the W1050. Still, compared to the iSight webcam built into Apple's MacBook Pro M1, there's more details and far less visual smoothing going on.
The Konnect software allows you to finesse what you see, but even with the defaults it's a marked improvement. Good enough, certainly, for the average Zoom call, though I think those doing live-streaming will undoubtedly want to upgrade to something with more dynamic range.
You should also budget for a standalone microphone, as Kensington's built-in array is fairly lackluster. It's fine, again, for basic calls, but if I was being called upon to present I'd want something less tinny and crunchy.
Kensington L1000 Bicolor Ring Light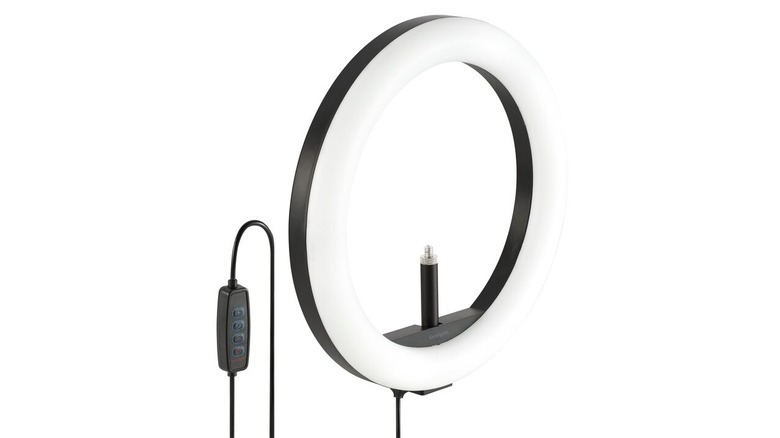 Kensington
Kensington's L1000 Bicolor Ring Light follows the webcam with a somewhat plasticky construction: it looks better than it feels. The screw mount is sturdy metal, but the rest is a little underwhelming; then again, the whole light retails for $40 normally. It comes with a short extension pole with interchangeable tripod screws to mount the webcam in the middle.
Power comes courtesy of a USB-A cable — also fixed not replaceable — and honestly, the cord is pretty short. By the time I'd snaked it down the Kensington's A1020 Boom Arm there were only a couple of feet left before the plug, and I needed an extension to reach a USB power adapter under my desk. It would've been a non-starter if I'd upgraded to a standing desk. You could, mind, plug it right into your laptop instead, though then you're using up a whole USB port.
In-line in the cable is a simple four-button control. That handles power, adjusting across 10 levels of brightness, and cycling through cool, natural, or warm color temperatures. There's no specific adjustment over how warm or cool the LEDs are, but it's simple enough to mix brightness and temperature, and the last-used setting is remembered even if you switch the ring light off. Kensington's 96 LEDs reach up to 930 lumens, more than enough to be dazzling in a darkened room.
Kensington A1020 Boom Arm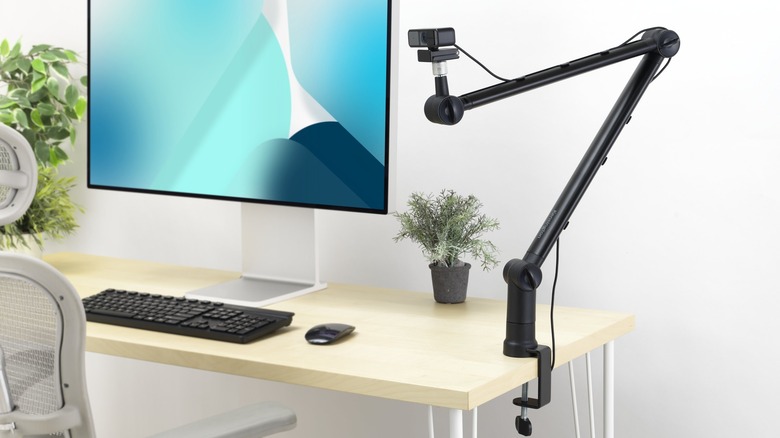 Kensington
At $89.99, the A1020 Boom Arm is the most expensive of Kensington's trio of mounting accessories. It has a desk mount at one end — with both a c-clamp and through-hole fixed mount in the box — attached to a 360-degree swivel base, and three friction hinges in order to move it to the required height and reach. Integrated clips hold the cables in the management channel running down the rear of the arm.
It's certainly flexible, and will work with 3/8", 1/4", and 5/8" connections, while the c-clamp can handle desktops up to 2.36" thick. Once you tweak the friction hinges with the knobs on the side, it'll hold itself at about any angle you drag it to, though it can take some finessing to get the right balance of movement and stability. I've been using a RODE PSA1+ arm on the opposite side of the desk, which uses damped springs instead, and — though it's slightly more expensive at $129 — it's much easier to swing around and adjust than Kensington's arm.
Less an ecosystem than a group of compatible parts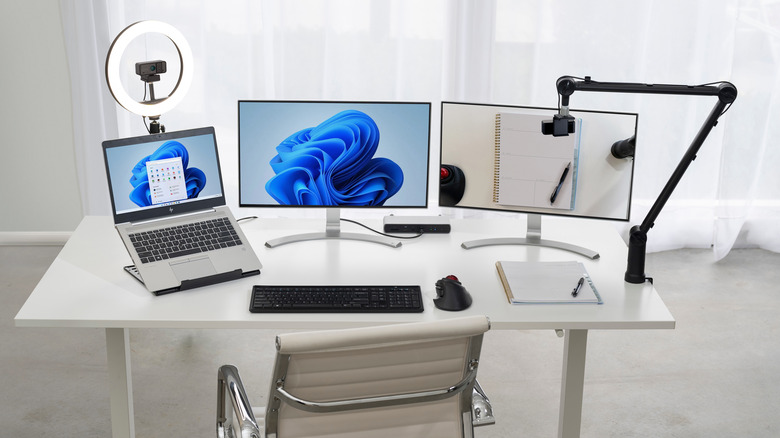 Kensington
My main complaint is that, despite how Kensington bills it, the Professional Video Conferencing Solution doesn't really feel like an ecosystem. Certainly, being able to buy a box with all three components inside makes upgrading your desk a little easier. Beyond the Konnect software's adjustments to the webcam, however, there's no real integration here.
The ring light's USB, for example, handles power alone. Even if you plug it into your computer's data port, Konnect doesn't know what brightness or temperature settings you're using. It's a shame, because being able to recall certain lighting scenes depending on the time of day or video app, and harmonize them with camera settings too, would be useful. Even just being able to turn the ring light on automatically when you start a call would be helpful.
It's reflected in the inherent design of each component, too. Needing a USB extension cable in order for the ring light to comfortably reach a power supply on the floor by the time it's mounted at the end of the boom arm seems short-sighted.
Kensington Professional Video Conferencing Solution Verdict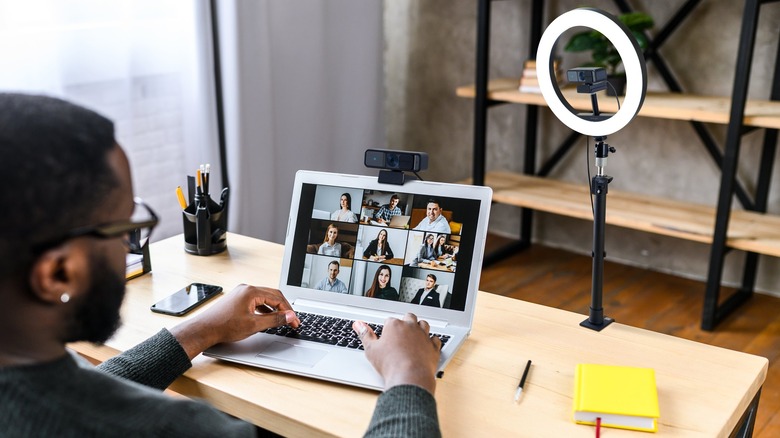 Kensington
The question here, then, is whether Kensington's one-box-upgrade approach is better than piecing together your own setup. The pandemic seems to have increased the number of options across cameras, lighting, and mounting exponentially. On the one hand, that means there's no shortage of choice, but at the same time, that incredibly wide selection can definitely be overwhelming.
In an ideal world, then, Kensington's offering would cut through that confusion. Certainly, at $180 all-in for this review setup — or less, with a cheaper mount — it's a good starting point for those on a budget, and one which allows for piecemeal upgrades down the line. It's worth noting that you don't actually get a discount compared to buying each part individually, though.
Even just the ring light alone would probably do a decent job improving what a laptop's built-in webcam can deliver, and is priced solidly enough that you needn't feel too bad about not going cross-shopping against the hundreds of alternatives. If you've somehow managed to get this far in the pandemic without investing in some video conferencing kit, then, Kensington's is a relatively headache-free way to correct that — as long as you see it as a starting point rather than the end of your upgrade journey.