The Classic Car That Stole The Show In Elvis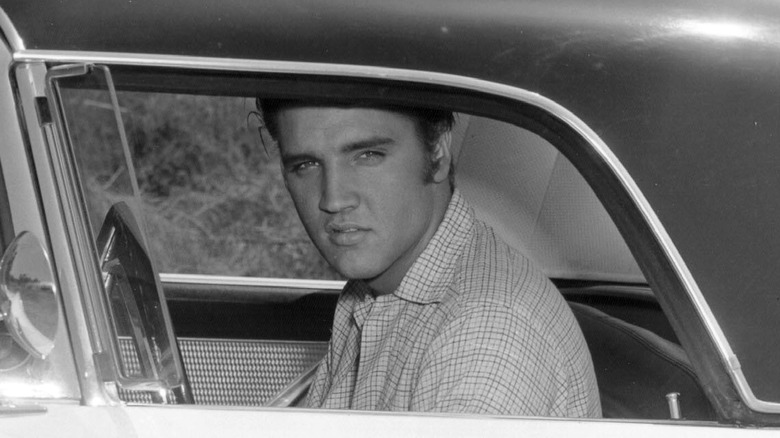 Michael Ochs Archives/Getty Images
Baz Luhrmann's new "Elvis" movie is storming the box office, and the wave of popularity it has generated is having a knock-on effect in other industries. Luhrmann's rock 'n' roll biopic passed the $75 million mark at the box office within 12 days. The King's music is rocketing up the charts once again, and interest in one particular brand of classic cars has skyrocketed.
Austin Butler stars as Presley in the movie, which chronicles the singer's life and career, from his early successes to his Las Vegas residency. The film also touches on Presley's acting career, as his musical triumphs led to starring roles in movies like "G.I. Blues," "Kid Galahad," and "King Creole." Elvis had roles in at least 31 movies throughout his life (via IMDb).
Presley was born into poverty in 1935, with his father Vernon working a string of odd jobs to get by. The family lost their house when Vernon was caught altering a check from one of his employers and jailed for eight months. Elvis always had an interest in music but had to take a number of odd jobs before his career got started. This included spells as a theater usher, and a stint driving trucks for the Crown Electric Company. The rock pioneer eventually made a breakthrough with the 1954 single "That's All Right," and his skyrocketing career meant he had plenty of cash to spend on motor vehicles (via Graceland).
The King's connection with Caddies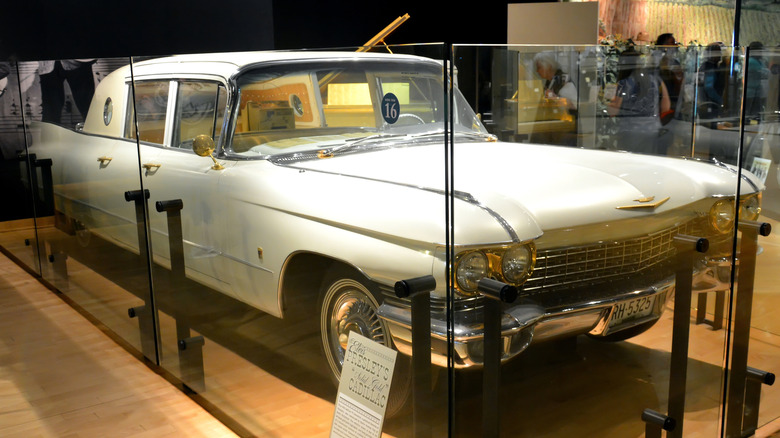 Alizada Studios/Shutterstock
Rock 'n' roll's founding father loved his cars and had a soft spot for Cadillacs in particular. The big American cars served as an inspiration for Elvis before he struck it big, with the musician telling one interviewer, "When I was driving a truck, every time a big shiny car would drive by it would start me sort of daydreaming. I always felt that someday, somehow, something would happen to change everything for me."
Some sources claim The King may have owned upwards of 200 Caddies in his tragically short lifetime, but an actual number is almost impossible to settle on. Even Elvis' most detail-conscious biographers can't give a firm estimate on the number of Cadillacs Elvis purchased because he wasn't just leaving the vehicles parked in his garage or lined up on the Graceland lawn (via Elvis). Instead, they were regularly given away to friends, family, and even people Elvis just vaguely knew. One person close to Elvis who received a Cadillac was his mother, who was gifted the second Caddie Elvis ever bought: a pink 1955 Fleetwood Series 60. Elvis' mother's car is on permanent display at the Graceland Museum in Memphis, Tennessee, and an exact replica can often be spotted at breast cancer awareness events.
Standing out amongst Elvis' personal collection was a custom solid gold 1960 Cadillac Series 75 Fleetwood limo. The golden car's features included a number of notable elements, among them being a turntable stereo and TV, a full bar, and a few dozen coats of diamond dust Pearl paint, according to Sarant Cadillac. Adjusted for inflation, the custom caddy would have set Elvis back around half a million dollars in today's money. It, too, is now a museum piece and can be seen at the Country Music Hall of Fame in Nashville, Tennessee.
The new movie has revived interest in classic Cadillacs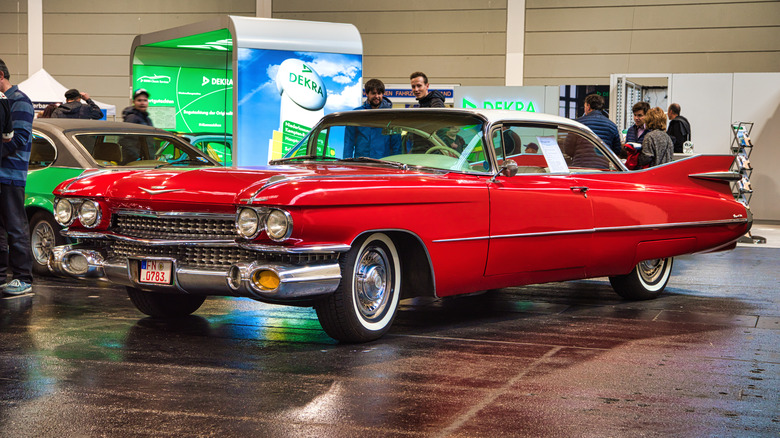 Dmitry Eagle Orlov/Shutterstock
It isn't just Elvis Presley's music that is experiencing somewhat of a renaissance following the movie's release. According to Sky News Australia, classic cars are also experiencing a surge in popularity down under (via Motorious). The 1959 Cadillac Coupe Deville, which was one of the rock 'n' roll star's favorite models, has a particularly strong association with Elvis and seems to be receiving extra attention from fans.
Prices vary on the classic. Autotrader currently has several listed, with one that looks like it needs plenty of work on offer for around $16,000. If you're not interested in getting your hands dirty, a display-ready classic Caddy could set you back well into six figures. RM Sotheby's recently sold another classic caddy from Elvis' era for close to a quarter of a million dollars. Back in March, a pink 1960 Cadillac Eldorado Biarritz Convertible closed for $236,500 in Fort Lauderdale.
If you want to get your hands on a Cadillac that was once owned by The King himself, you'll more than likely be spending more than a million dollars. According to Mecum Auctions, a 1972 Cadillac Sedan DeVille station wagon that General Motors custom-built for Elvis was put up for auction at Kissimmee in 2011. The station wagon then reappeared on eBay in 2015 for a staggering $1.5 million (via GM Authority). GM only produced two of the custom wagons, with the other example being given to another prolific 1950s musician, Dean Martin.