5 Major Moments From The F1 British Grand Prix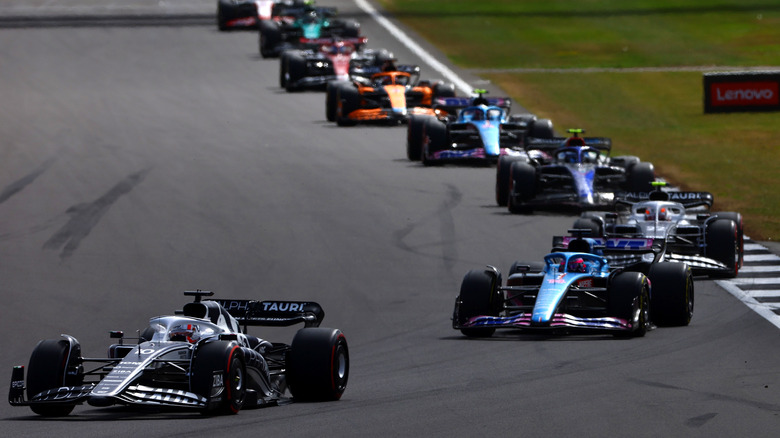 Mark Thompson/Getty Images
The British Grand Prix at Silverstone is always a major occasion on the racing calendar, but few races have been as exciting as the spectacle we witnessed in 2022. We had a first-time winner, a legendary driver's son finally putting some points on the board, there was a huge crash that thankfully resulted in no injuries, more Ferrari tactical mishaps, and a pack of protesters courting certain death.
Lewis Hamilton also managed to scrape a third-place finish at his home Grand Prix. The seven-time world champion was engaged in some of the most exciting racing this season, including a spectacular double overtake to get ahead of Sergio Perez and Charles LeClerc. It was the highlight of an amazing final 10 laps that saw numerous battles fought across the track. 
Perez eventually regained second place, but Hamilton put in a spectacular performance halfway through what has been a difficult season. Perez's performance also needs to be highlighted as he found himself right at the back of the grid at one point. Focus now shifts to the Austrian Grand Prix on July 10, but with a few days left to go, let's take some time to look back on one of the most spectacular races we've ever seen.
The race began with a pretty major crash
There was a one-hour delay between lap one and lap two due to a major high-speed crash. Alfa Romeo's Zhou Guanyu, Mercedes' George Russell, and Williams' Alex Albon were the three drivers involved in the incident, which occurred at the high-speed Abbey Corner where cars can hit up to 200 miles per hour. Albon made contact with Russell who then hit Guanyu, which resulted in all three cars leaving the track.
The accident prompted race officials to call an immediate red flag, halting the action. Guanyu appeared to come off worst from the crash as his car rolled and skidded upside down into the grandstand crash barrier. The Chinese driver's Alfa Romeo then flipped over the barrier before becoming lodged between the barrier itself and the catch fence, which thankfully held.
Russell, who received the least damage from the crash, quickly lept from his car to check on his fellow drivers. The Mercedes driver was not allowed to restart the race as his car was removed from the track on a flatbed. He claims to have previously told officials to leave it so he could attempt to get it started on his own. Alex Albon and Zhou Guanyu were both taken to hospital but suffered only minor injuries. The Halo safety device, which has been fitted to all cars since 2018, has been credited with preventing a major tragedy in Guanyu's case.
Ferrari's Sainz secures his first win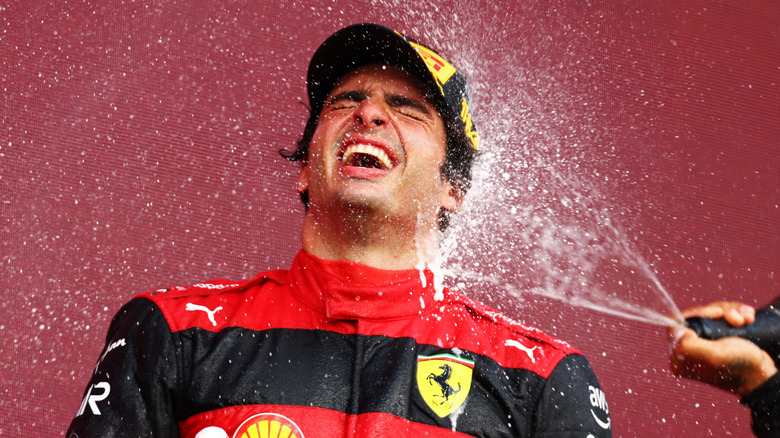 Clive Rose/Getty Images
Carlos Sainz found himself on the top of the podium for the first time in 151 races. The Ferrari driver also took his first pole position in qualifying and managed to drive that advantage home during a thrilling race at Silverstone. Sainz's win came at the expense of teammate Charles Leclerc, who saw his slim title chances slip even further away when Ferrari chose to pit Sainz instead of him. Sainz benefitted heavily from the fresh tires, managing to fight his way into first and hold on until the chequered flag.
The Spanish driver began his F1 career with Red Bull finishing school Toro Rosso in 2015 before jumping to Renault late in the 2017 season, McLaren in 2019, and finally Ferrari in 2021. Before the win, he had picked up 11 podium finishes, including five this season. The Spanish driver had finished second five times previously, arguably coming closest to a win at Monza in 2020. The first victory probably isn't enough to give Sainz a chance at the title, as he currently sits in fourth place 54 points behind leader Max Verstappen.
Mick Schumacher puts his first points on the board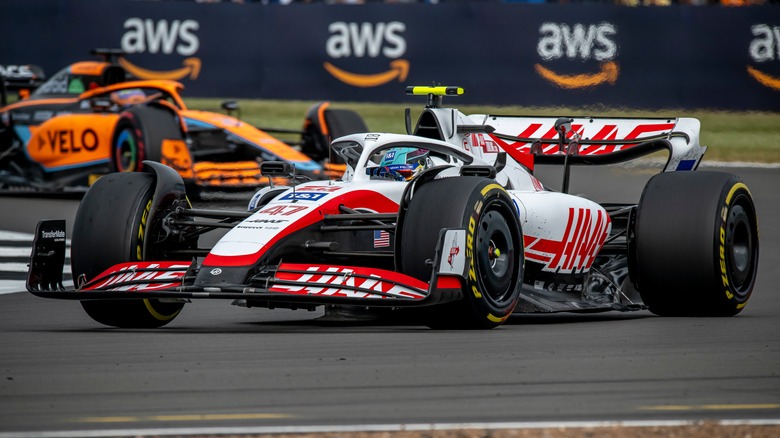 motorsports Photographer/Shutterstock
Mick Schumacher hasn't had an easy time in Formula One. The Hass driver has a lot of expectations on his shoulders, mainly due to the fact his father is a seven-time world champion and arguably the best driver ever to slap on a helmet. The younger Schumacher had failed to win a single point in his first 29 races at the top level. This, coupled with a number of high-profile crashes and some very bad luck, had left the young driver at risk of losing his seat when the season ended.
The German driver finally broke his luck at Silverstone. Schumacher picked up four points after finishing eighth in the British Grand Prix. It could have been better for the racing legend's son, as he almost overtook seventh-placed Max Verstappen. However, the current world champion managed to hold Schumacher off. It remains to be seen if Schumacher will improve after getting this major monkey off his back. But there is a good chance the Hass driver will be feeling a lot less pressure after finally getting some points on the board.
Ferrari's tactics are again questionable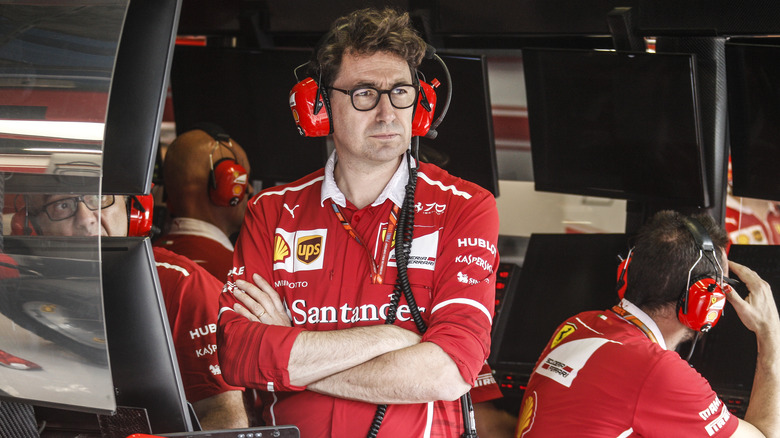 cristiano barni/Shutterstock
Charles Leclerc once again feels hard done after a tactical decision by Ferarri may have cost him a podium position. The Monocan spent a good portion of the race out in front with his teammate and eventual winner Carlos Sainz in second. However, when the safety car was called out following Esteban Ocon's lap 39 exit, Scuderia chose not to pit Leclerc. Several other drivers, including Sainz, used the opportunity to get a fresh set of tires for the final phase of the race. Leclerc then struggled to hold on to his lead, eventually being passed by Sainz, Sergio Perez, and Lewis Hamilton. Leclerc now sits third in the race for the driver's championship, 43 points behind leader and current champion Max Verstappen, and nine points behind Verstappen's teammate Sergio Perez.
This isn't the first time this season one of Ferrari's tactical choices has cost the young driver. Leclerc may feel like he should have won his home Grand Prix at Monaco, but for the decision to call him and Sainz into the pit at the same time. That decision was further compounded by the fact Ferrari fitted slick tires to the drivers' cars instead of the intermediates the Red Bull cars opted for. Red Bull took a one-two that weekend.
Ferrari chief Mattia Binotto later explained why he made the decision not to pit Leclerc, but it doesn't seem to have done much to heal the rift. Binotto said: "We believed that we didn't have enough space between the two cars to stop both of them so we had to make a choice between the first or the second car, so we decided to stop Carlos because Charles had the track position and was the leader of the race at that time, so you don't know what the others would have done if we had stopped as the leader."
Climate protestors storm the track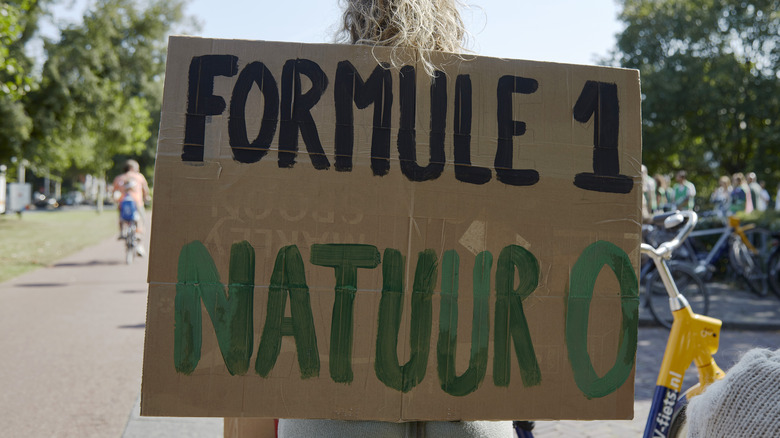 Pierre Crom/Getty Images
Seven climate protestors were arrested, and six are facing charges after storming the track during the first lap of the British Grand Prix. Had a major crash not caused the race to halt soon after it began, there is a good chance most if not all of them would have been killed. The six protesters — who were soon dragged from the track by race marshals — have all been charged with "conspiracy to cause public nuisance" (via Sky Sports).
Formula One CEO Stefano Domenicali condemned the protest, saying, "Everyone has the right to speak out on issues, but no one has the right to put lives in danger. The actions of a small group of people today were completely irresponsible and dangerous." Despite being targeted, Formula One has a sustainability strategy designed to reduce the sport's impact on the environment. Key goals of the strategy include becoming a carbon-neutral sport by 2030, having every race qualify as an "F1 sustainable spectacle" by 2025, and analyzing how the sport currently impacts the environment (via F1).