BMW's Newest Electric Car Is Self-Driving In An Unexpected Way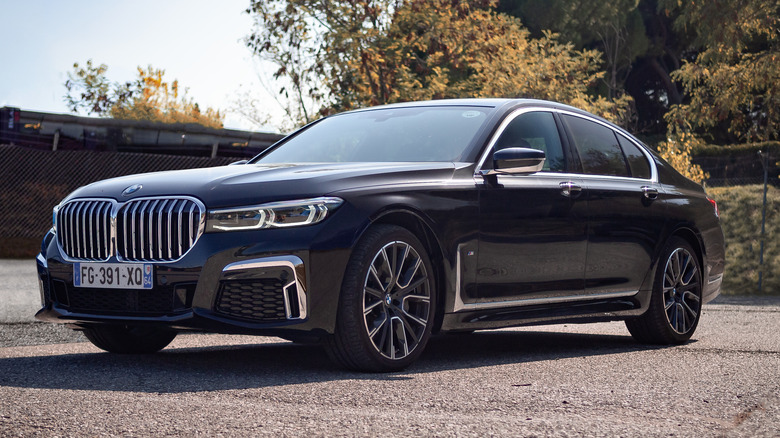 Roman Belogorodov/Shutterstock
BMW has developed a self-driving electric car, but you're unlikely to be chauffeured around in it. The new technology is being deployed to the BMW 7-Series, with a plan to add it to other vehicles if trials go well. If you're wondering what the catch is, it's only going to be in a limited number of 7-Series and will only work in a very small part of Germany.
Many automotive manufacturers, including Tesla, Audi, and Mercedes-Benz, have been attempting to get a self-driving car on the road. Unfortunately, a number of legal and technical hurdles stand in the way. Although Elon Musk's Tesla is most closely associated with the technology, it was actually Audi that technically crossed the finish line with a self-driving vehicle back in 2010. The Autonomous Audi TTS Pikes Peak research car made its way around a course over 12 miles long without a driver. A notable pitfall on the road to self-driving cars was Tesla's "phantom braking" issue, which prompted the federal government to launch an investigation into Musk's car company. Mercedes-Benz is doing pretty well, having become the first manufacturer to gain internationally valid approval for the production of "conditionally automated" vehicles.
Its innovation works on a far smaller scale, but could still prove useful worldwide. The project will go on trial at the company's Dingolfing plant starting this month and running through to 2023, according to a company release. As BMW is limiting the tech to its own premises, it is not subject to many of the legal hurdles competitors are facing.
BMW's self driving tech is not what you'll see on the street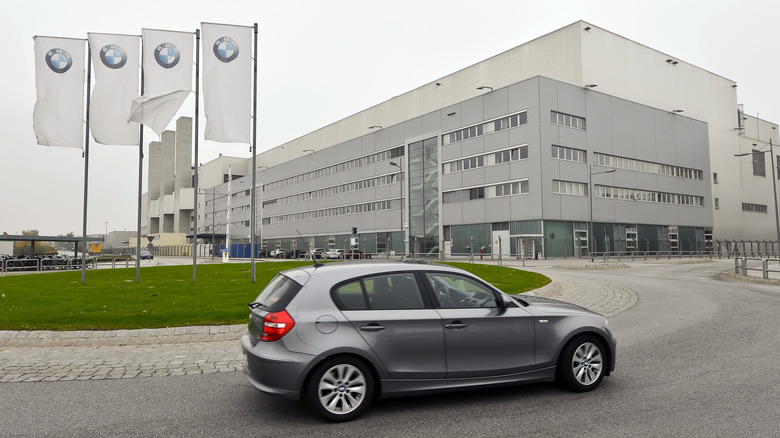 Bloomberg/Getty Images
The German car manufacturer has paired with Seoul Robotics to fit its Dingolfing plant with a variety of sensors that can guide cars through various stages of the production process (via Automotive World). After the key is turned for the first time, the new 7 series will drive itself 170 meters from the plant's initial testing area to the "finish area." Bit its adventure doesn't end there. It will also have to move itself from the finish area to the dispatch area.
According to Automotive World, BMW project manager Sascha Andree explained that this technology is different from what you'll see when self-driving cars eventually hit the street, saying, "Automated driving within the plant is fundamentally different from autonomous driving for customers. It uses a completely different system. So instead of relying on the vehicle's sensors, it uses an infrastructure outside the car to enable environment recognition and plan the vehicle's movements."
When the sensors collect information, the software from Seoul Robotics tells the car where it is in the plant and what is happening around it. Another piece of software, developed by Embotech, then plans the car's route and gets it to where it needs to be through a series of commands.
This is actually something we've seen before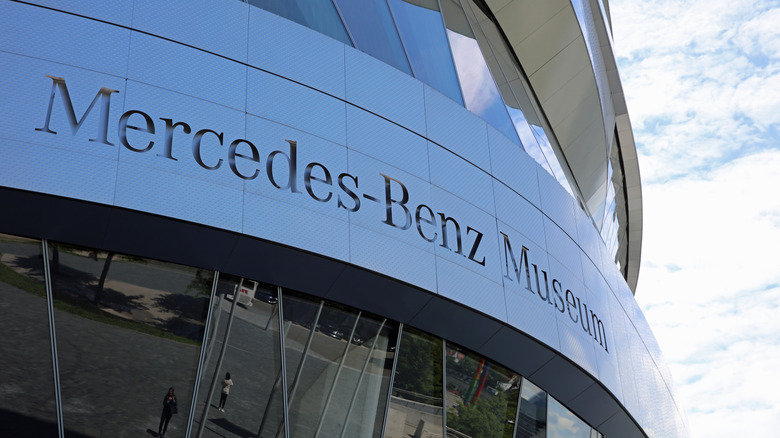 Bernhard Richter/Shutterstock
Self-driving vehicles that can operate in certain areas aren't a new idea. Mercedes-Benz and Bosch pioneered the idea of a fully automated, four-level, parking garage back in 2017. Two years of trials followed before the system was granted approval, and the parking lot at Stuttgart's Mercedes-Benz Museum became the first in the world to offer the service.
The enclosed system works differently from self-driving technology designed for the open road. While the AI powering the self-driving cars customers may eventually get what it needs to be capable of making decisions on the fly by using contextual information from the environment — enclosed systems have an easier life. Mercedes-Benz can fill its garage with cameras and sensors which wirelessly feed lots of information to the vehicles autonomously driving around it. BMW has now done something similar at its plant, and it could theoretically expand the system anywhere it can place a sufficient number of sensors.
When this system is used, the cars tend to be far less technologically complex. Despite this, it isn't something that can be easily retrofitted to an existing car. If we ever see automated parking garages roll out en-masse, it will most likely be a feature attached to new vehicles.