2022 Volvo XC60 T8 Polestar Engineered Extended Range Review: Firmly Niche
Chris Davies/SlashGear
EDITORS' RATING: 7/10
Volvo's best-selling SUV in the US arguably needs little introduction, but the subtle white square on the front and back of the 2022 XC60 T8 Polestar Engineered Extended Range is worth calling out. It's the mark that this particular compact luxury SUV isn't just a family hauler but a clandestine performance car too, though still with the green credibility of a plug-in hybrid, but the 2022 model year brings more benefits than just that.
The T8 part of this XC60's lengthy name refers to the engine. As has been the case for some years now, Volvo only has one core engine in its US line-up: a turbocharged 2.0-liter four-cylinder. Some models pack a supercharger on top of that, too. The T8, meanwhile, makes it a plug-in hybrid (PHEV) under its "Recharge" range.
Specifically, it's an electric AWD PHEV system, though to be a little confusing there are actually two versions of the T8 eAWD on offer. The XC60 T8 Standard form has both turbocharging and supercharging, 19 miles of pure electric range according to the EPA's testing, and a 57 MPGe combined rating. It'll do 0-60 mph in 5.0 seconds, Volvo says.
Two PHEVs, but not created equal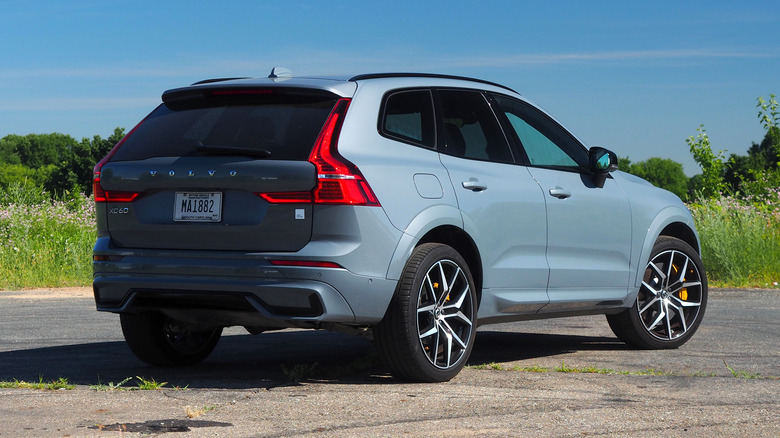 Chris Davies/SlashGear
What you see here, though, is the new-for-model-year-2022 XC60 T8 eAWD Extended Range. It drops the supercharger but adds a considerably larger battery, with a third layer of cells bumping total capacity up from 9.1 kWh to 14.9 kWh. The rear electric motor is also beefed up, packing 143 horsepower rather than 87 horsepower, for a total of 455 hp and 523 lb-ft of torque.
0-60 mph is trimmed to 4.5 seconds, but more importantly the electric-only range increases to 36 miles. Though you pay $500 more for the T8 Extended Range version, it's now eligible for the full $7,500 US federal tax incentive. Buyers of the regular T8 can only claim $5,419 at most.
Polestar works its magic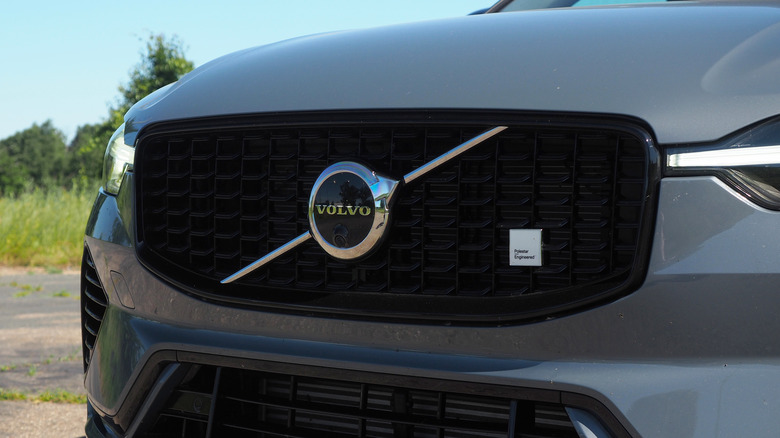 Chris Davies/SlashGear
So, faster, more economical — the EPA says it's good for 63 MPGe — and, once the math works out, more affordable. What's not to like? Especially when you check off the boxes to upgrade to the Polestar Engineered version.
Once an independent tuner, Polestar ended up getting brought in-house at Volvo in 2015 and put to work creating feistier versions of the Swede's main line-up. Two years later, Volvo and Geely decided to spin Polestar out again, this time as a performance electric brand. Since then, we've seen it launch the delectable (and limited availability) Polestar 1 hybrid, and the Polestar 2 BEV.
At the same time, though, Polestar has been dabbling in Volvo's cars still. The result is the Polestar Engineered series, effectively a trim in its own right alongside mainstays like Inscription and R-Design, with a mixture of aesthetic and functional upgrades. For the so-blessed XC60 you see here, it means a $71,990 car including destination, Thunder Grey metallic paint, and a power tailgate.
Firm, and firmly stubborn about the settings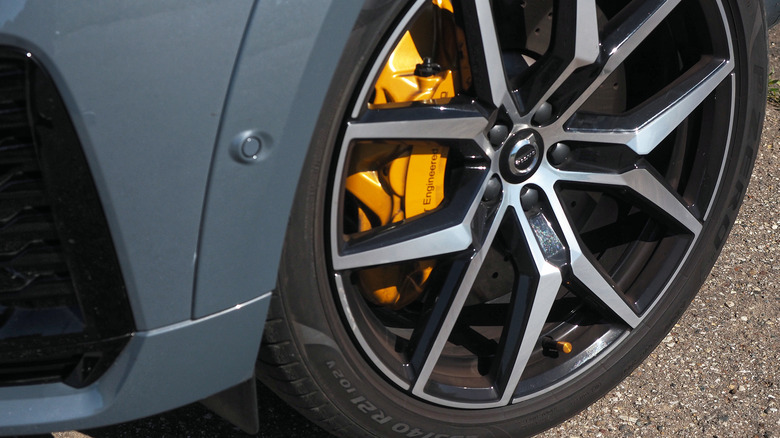 Chris Davies/SlashGear
Polestar's fettling doesn't squeeze any extra power out of the T8 PHEV drivetrain, but it does "optimize" the gas-electric combo. You also get Akebono brakes (with fetching gold calipers), a Polestar Engineered front strut bar, and striking 21-inch CNC machined alloy wheels. Öhlins adjustable dampers are included, but — as we've seen on Polestar's own cars — they're manually adjustable rather than electronically like just about every other mainstream automaker.
The result, I'd wager, is that few owners are ever going to tweak their PHEV away from the default settings (not least because it involves jacking up the rear of the SUV to access the requisite knobs). That default errs on the stiff side, too, even if you don't opt for the $800 22-inch wheel upgrade.
Treated to an enthusiast-friendly road, and the firmer ride pays dividends in flatter cornering and a generally more composed experience. The rest of the time, though, it can border on uncomfortable, particularly for those in the otherwise spacious rear. I quickly learned to steer around even small potholes and cracked asphalt when possible, because otherwise, the XC60 crashes through them disconcertingly.
More EV-only range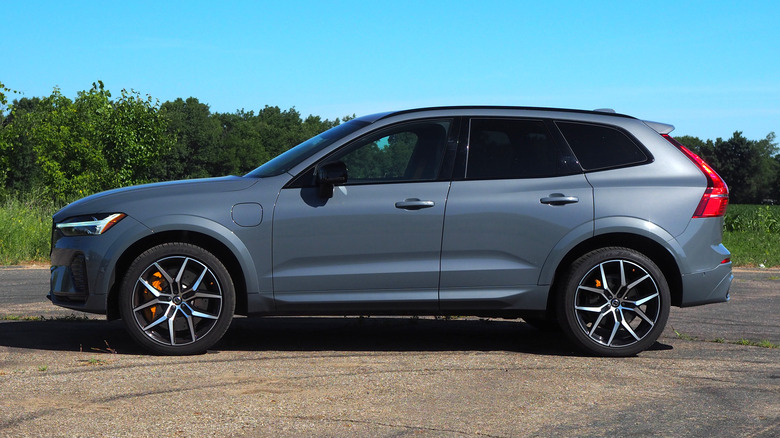 Chris Davies/SlashGear
It's a shame because the drivetrain itself is a good one. The most potent rear motor more than makes up for the loss of the supercharger and unlike previous T8 rigs the (mechanically unconnected) front and rear each feel like they have a better understanding of what the other is doing. The result is more cohesive and predictable, the blend of gas and electric nigh on seamless.
The eight-speed automatic — which has a 46-horsepower electric motor sandwiched in too — is smooth, and there's a welcome one-pedal driving mode that cranks up the regenerative braking. Volvo's transition between that and the burly Akebono friction brakes is problem-free, too.
You can choose whether the XC60 T8 starts up in Pure electric-only or Hybrid gas-electric mode each time. On the former, I managed about 28-30 miles of placid driving before the battery expired. There are options to save battery power — useful if you know you'll be doing urban driving later on in a trip — or to charge it from the gas engine while on the move, though that can be slow going and the soundtrack is somewhat grinding.
Volvo buries the fun button
Volvo
Really, though, it's more fun staying in Polestar Engineered mode. Annoyingly that requires digging into the settings menu, as does any adjustment of drive mode in fact. Volvo quietly got rid of its perfectly fine physical mode wheel in the center console, and now you need to go through the Android Automotive OS-powered infotainment to locate those options instead.
It's not the only foible. As before, the 2022 XC60 T8 lacks DC fast charging support, and the onboard charger tops out at a mere 3.7 kW. That can mean a full charge takes upwards of 5 hours on a Level 2 unit.
Gold (always believe in your soul)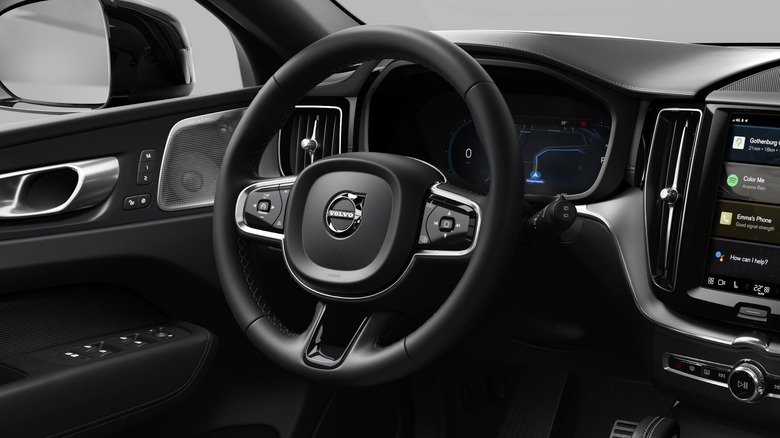 Volvo
Volvo's cabins have long been pleasant places to find yourself, though the Polestar Engineered trim adds some unique extras. Those up front get sport seats with Nappa leather and heating (but not cooling); the rear makes do with leatherette, which seems a little miserly given the price tag. Mesh aluminum inlays on the dashboard and doors help lift what can be quite a dark interior, as do the trademark gold seatbelts.
The 9-inch infotainment touchscreen feels a little compact, these days, given what the rest of the market is doing. Still, it's reasonably straightforward to navigate through and offers features like Google Maps, the Google Assistant for voice control, and access to the Google Play store for a curated selection of third-party apps. You can get a standalone Spotify app, which is nice, but there's no Apple CarPlay or Android Auto support yet. Considering the former is just now being added to the Polestar 2, I'd not be surprised to see Volvo push it out as an update for the XC60 soon.
Plenty of tech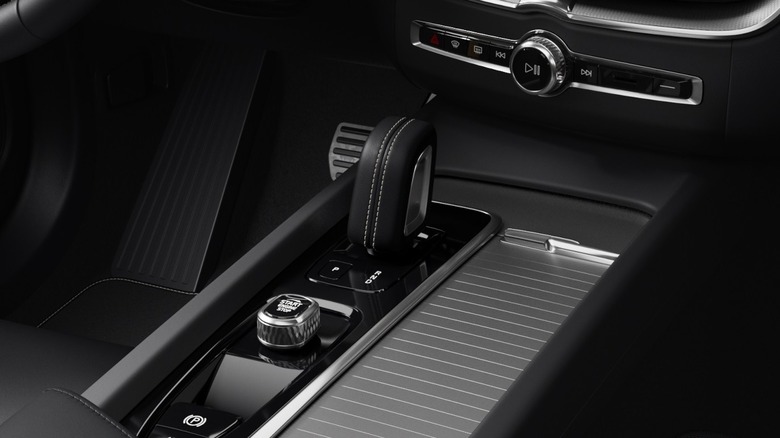 Volvo
A wireless charger is in the center console — it's a little short, which can make positioning larger smartphones tricky — and you get the impressive Bowers & Wilkins Premium Sound system too. A 360-degree camera is standard, though weirdly not the default view when you're reversing, while blind-spot warnings, steering assistance, auto-high beams for the Thor's Hammer headlamps, and auto braking cross-traffic alert are all onboard for the ride. Polestar throws in a head-up display, too.
Out on the highway, it'll likely be Volvo's Pilot Assist that appeals more than the Polestar tuning. The automaker's hands-on driver assistance blends adaptive cruise control with lane-keeping and has matured into a capable and reliable system. It's definitely not a fan of being left to its own devices, however, and will — rightly — pester you relentlessly if you leave your hands off the wheel for anything more than a few seconds.
Volvo XC60 T8 Polestar Engineered Verdict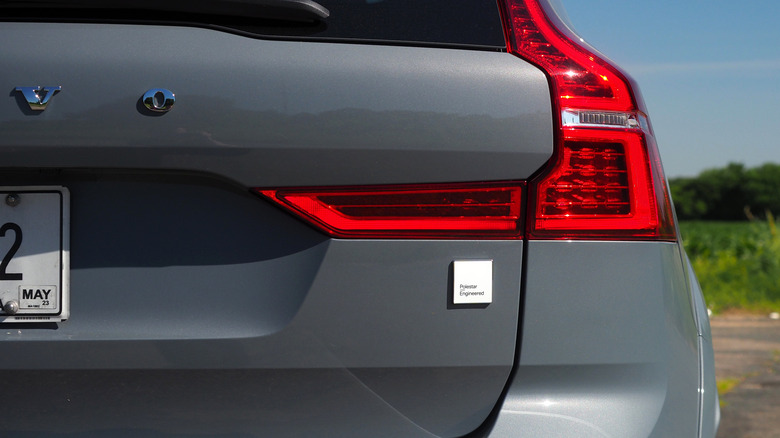 Chris Davies/SlashGear
Overall, the 2022 XC60 T8 Polestar Engineered Extended Range does a good job of making one of Volvo's most popular models feel a little more special. It retains the practicality and handsome design, and adds not only enthusiast intent but enjoys better green credentials, too.
That said, it's not an entirely clean sweep. The challenges involved in adjusting the suspension settings mean most will simply learn to live with what can be a harsh ride, while slow charging means there may be times you have to do without the electric motors' maximum assistance. Volvo's infotainment system doesn't feel fully-baked quite yet, either.
None of that is a dealbreaker, and it's worth noting that you can have the same power but Volvo's standard, softer suspension tune on cheaper trims. An XC60 Inscription T8 Extended Range starts at $55,845, though obviously lacks a lot of the creature comforts and other niceties. You pay the extra, of course, for those and for the prestige of the Polestar badge — even if you'll likely have to explain it to most people — and though they're good things to have, it's probably worth cross-shopping against a Porsche Macan S too, just to be sure.