Satechi USB-C Slim Dock For 24-Inch iMac Review: Fixing Shortcomings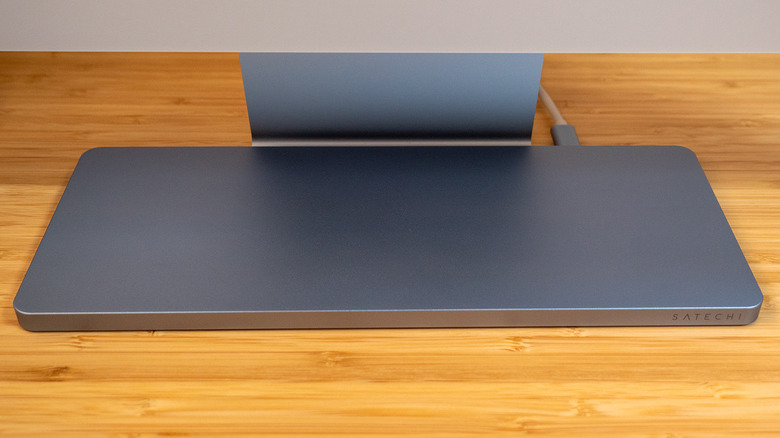 Ewdison Then/SlashGear
Apple fans are used to the company's design principles: it slims down devices to an almost unimaginable degree, but doing so comes at a cost. Sometimes the slimmer product size means reduced battery capacity, and at other times it may be made possible by a reduction in the number of ports available. Last year's 24-inch iMac feels almost like a throwback to the colorful past of the computer. Still, the model also came with plenty of modern technologies that, funnily enough, felt a bit limited because of how the iMac was designed. As with the MacBook Pros that ditched well-loved and much-used ports, the M1 iMacs have a limited supply of Thunderbolt and USB-C ports. Making things a bit worse, these ports are all placed in the back. That results in a clean facade but makes them hard to reach when you need to quickly connect and disconnect devices.
What Apple does not provide, third-party accessory makers are more than happy to supply — and supply they did with a wide variety of docks and hubs for the iMac. Some of those third-party accessories look like typical computer peripherals, while others try to prioritize form over function. Some provide too few features to be worth their prices, but others burden the user with too many features. Amid all of these, Satechi may have stumbled upon the perfect balance between features and design. The company's USB-C Slim Dock for 24-inch iMac promises to be the most stylish way to break free of the iMac's limitations, providing not only additional ports but also extra storage, all of it wrapped up in a handsome package worthy of being called an Apple accessory. Of course, we had to take it for a spin to see if it's all just hype or if the dock really does have something to offer beyond its dapper appearance.
The Satechi USB-C Slim Dock for 24-inch iMac is available from the company's online store for $149.99 USD.
Design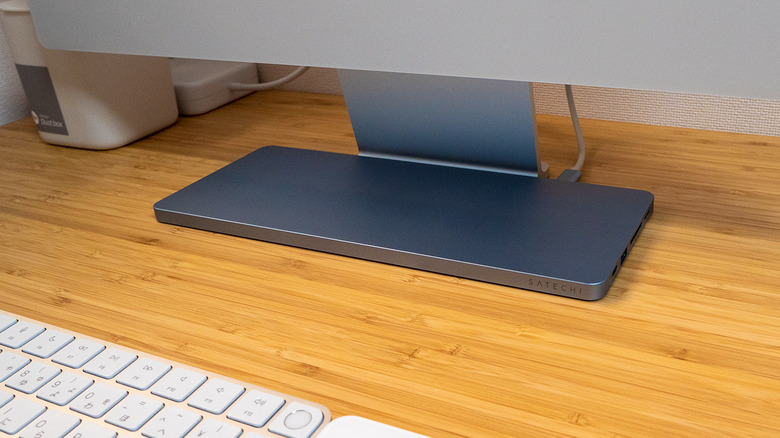 Ewdison Then/SlashGear
There are plenty of iMac docks on the market today, especially after the launch of the 2021 M1 models. Part of the tradeoff for the computer's gorgeously slim design is the dearth of ports, all of which are hidden behind its screen. But while many of these docks and hubs are advertised as compatible with the 24-inch iMac, Satechi's new dock takes that to the extreme — in fact, the USB-C Slim Dock is designed only for the 24-inch M1 iMac. Sure, you could use it for other computers, but then you lose one of its biggest features.
That feature is actually the wide gap on its bottom that perfectly fits the base of the iMac. This makes the dock look almost like it's part of the iMac itself, especially if you get matching colors. The dock also creates a wider base that you could put things on if you like. Either way, its exclusivity to the 2021 and 2022 M1 iMacs works in its favor, creating a seamless appearance that fits the machine perfectly.
Whether you match colors or not, the Satechi USB-C dock matches the build quality of the iMac it sits on. Made from durable aluminum, the accessory looks premium and stylish, adding some character to your desk just as much as the iMac does. The material also makes heat dissipation more effective, which comes in handy given its hidden superpower. If there's one disappointing aspect of the dock, it would be that it's available only in silver and blue colorways that won't color match all the available iMac hues.
Port extension, not replacement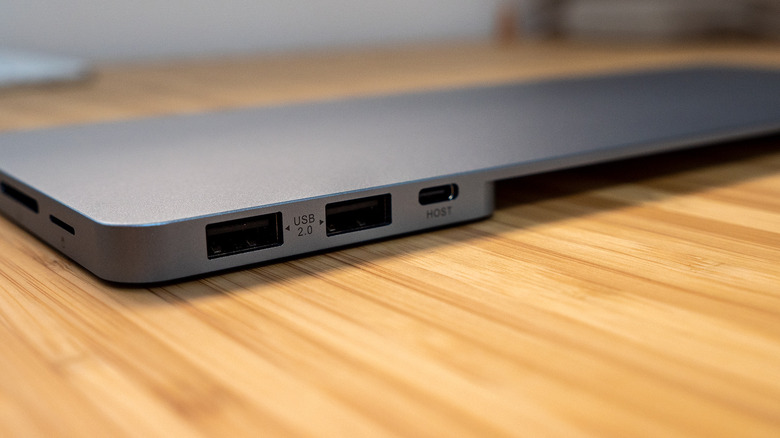 Ewdison Then/SlashGear
Let's get one thing straight in case the product's name didn't make it obvious yet: this is a USB-C dock, which naturally doesn't reach the same performance or offer the same port options as a Thunderbolt dock, especially one that uses Thunderbolt 4. Of course, the M1 iMac itself doesn't support Thunderbolt 4 anyway, so that's pretty much out of the question. Rather than acting as a complete replacement for the iMac's ports, this dock simply extends the options available and, more importantly, puts them within easy reach.
The USB-C port on the back plays host and connects to the iMac, keeping the cable out of the way and out of sight. It is joined by two USB 2.0 ports on that side that can be used for things that tend to stay put most of the time, like a wireless receiver for a keyboard and mouse combo. The right side of the dock is where you'll find ports for more transient items, including a microSD card slot and a full-sized SD card slot. There's a USB-A port there, too, that's capable of 10Gbps data transfer speeds — it's right beside a USB-C port that has the exact same capability.
Despite the availability of ports, there is one critical thing buyers need to be aware of before grabbing this beautiful dock: if you're planning to charge your phone from those ports or even drive an external CD-ROM reader, you'd be out of luck. None of the ports, not even the USB-C port, is capable of charging devices and is for data transfer only. Unsurprisingly, the USB-C port doesn't do video output either, and you'd be better off using one of the more powerful ports on the iMac's back anyway. Given that this dock is driven entirely by USB-C, that's not shocking, but it's something that buyers and users will have to keep in mind nonetheless.
In practice, the ports work as advertised anyway, so you won't be missing out on peripherals and external drives when using an iMac. In addition, the arrangement of the ports makes it painless to quickly attach and detach external storage, while wireless receivers and other dongles hide their presence effectively. The dock barely gets warm on this side thanks to the aluminum enclosure, but it's not like you'll be touching it a lot anyway. That heat dissipation, however, does become critical with the dock's special feature that we'll be getting to next.
Stress-free storage expansion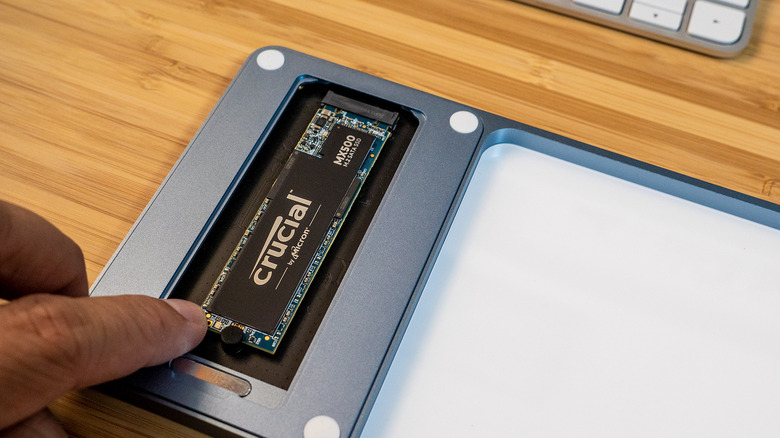 Ewdison Then/SlashGear
While the Satechi Slim Dock's port selection isn't phenomenal, it does have one thing that very few USB-C docks offer, whether it's for the M1 Mac or any other computer: the left side of the dock hides a place for M.2 SSDs to expand the iMac's storage capacity. Given that it's impossible to do that even if you open up the colorful computer, this almost permanent storage expansion can be a life saver for people who regularly work with large files.
Unlike other SSD enclosures, the Satechi USB-C Slim Dock supports both NVMe and SATA types and can go up to 10Gbps in data transfer speeds. It fits M.2 SSD of all sizes, except those that come with built-in heat sinks. The dock is passively cooled only, as the aluminum body helps draw heat away from the enclosure. On the upside, it allows the USB-C Slim Dock to remain, well, slim. Like many of Apple's designs, it's a necessary tradeoff, but that shouldn't matter much as far as the SSD's performance is concerned.
What makes it even better is that Satechi designed the enclosure to be as easy to use as possible. You don't need to scramble for a screwdriver every time you want or need to replace the SSD. The bottom panel is held only by strong magnets and can easily be popped off without breaking a sweat. The SSD stick itself is held in place by a special screw that only requires your finger to remove. And it doesn't compromise the integrity of the enclosure because everything is snug and tight. Switching SSDs has never been this easy, and we wish more manufacturers would follow this design.
Final thoughts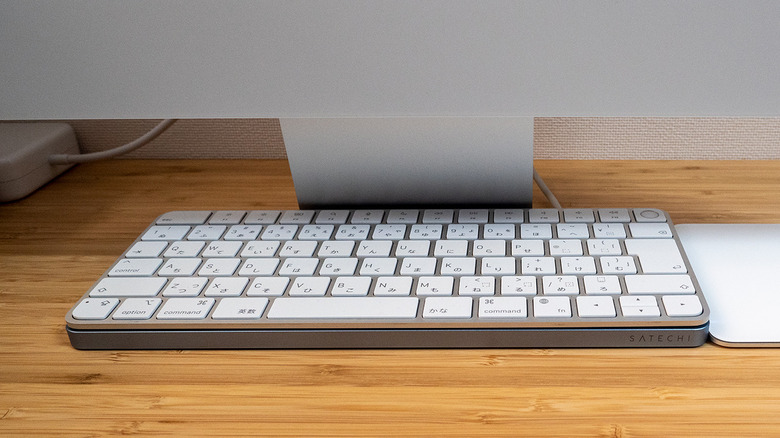 Ewdison Then/SlashGear
As a USB-C hub, the Satechi Slim Dock for the M1 iMac has everything you need and then some. Its stylish design fits seamlessly with the iMac regardless of color choices and makes it look like the dock is part of the computer's base. The hidden SSD enclosure is a huge plus, especially since you can't expand the iMac's storage without external help. Functional and beautiful, it's a perfect match for the iMac and for any iMac owner.
The $149.99 price tag, however, is a bitter pill to swallow, especially considering the variety of options available in the market. The USB-C extension, while useful, is easily outclassed by a Thunderbolt one, even if just using Thunderbolt 3. Then again, not many docks — USB or Thunderbolt — look as handsome as this Satechi product, nor do they have data storage expansion beyond SD cards and external drives. As with many Apple devices, you aren't simply paying for the technology inside: you are also paying for the convenience and visual appeal that a well-designed product offers and the Satechi USB-C Slim Dock for the 24-inch M1 iMac definitely delivers in that regard.