Cadillac's Cheapest Lyriq Electric SUV Has An Unexpected Charging Advantage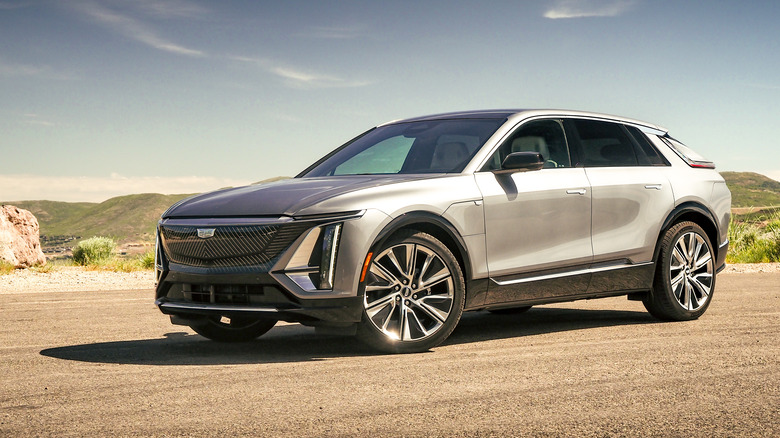 Chris Davies/SlashGear
The staggered launch of Cadillac's new Lyriq all-electric SUV may mean all-wheel drive (AWD) fans have to wait a little longer than those buying the rear-wheel drive (RWD) version, but there's actually a good reason why impatient EV owners might want to opt for the single-motor car. While the 2024 Lyriq RWD (from $62,990 plus destination) may be down on power in comparison, it's how rapidly it charges where an unexpected difference crops up. In fact, it could get you back behind the wheel far quicker.
On road trips, the Lyriq supports up to 190 kW DC fast charging. That's enough to add up to 76 miles of range after just 10 minutes plugged in, and Cadillac also includes two years of unlimited public charging at EVgo locations for Lyriq owners. Of course, the electric SUV will also charge at other networks like Electrify America and ChargePoint, just as long as there's a J1772 connector.
The reality is, though, that most electric car owners do the bulk of their recharging while at home. As you'd expect, Cadillac includes a charging cord with the Lyriq, and it's actually better than what comes with the majority of EVs. However, there's a really good reason why some Lyriq owners might want to upgrade to an even more potent home charger.
Not all home charging is created equal
Cadillac's included charge cord supports two voltages. There are two plug adapters in the zip-up pouch, one for a commonplace 110V outlet for what's generally known as Level 1 charging, and another for a 240V outlet (such as those used for appliances like dryers) for faster, Level 2 speeds. It maxes out at 7.7 kW, which means you can add up to 21 miles of range per hour plugged in on the Lyriq RWD, or up to 19 miles of range per hour plugged in on the 2024 Lyriq AWD (from $64,990 plus destination).
That's not bad, but those who want faster speeds can upgrade to a beefier Level 2 charger. Both the RWD and AWD versions of the Lyriq support an 11.5 kW charger: that can add up to 37 miles of range per hour plugged in. If you don't mind sacrificing the free EVgo access, Cadillac will even give Lyriq buyers a $1,500 Qmerit credit to have such a home charger installed.
That credit can be applied to the most potent home charger, too, a 19.2 kW Level 2 model. Interestingly, only those with the Lyriq RWD will see faster charging rates with that: up to a whopping 52 miles of range added per hour plugged in. Considering the average American driver goes just 39 miles per day, according to the US DOT, that means less than an hour of charging would suffice.
Lyriq AWD owners, in contrast, will have to make do with the slower rate, even on the more powerful home charger. Still, the addition of a second electric motor and a heady 500 horsepower on tap should be ample consolation when deliveries of the all-wheel drive SUV begin in early 2023.