Here's When The 2022 Steam Summer Sale Begins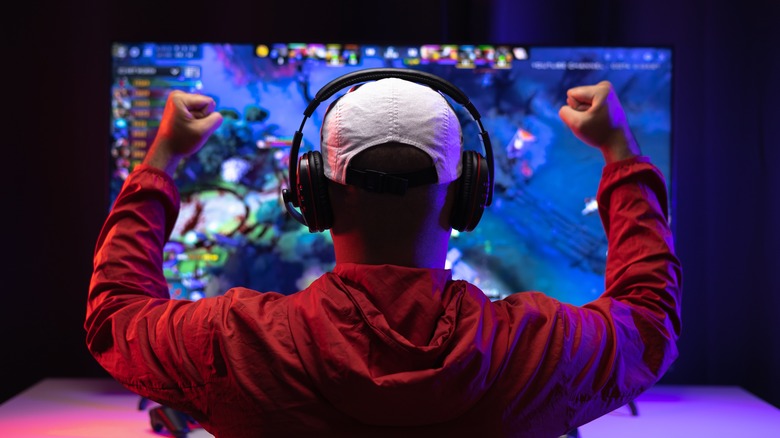 GBJSTOCK/Shutterstock
Gamers, are you ready? Perhaps we should be asking your wallets, because they're about to take a pretty big hit. The Steam Summer Sale of 2022 is almost here, bringing with it a truckload of exciting discounts on all kinds of different games. A lot of titles will be discounted, including AAA games that normally cost a pretty penny. Not only that, but the Summer and Winter sales typically offer the biggest savings of the year, so in just a few days, you might be able to snipe some of those games that have been sitting in your wishlist for a while. Below, we'll talk about when the sale will take place and which titles might receive a discount.
Valve announced the upcoming sale in a short and snappy video hosted by the company's community manager. It seems that this time around, Valve has prepared more than just a slew of discounts. Shoppers will be able to collect trading cards and badges to spruce up their Steam profiles during and after the sale, and Valve teases that some new mystery badges might start appearing even before the sale begins, so keep an eye out, because the prices are being cut in just a couple of days.
According to Valve, the Summer Sale will take place between June 23 and July 7, so there'll be plenty of time to pick and choose what you would like to get. The gaming platform gave us a preview of some of the titles that are about to be discounted, ranging from classics to fresh AAA games to niche indie options. Let's take a look at what's in store for this year.
From AAA giants to indie games
Valve's video gives us a good glimpse into the titles that are about to be discounted. No prices have been mentioned, so it's hard to say just how much you'll be saving, but any price drop on an AAA title already equals a good few bucks left in your wallet compared to shopping outside of the sale. Indie titles, on the other hand, are usually cheaper by default, so one way or another, you're set to get some cool games at reasonable prices.
Some of the games mentioned in the video include:
"Ghostwire: Tokyo"
"Final Fantasy XIV Online"
"The Elder Scrolls Online"
"Cyberpunk 2077"
"The Sims 4"
"Civilization VI"
"Forza Horizon 5"
"Rust"
"Apex Legends"
"God of War"
"Core Keeper"
"FIFA 22"
The above are just some of the titles that are about to get cheaper, and seeing as nearly all of them are huge fan favorites, it certainly seems like this year's Steam Summer Sale just might become a hit. This is especially true because Valve has recently released its first gaming console, the Steam Deck, and the shipments are already underway. This means that a lot of new Steam Deck owners might be even more eager than ever to shop for some new games, and even if they end up sitting unused in the library, oh well — at least it's on sale!