How To Claim GTA Online For Free On PlayStation 5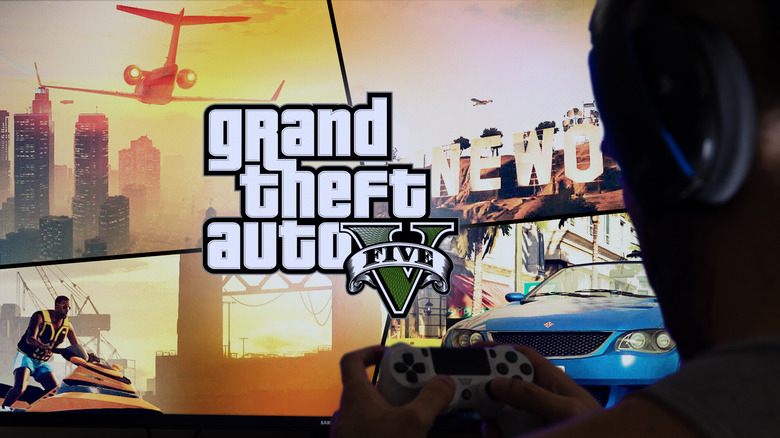 Miguel Lagoa/Shutterstock
The new PS5 and Xbox Series X/S editions of the critically acclaimed (and satirically violent) video game "Grand Theft Auto V" have finally launched as of March 15. Originally released in September of 2013 to an uproar of positive reviews, it rapidly became one of IGN's top-rated games of all time (via IGN), and is one of the world's most played video games, selling over 140 million copies since launch.
It seems like Rockstar Games has no plans to stop releasing "Grand Theft Auto V" on new platforms any time soon, and they've even released the multiplayer component of "Grand Theft Auto V," called "GTA Online," as a separate purchase entirely. If you're on a flashy new PlayStation 5 and have a subscription to its premium service, PlayStation Plus, you even get to play "GTA Online" for free until June 14. After that, PS5 owners can keep "GTA Online" for as long as they hold onto their PlayStation Plus subscription.
How to claim GTA Online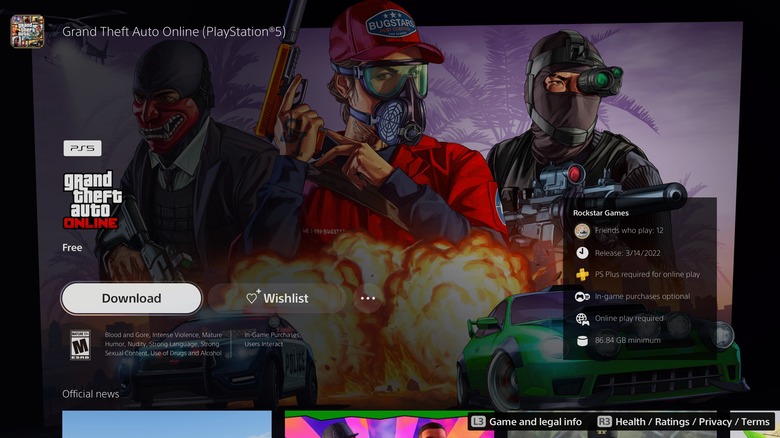 Slashgear
Claiming "GTA Online" for free is an extremely simple process once you've turned on your PS5, assuming you've already logged into a PlayStation account with a PlayStation Plus subscription attached to it.
If you don't already know how to subscribe to PlayStation Plus, the process is also quite simple; you can go directly to the official PlayStation Plus signup page and follow the instructions on there, but do note that it's a premium service that costs money up-front. The base subscription fee for PlayStation Plus is $9.99 or equivalent.
Once that's all settled, you only need to navigate to the PlayStation Store icon (on the far left side of the dashboard on your home menu screen) where you can simply tap the X button on your DualSense controller to descend into the PlayStation Store interface. For now, "GTA Online" is appearing as the first option on the left once you enter the store, but you can always find it by navigating to the icon that appears as a magnifying glass on the PlayStation Store home menu – immediately to the right of Browse – and then search "GTA Online" once the keyboard appears.
Once inside the "GTA Online" tab, you can simply press the Download button to download "GTA Online" to your PS5 system.
GTA Online next-gen improvements
Playing "GTA Online" on a PlayStation 5 is a much more improved experience than playing on the previous generation's PlayStation 4 or PlayStation 4 Pro. One such improvement is that you can now play with resolutions up to 4K at 60 frames per second. This new version of "GTA Online" (and "Grand Theft Auto V") also includes bells and whistles like HDR support, ray tracing, and upgraded texture quality (via RockStar Games).
The PS5 version of "GTA Online" comes with unique support for the PS5's hardware, including faster loading times that make use of its NVME storage, haptic feedback and adaptive trigger support via the PS5's DualSense controller, and 3D audio that makes use of the PS5's Tempest AudioTech.
"Grand Theft Auto V" and "GTA Online" are now available separately on both the PS5 and Xbox Series X/S consoles. You can purchase "Grand Theft Auto V" for $9.99 until June 14, after which it will return to its MSRP of $39.99.
"GTA Online" is free for PS5 owners with PlayStation Plus until June 14, after which it costs $19.99 unless the subscription is kept active.