The Hidden Disco Lights Feature Mini Cooper Owners Need To Try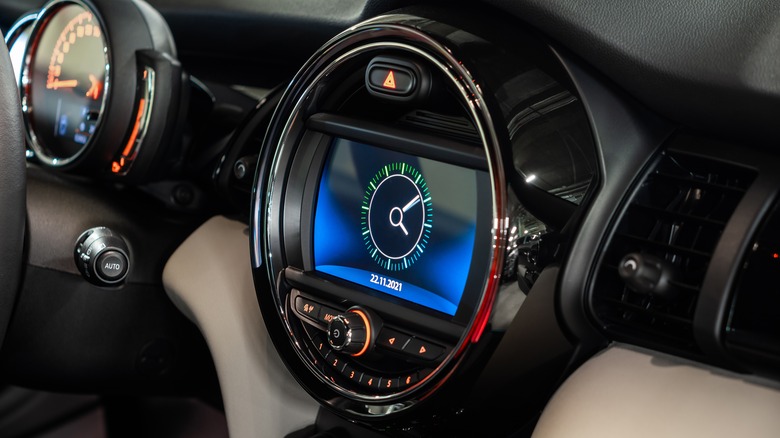 rebinworkshop/Shutterstock
Carmakers have a history of adding quirky features to their new vehicles. The Toyota Van (yes, Toyota called its minivan the Van) unveiled in 1984 came with an optional ice maker; this shoebox-sized mini-refrigerator came standard with spill-proof ice trays (per Popular Mechanics). And then we have Honda with its first-gen City, a small and economical hatchback that came optional with the brand's iconic Motocompo scooter. According to Motor Trend, the Motocompo weighs under 100 pounds, has a 49cc two-stroke engine, and stores neatly in the trunk of any JDM Honda City or Honda Today Kei car. The combination allows drivers to park their City and make last-mile trips on a more economical, brightly-painted homage to Honda's motorcycling expertise.
It would be hard not to mention the Tesla Model X when talking about quirky automotive features. Teslas are more like smartphones than conventional vehicles, and the Model X introduced the Party Mode if you want to have more fun with your electric SUV. It's similar to the Celebration Mode feature that flashes strobe lights, opens and closes the rear falcon doors, and rolls down the windows in tune with celebratory music.
However, the Mini Cooper has a more straightforward yet similar feature that owners can enjoy. If you have a Mini with interior ambient lighting, you need to know about the hidden disco light feature that could make your sport-compact coupe feel like a Tesla.
The Mini Cooper's disco mode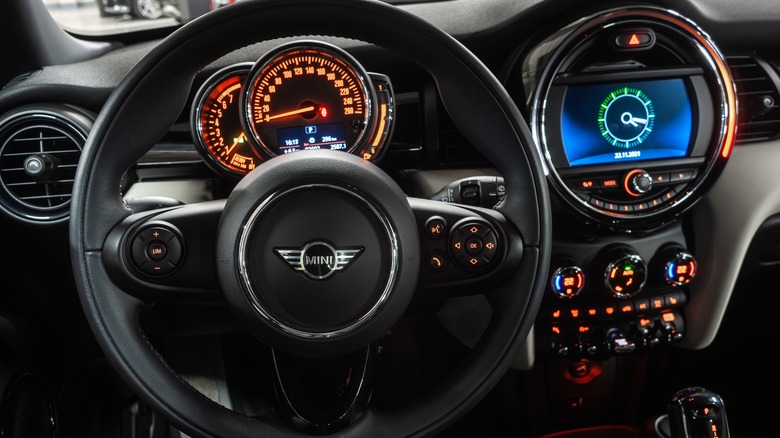 rebinworkshop/Shutterstock
Mini first offered the ambient lighting feature from the 2006 second-gen R56 Cooper hatchback to the current F55 and F56 hatchback. Interior ambient lighting is also a standard feature in the all-electric Cooper SE that debuted in 2020. The illuminated center ring in the Mini Cooper can change colors depending on the chosen setting. It can function as a rev counter, change colors when selecting driving modes, or provide ambient lighting in many colors. You can configure the settings by fiddling with the center controller and cycle quickly between different light colors by pressing a switch on the roof console.
But there's more. If you press and hold the roof switch for about 10 seconds, you will activate disco mode, and the lights will cycle through its available range of colors. Some might call this unique feature a distraction, but we think it's a nice touch. Oh, and we're confident kids will dig it, too. But if you have a 2021 or newer Mini, the kind folks at Mini F56 have reported that the latest Mini redesign has reduced the number of lighting colors to six, which is possibly the result of the ongoing chip shortage that's plaguing every industry imaginable.
The Mini Cooper remains available as a two-door or four-door hatchback and a convertible with a folding roof. The standard engine is a turbocharged 1.5-liter three-cylinder mill that pumps out 134 horsepower and 164 lb-ft of torque. Meanwhile, the Cooper S has a turbocharged 2.0-liter four-cylinder engine with 189 horsepower and 207 lb-ft of torque. The Mini shuns everyday practicality for style and driving pleasure, and that's fine for people who appreciate the vehicle's undying vintage charm.