Will These New Instagram Reels Toys Make You Leave TikTok?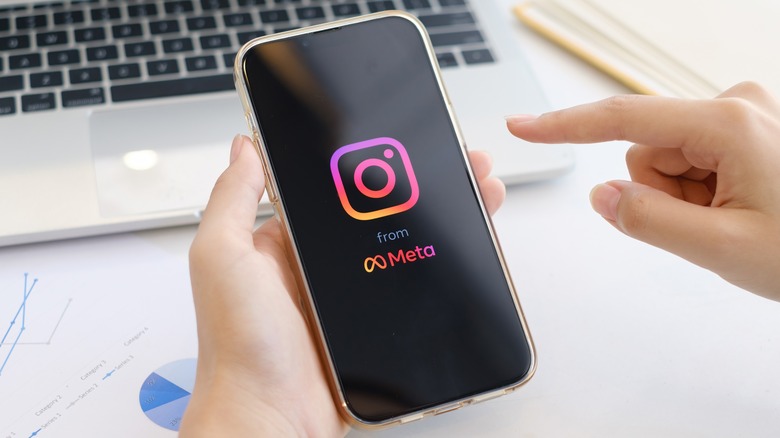 Worawee Meepian/Shutterstock
Meta, the company that owns social media platforms like WhatsApp, Facebook, and Instagram, today announced several new features for Reels. The latest updates, which primarily apply to the Reels functionality on both Facebook and Instagram platforms, are largely intended to counter the rising popularity of the Chinese short video platform TikTok. Apart from endowing Instagram Reels with entirely new features, the update also makes it easier for creators on that platform to recommend their Reels to Facebook. This move, according to Meta, will let Instagram creators tap into the large userbase that Facebook boasts of and, in the process, further expand their reach.
Cross-platform content sharing aside, Meta adds new features separately to Facebook and Instagram Reels with this update. In the case of Facebook, the new features include the ability to create Reels from right within a desktop browser, a "Clip to Reels" feature that lets creators transform their long-form content to short format reels, and new audio tools designed to enhance the quality of reels. On the other hand, Instagram lets users upload longer short-form videos with new sticker options, among other things.
Make longer Reels with new interactive features
Among the most significant changes to Instagram Reels will be its newfound ability to utilize features like polls, quizzes, and emoji sliders. While not entirely new, the ability to use these overlays, until now, was limited to Instagram Stories. With this update, that ability will also be open to creators who make Reels. Another major change to Instagram Reels is the ability to post longer-duration videos. Until now, Instagram imposed a 60-second limit on the length of its Reels — it has now been increased to 90 seconds. This is not the first time a short-form video platform has done something like this. TikTok recently made a major change to its policy by allowing users to upload videos that could be up to 10 minutes long.
Instagram Reels also has this newfound ability to import the creator's own audio. This feature will allow creators to add commentary and voiceovers to their content. Among other things, the audio importing feature can be used to add a background sound to your Reels with the audio sourced directly from one of your own videos stored on your phone. If you like a particularly good Instagram Reel and wish to create something similar on your own, Instagram now allows you to borrow the template of that Reel with a single click. This tool should make the process of following trending Reels and creating fresh content based on them much easier.
Creating Facebook Reels is now a desktop-friendly affair
While most Reels users edit their videos within the Instagram or Facebook mobile apps, Meta seems to believe there is a set of users who want something similar on desktop. This is why the company has introduced a new feature that will allow Facebook Reels creators to edit, schedule, and publish content using a desktop browser by simply accessing Facebook's existing Creator Studio tool. Note that this feature is still not an option for people who access Instagram via their desktop browsers.
Given that there are a lot of creators who publish their content across multiple platforms in different formats, Facebook's new Clips to Reels feature will let publishers make shorter, Reel-friendly videos from already published videos. For example, if you posted a six-minute long-form video on Facebook, you can convert that clip into a short 30-second Preview from within the Facebook app now.
Not to be left behind Instagram, which received the audio import feature, Facebook Reels brings several audio-centric features of its own. Like Instagram, Facebook Reels now also allows creators to record and overlay voiceovers on their Reels. A very interesting addition is a new "Sound Sync" feature that allows users to sync video clips to the beats of popular tracks.
While these new features will certainly make life easier for creators on Instagram and Facebook Reels, would these be enough to fend off the competition for TikTok?