Would You Watch A 10 Minute TikTok?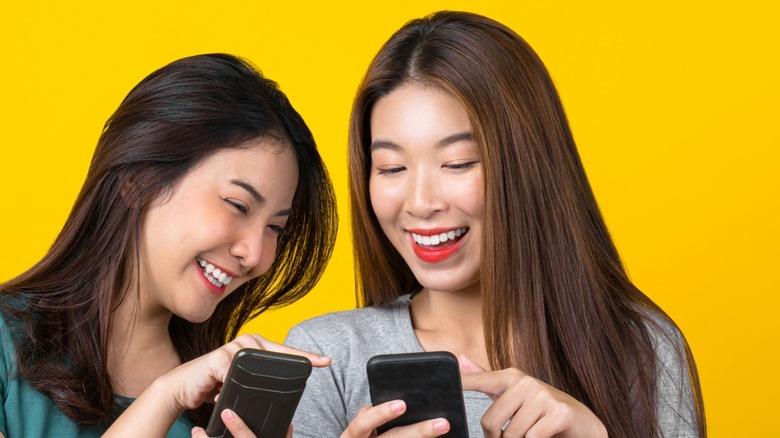 TZIDO SUN/Shutterstock
We all associate TikTok with short videos that can be burned through in no time at all, but it seems that the platform is trying to head in a different direction. The latest TikTok update allows creators to upload videos that are up to 10 minutes long. That's a massive increase for a platform that, according to some statistics, hits its best numbers with videos that are 47 seconds long on average. Is TikTok trying to compete with YouTube? And if that's the case, the question is — can it compete with YouTube?
TikTok has absolutely blown up in popularity over the last few years, surpassing 2 billion total downloads in October 2020. This shows how much its userbase, which consists of largely younger people between the age of 13 and 24, values short-form content. It takes a lot more to sit through a 10-minute video, and consequentially, it's a lot harder to make a 10-minute video that captures a person's attention for that long. This is especially true for a userbase as young as TikTok's, when there are new, shiny things around every corner that can easily pull the viewer away from what they are currently watching.
Despite the seemingly risky idea of increasing the video length, TikTok seems positive that this is the right step for it to take. A company spokesperson told The Verge, "Last year, we introduced longer videos, giving our community more time to create and be entertained on TikTok. Today, we're excited to start rolling out the ability to upload videos that are up to 10 minutes, which we hope would unleash even more creative possibilities for our creators around the world."
Users spend more time on TikTok than on YouTube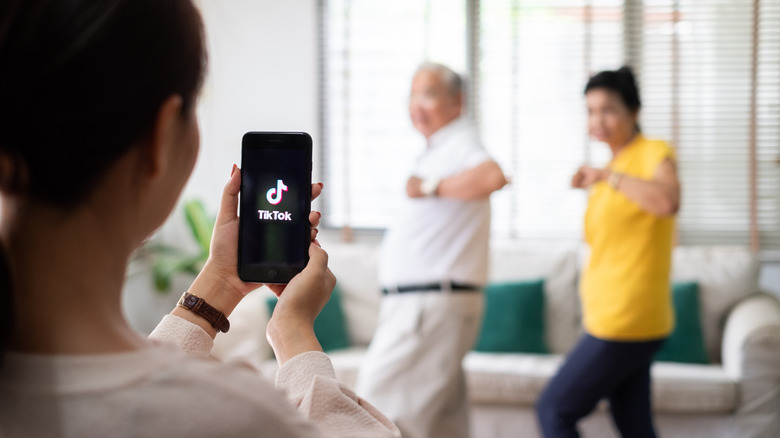 Nattakorn_Maneerat/Shutterstock
The news about the new update broke out through social media, with social media consultant and analyst Matt Navarra being one of the first to share the information on Twitter. As Navarra himself pointed out in a chat with The Verge, there are benefits to choosing long-form content over short videos, such as that it's easier to monetize and keeps users on the platform longer. However, in the case of TikTok, this is still quite tricky — many people spend hours on the app while only watching short videos. In other words, the app's current business model has proven to be tremendously successful so far.
According to Statista, the average Gen Z user of TikTok spent more than 10 hours per week on the app in 2021. YouTube was second, but left far behind, with just 5.25 hours per week per user. Both of these statistics apply to iOS users. Following those numbers implies that TikTok may have the winning formula where Gen Z is concerned. Platforms that already offer access to long-form content, such as YouTube and Instagram, have been investing in promoting shorts, presumably trying to win back some of the demographic that jumped ship to TikTok. However, there could definitely be some method to what TikTok is doing.
YouTube is safe, for now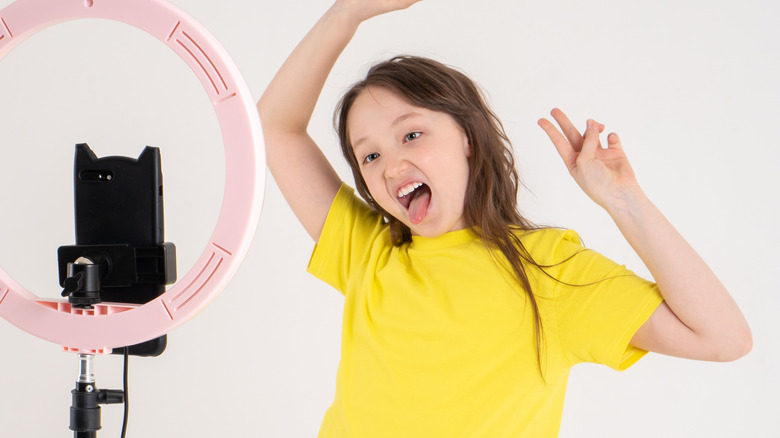 Luiza Kamalova/Shutterstock
Users may certainly want to watch longer videos from some creators. Some content creators on TikTok touch on many serious, helpful subjects, such as mental health or lifestyle topics. These subjects lend themselves to longer videos, and if a creator who became known based on their shorts starts to sway towards 10-minute videos, their fan base may very well follow along. In other words, it's possible that the first step will be for existing creators to try out the new video format, and for TikTok to fully adopt this may take a while. 
It's probable that these 10-minute videos will not become as popular on TikTok as they are on YouTube, though. Finding the right video length for a given platform is a tricky thing. Some of us may remember VINE, which grew in popularity thanks to its ultra-short 6-second videos and was eventually shut down. In comparison to VINE, TikTok is doing very well and seems to be nowhere near having to fold, but YouTube can still rest easy as the top platform for long-form content. However, if 10-minute TikToks prove to be successful, even the current king of videos may one day be dethroned.