These Were The Worst Performing Cryptocurrencies Of The Past Week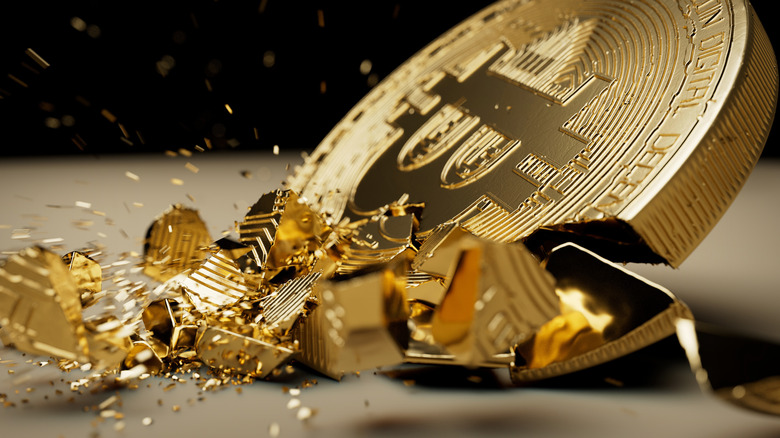 maxtrks28/Shutterstock
Since the May 11 Luna crash, cryptocurrencies have continued to lose ground following the bear market trends. On May 25, Motley Fool reported that the selling pressure is still on for cryptocurrencies. Bitcoin struggled to recover but saw its gains disappear rapidly, with a $1.26 trillion, 3.37% drop in 24 hours. Mainstream cryptocurrencies — including Ethereum, Solana, Cardano, XRP, and Dogecoin — followed Bitcoin in its weekly fall. BuyUcoin CEO Shivam Thakral said that investors are looking into cashing out, and those that stay on board crypto are in "wait and watch mode," via Motley Fool. Bitcoin and the top cryptocurrencies, despite their volatility, are known for their strength and resilience. However, other lesser known cryptos — there are more than 19,000 of them today, per Business Insider — have taken a beating.
Business Insider gave the lowdown on the five worst-performing coins for the week. Zcash, Cosmos, Apecoin, Elrond, and Avalanche dropped in the crypto bear market. CoinMarketCap data for May 27 showed TerraClassic USD under by 46.50% in a seven-day drop, followed by Elrond EGLD with a 25.17% drop for the same period. Avalanche ranked fourth with a weekly loss of 22.58 % and ApeCoin followed in the sixth position with a 19.88% fall. Zchash saw a drop of 18.32% in the past seven days and Cosmos, with a market value of $2.8 billion, had a 15.64% weekly loss.
Why does it matter and what does it all mean?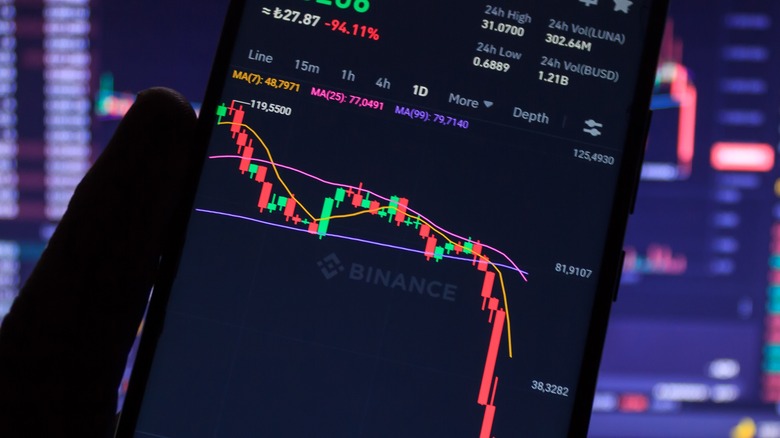 Hasbi Sahin/Shutterstock
Beyond the dropping trading tickers and bottoming out red graphs across the crypto board: what does it all mean? Business Insider explains that keeping a close eye on weekly winners and losers helps investors understand trends and identify coins gaining traction. Lesser-known cryptos are higher-risk investments. They can produce massive losses or generate significant gains in a short period because they are extremely volatile. The crypto crash and its current downward trend are not isolated. They are influenced and driven by the global and U.S. economies that are facing economic slowdowns triggered by a post-pandemic recovery, inflation, rising consumer spending, rise in gas prices, the war in Ukraine, and supply chain issues. These factors are all contributing to the drop in Nasdaq and S&P 500, affecting tech stocks, per Wall Street Journal, and causing the domino effect on crypto.
Market confidence and investor perception of crypto are also factoring in. Many investors have decided to cash out or move their digital assets to safer portfolios, at least until the storm settles. Taylor Carmichael, writing for the Motley Fool, says that even the 2022 crypto crash in time will look like a tiny wiggle in the chart. While it may amount to trillions of dollars lost, Carmichael is optimistic. He reminds investors of the many crashes the market has seen in the past decades, each one followed by a recovery. As of today, Bitcoin and Ethereum are down year-to-date by 36.68% and 46.43%, respectively.