Pebblebee Offers An AirTag Alternative That You Can Easily Hook To A Keychain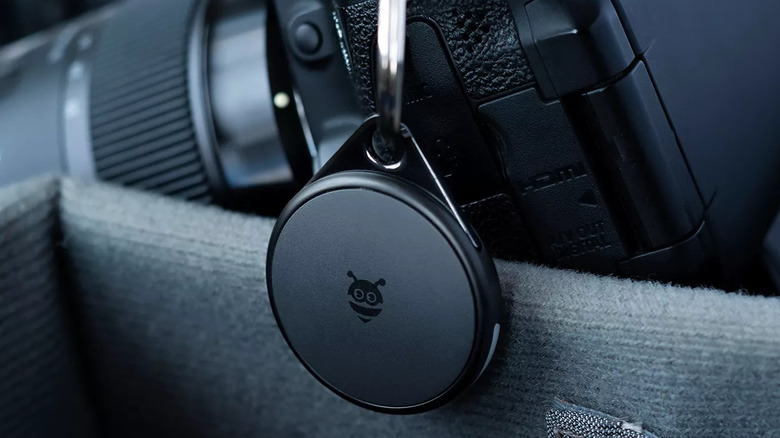 Pebblebee
Bluetooth-enabled item trackers have been around for several years, with companies like Tile promising you'd never have to lose keys or umbrellas ever again. Of course, Apple's AirTags really put these accessories front and center and added something new that competitors would try to copy later on. Apple's Find My network, for example, made it possible to crowdsource hunting for a lost item, even when the tag is outside of the owner's Bluetooth range. 
That said, there were some flaws that users of AirTags found, especially when it came to its design, and those are the nitpicks that Pebblebee's new trackers are trying to address while still maintaining compatibility with Apple's network. The company has introduced two new products, one that has a circular design for clipping to objects (the Clip) and another that is flat and broad like a credit card for easily slotting into a wallet (the Card).
Pebblebee Clip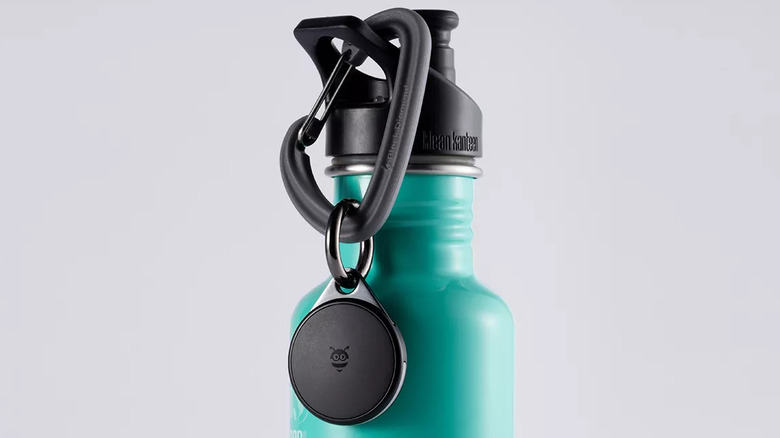 Pebblebee
There's no mistaking that the Pebblebee Clip is a direct rival to the first-party Apple AirTags. While it might be a simple disc similar to Apple's design, it has one important difference that makes it appealing to Apple fans: its teardrop shape offers a loophole that makes it possible to easily attach it to hooks, keyrings, bicycles, and other items with strings or straps. To do that with AirTags, you need to buy a separate "Loop" accessory. Considering a single AirTag already costs $29.00, and a loop will set you back another $15 to $20 at the very least, having one device that does both definitely saves a lot of money, especially since you will be buying these in packs.
Other than that, the Pebblebee Clip promises up to six months of use on a single charge and has a range of up to 500 feet. In addition to a loud buzzer, the tracker has LED lights that will help owners locate it in the dark more easily. The model is also IPX6 waterproof to withstand a light shower if accidentally left out in the open, such as clipped to a backpack used during a rainstorm. The tracker charges via a USB-C to USB-A cable, which is quite common these days, even for those who own Apple devices.
Pebblebee Card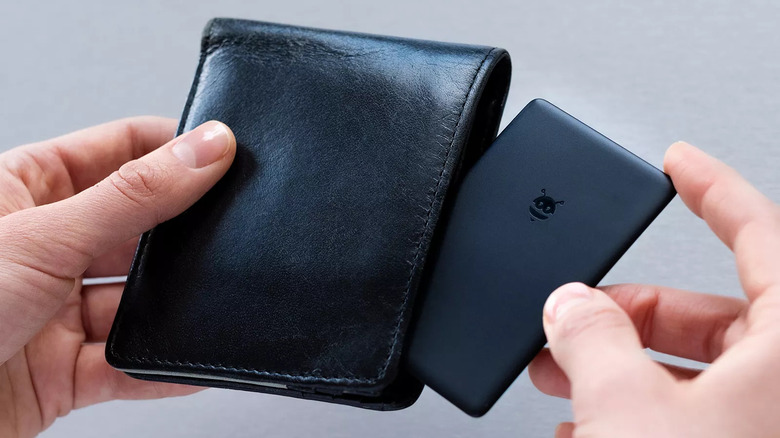 Pebblebee
The Pebblebee Card offers something that Apple doesn't: a super-thin card-shaped tracker that more easily fits in wallets, bags, passports, and even on the back of phones. The model has most of the same features as its more rotund sibling, namely the 500-foot Bluetooth range, loud buzzer, and IPX6 waterproof rating. The Card misses out on the LED light, though, but replaces that with the convenience of magnetic charging, a design that keeps the card extra slim. Both the Clip and the Card will warn you if you step too far away, preventing you from losing things in the first place.
Unlike other third-party trackers, both the Pebblebee Clip and the Pebblebee Card are compatible with Apple's Find My network, though the company also has its own app. With Apple's network, however, owners of lost items can get help from other Apple users in locating the tracker if it's within their range. Users are also guaranteed their privacy since Apple promises end-to-end encryption so that neither Apple nor Pebblebee can see the tracker's location. Both trackers sell for $29.99, but a 4-pack Pebblebee Clip is also available for $99.99.