Apple's Mixed Reality Headset Reportedly Just Hit A Big Milestone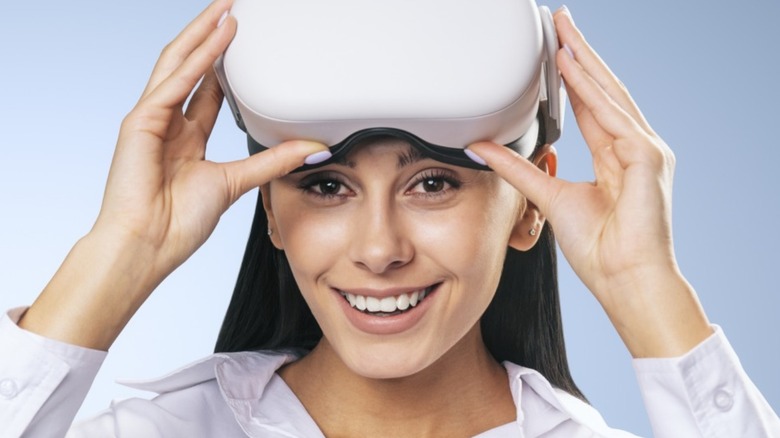 Who is Danny/Shutterstock
Virtual reality fans have been following rumors of an Apple VR headset since rumors of such a device first emerged all the way back in the early 2010s. Even as far back as April 2018, we reported that the wayward Apple headset was rumored to be a standalone mixed reality headset (supporting both VR and AR) that could include an 8K display for each of a wearer's eyes. The rumor mill hasn't slowed down much since then; in January 2022, we reported that Bloomberg had Apple's mixed reality headset pegged for a 2023 release window. This is likely due in part to the ongoing global electronics chip shortages that began back in 2020, at the beginning of the global COVID-19 pandemic, which appears to have taken a bite out of Apple's bottom line in recent months.
Bloomberg is at it yet again, with a sizeable albeit anonymous progress update for the fabled Apple headset that could spell new life in the device's hype cycle. Evidently, Apple's executive board, which includes Tim Cook and eight directors, has officially previewed a finalized Apple mixed reality headset just this past week. This preview was reportedly the culmination of several weeks of ramped-up development on Apple's proprietary rOS — the operating system that will likely be used by the long-awaited and yet-to-be officially announced Apple mixed reality headset.
What's expected of Apple's mixed reality headset so far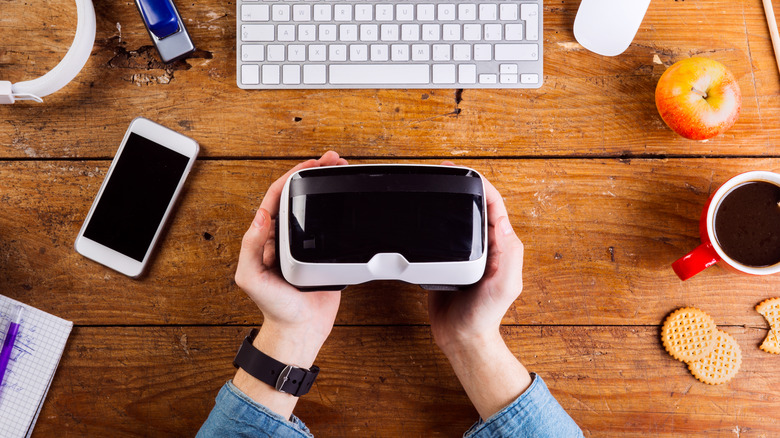 Halfpoint/Shutterstock
Unfortunately, specific details about the Apple mixed reality headset are slim; its design, functionality, and features have been speculated for some time, but solid details about the headset are anyone's guess. This is often the case with unannounced Apple products, which are traditionally announced sometime in the second half of each year.
However, the array of reports we've seen from Bloomberg can tell us a few things about what we might expect to see. For instance, back in February 2022, we reported that Apple could pack in its M1 chip and super-sharp Micro OLED displays into its next-gen headset. Regardless, the latest report strongly suggests that Apple is leading up to an announcement at the end of this year.
According to Bloomberg's anonymous sources, the Apple mixed reality headset is currently codenamed N301 — separate from Apple's rumored AR glasses, which are codenamed N421 — and it has been in development since 2015. We've discussed the potential MSRP of Apple's headset in the past, and it could very easily cost somewhere in the ballpark of $1,000 to $2,000 or more, especially if the chip shortage continues to be an issue in 2023.