Apple's iOS 15.5 Released: What's New For Your iPhone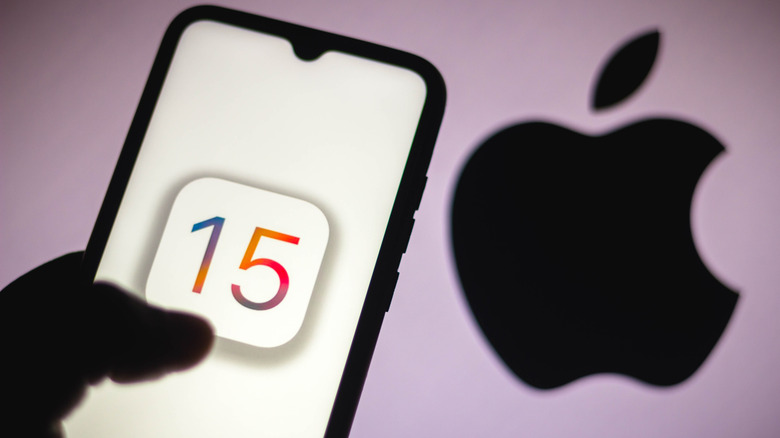 rafapress/Shutterstock
With the beta release from April 2022 well and truly wrapped up, Apple has made iOS 15.5 and iPadOS 15.5 available for everyone. Now anyone with an iPhone 6s and later, an iPad Air 2 and later, an iPad 5th generation and later, an iPad Mini 4 and later, any model of iPad Pro, or an iPod Touch 7th generation can get the latest operating system for their devices.
Both iOS 15.5 and iPadOS 15.5 will either download and install automatically (if you have "Automatic Updates" enabled), or they can be manually installed from Settings > General > Software Update. Just make sure you have around 641 MB of available storage space — possibly closer to 700 MB, just in case — on your devices so that you don't run into any installation issues. According to Apple's notes, the newest software version adds some new features for Apple Cash and Apple Podcasts, in addition to the expected running list of bug fixes and security updates. The company does note that not all features are available for all regions or all Apple devices, however.
What you can expect from iOS and iPadOS 15.5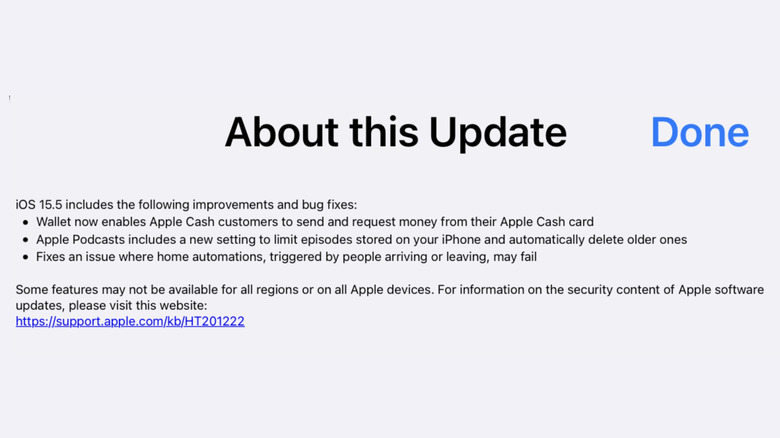 Rob Rich/SlashGear
The Apple Wallet app is getting a new option for Apple Cash users, allowing them to request or send money directly from their Apple Cash cards. Granted, the iPhone was able to do this already, but the update removes the need for using third-party apps for these kinds of payments. The "Apple Podcasts" app, meanwhile, is also getting a new bullet point on its list of features, giving users more control over episode limits. More precisely, they'll be able to set limits to the number of podcasts stored on their devices and can set the app to automatically delete older ones for them. This should help avoid issues with podcast downloads taking up too much storage space.
Beyond that, a fix for home automations (such as HomeKit) has also been implemented, addressing a bug that would occasionally cause processes intended to activate when someone enters or leaves a space to fail. Finally, there are the security updates, which are numerous. Standout fixes include ones that address an exploit that would allow malicious websites to track Safari users in private browsing mode and several ways attackers could take advantage of a device's Wi-Fi vulnerabilities. Don't worry, however — so long as you download the new update, all of this should be fixed and in working order going forward.