Why You Probably Shouldn't Install Windows 11 On Your Steam Deck Yet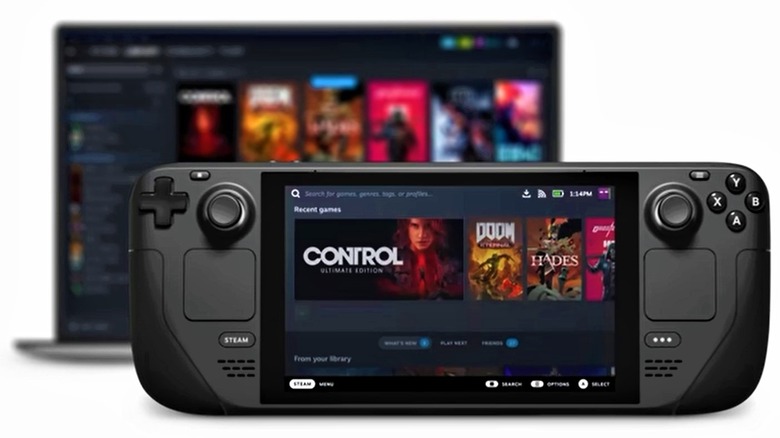 Valve/YouTube
Steam Deck is capable of using Windows 11 in lieu of its built-in SteamOS operating system, but whether that's even worth doing is something you should seriously think over. When the Steam Deck was first released in February 2022, it came pre-installed with Valve's Linux-based SteamOS 3.0. While the OS made accessing Steam libraries and playing games convenient, its limitations can feel too restrictive for those looking for a full desktop experience.
Fortunately, Valve released Steam Deck drivers that support Windows 10 and soon after released Windows 11 support. This made it possible for Steam Deck users to utilize a full-blown desktop OS, enabling the console to do a lot more than just handheld gaming. After all, the Steam Deck comes with a 4-core AMD Zen 2 processor capable of reaching up to 3.5GHz clock speeds and 16GB of speedy LPDDR5 RAM, making it pretty capable of replacing your desktop set-up entirely. The question now is, should you even do it?
Why install Windows 11 on your Steam Deck?
The problem with using SteamOS on Valve's mini-computer is that it can't exactly play every game that's available for Windows PCs, and not every title in your Steam library plays properly if it isn't part of the Steam Deck verified list. Installing Windows 11 removes those limitations, turning the Steam Deck into a device that can run virtually any application that meets its specs requirements. This includes titles found outside of Steam's ecosystem like Epic Games Store and EA Play games, as well as console emulators and various productivity applications like video-editing or graphic-design software. 
Furthermore, using Windows 11 instead of SteamOS opens up your Steam Deck to a plethora of possibilities and use cases. For instance, the Steam Deck specs contain hardware that makes full desktop or multimedia presentation mode possible, including a USB-C display port capable of supporting monitors of up to 8K resolution and a USB 3.2 slot that can connect USB hubs, storage drives, and other PC peripherals. Valve also revealed that the Steam Deck is "fully capable" of dual-booting, which allows switching to Windows 11 without removing SteamOS. Of course, the SteamOS wizard that makes this process convenient isn't available yet, so setting it up can get complicated. The thing is, this is just the tip of the iceberg when it comes to issues stemming from installing Windows 11.
Why Windows 11 on the Steam Deck is a bad idea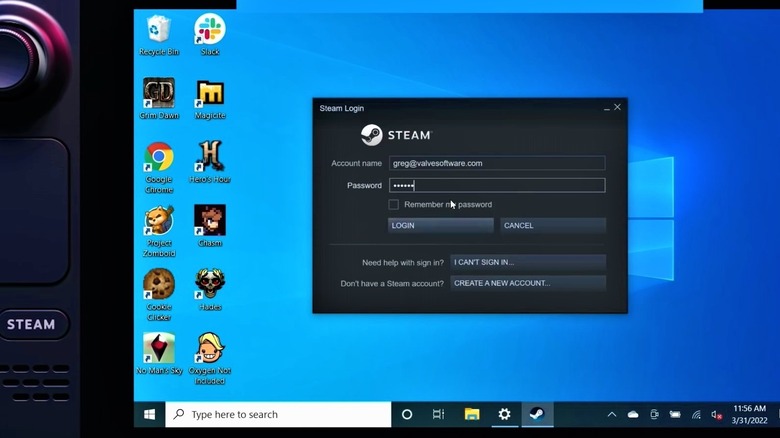 Valve/YouTube
There's a good reason why the Steam Deck utilizes SteamOS in the first place: it's specifically optimized for it. Using any other operating system only leads to a lot of technical hiccups. According to Techradar, switching your Steam Deck OS to Windows 11 can be a daunting task for the tech-inept, and when you do manage to get it running, there will still be a myriad of driver issues to deal with. If that isn't enough, the Steam Deck Windows 11 user experience can even result in frustration, as highlighted by a YouTube video demonstration from Linus Tech Tips.
Given its lack of optimization, various Windows features and interface menus can be seen either not working properly or they're not functional at all. In addition, playing the same Steam Deck games that ran smoothly on SteamOS ended up running badly while on Windows 11. This instability also translated to the hardware, as the Steam Deck's built-in controller worked in some Windows menus but then became completely unresponsive in others. As Valve mentioned, you will also have to resort to Bluetooth or a USB-C adapter for sound as audio drivers aren't supported yet. 
To make matters worse, Valve stresses that it won't offer support for any Windows on Steam Deck concerns as well, so if something goes wrong, you're on your own. Besides, having to boot up Windows 11 every time won't make your gaming experience as seamless either, so you're probably better off sticking with SteamOS for now.