2023 Range Rover Sport Promises V8 Today And A Full EV To Come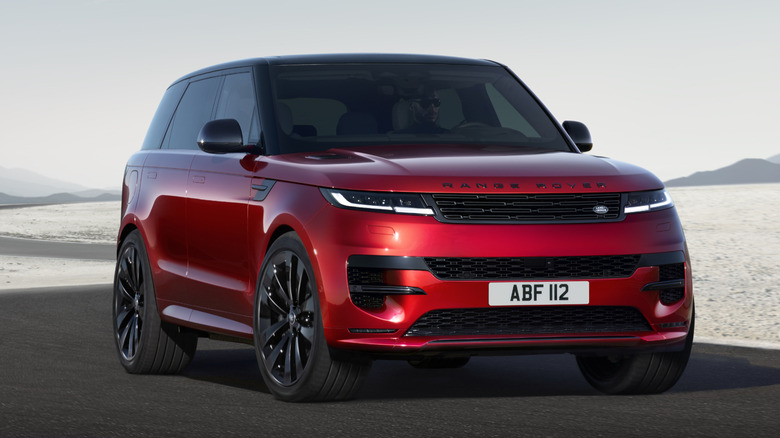 Land Rover
First came the new Range Rover, now the new 2023 Range Rover Sport, and those in the market for a sleek luxury SUV have two options with the promise of all-electric versions in the pipeline. Unveiled this week, the Range Rover Sport takes the sleek styling of its sibling and coaxes it into something more athletic, with a swooping roofline pairing neatly with the flush glazing and retractable handles.
As with the Range Rover, there's a new grille flanked by redesigned LED lights. Land Rover says they're the slimmest headlamps fitted to any of its vehicles. At the rear, the tailgate gets more LED lights and the longest spoiler ever on a Range Rover. It's not just aesthetics, either: the coefficient of drag is down to 0.29.
A Dynamic model throws on Satin Grey alloy wheels with Satin Burnished Copper trim, plus Matte Graphite Atlas badging. Inside, there's a mixture of classic materials like leather and wood, with new options like Ultrafabrics for those who want to skew more sustainable.
Gas now, all-electric later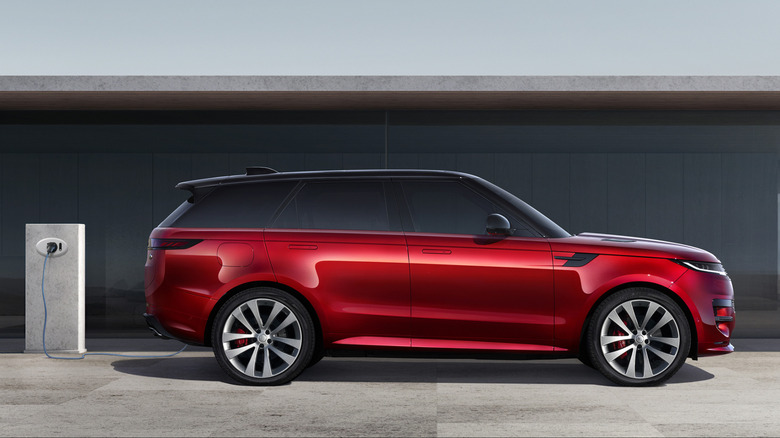 Land Rover
Like the full-size Range Rover, there'll be gas engines first, plus a plug-in hybrid, and finally an all-electric model on the roadmap. Initially there are two six-cylinder gas engines — the P360 and P400 — both with mild-hybrid tech, plus a V8 twin-turbo for those not quite ready to give up their eight cylinders. It'll do 0-60 mph in 4.3 seconds, the automaker claims.
A Range Rover Sport P440e Electric Hybrid will pair a 3.0-liter six-cylinder gas engine with a 105 kW electric motor, meanwhile, for a total of 434 horsepower. That's enough for 0-60 mph in 5.5 seconds, Land Rover says. With its 31.8 kWh battery, there's enough charge for an estimated 48 miles of range. As with the V8 and mild-hybrid versions of the SUV, an eight-speed ZF automatic is standard.
Things will get really interesting in 2024. That's when the first all-electric Range Rover Sport will debut. Land Rover is playing details of that model close to its chest, however.
Adept on and off the road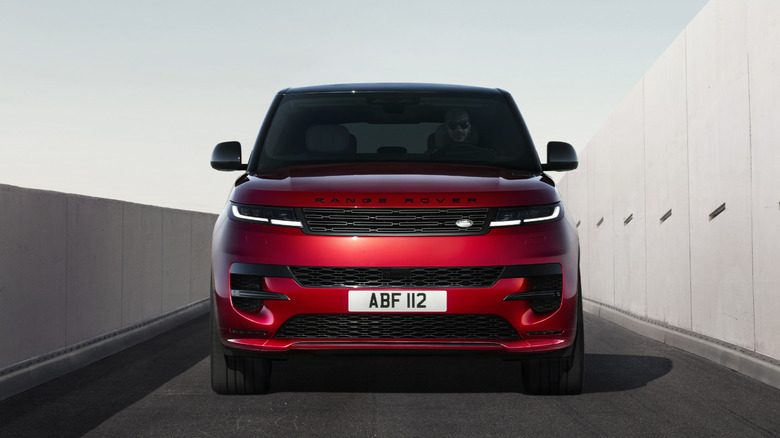 Land Rover
All-wheel drive is standard, as is Adaptive Off-Road Cruise Control. That has four settings for speed and comfort, and is intended to be used on rough surfaces; it handles pace, leaving the driver to focus on steering. Terrain Response 2.0 is also included, automatically assessing the terrain and adjusting the suspension, drivetrain, and other settings accordingly.
On the road, meanwhile, the new Range Rover Sport has Dynamic Response Pro (on the First Edition) and Dynamic Air Suspension, the latter with switchable-volume air springs that automatically adjust according to the terrain ahead. A 48-volt anti-roll bar helps with cornering stability. Adaptive Dynamics 2, meanwhile, tweaks the Active Twin Valve Dampers to trim unwanted body movements.
All-wheel steering is included, and there's an electronic active differential, plus brake-based torque vectoring. The First Edition also gets the Stormer Handling Pack, which has Configurable Programs to personalize the drive modes.
A higher-tech cabin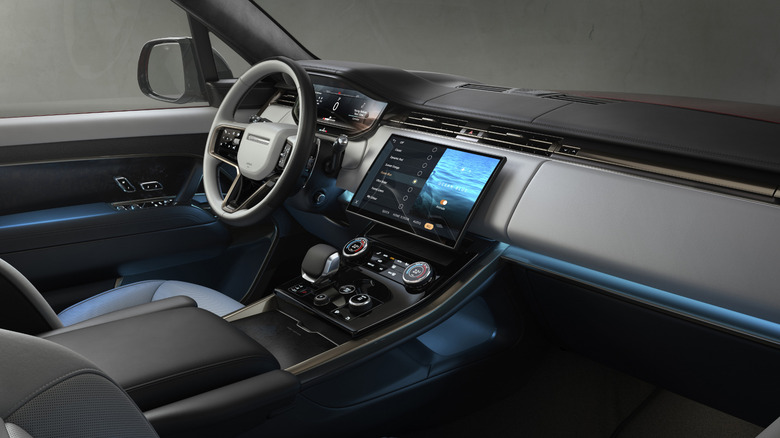 Land Rover
In the cabin, there's Pivot Pro, Land Rover's infotainment system, on a 13.1-inch curved touchscreen. The driver gets a 13.7-inch display, and there's Amazon Alex integration, Apple CarPlay and Android Auto — both wireless — and a 15W wireless phone charger. A 360-degree camera is standard, as is lane-keeping assistance, front and rear parking sensors, and ClearSight Ground View.
The front seats can be had in a 22-way-adjustable heated and ventilated form with massage and winged headrests. A Meridian Signature Sound System is available, with 1,430W driving 29 speakers including four in the headsets themselves. There's a little extra legroom in the second row, and Cabin Air Purification Pro is optional for better air filtration.
Orders for the new 2023 Range Rover Sport are being taken now, with the SUV priced from $83,000 (plus destination). The fully-loaded First Edition starts at $121,500 with the P530 V8 gas engine.