How To Use Samsung's Find My Mobile App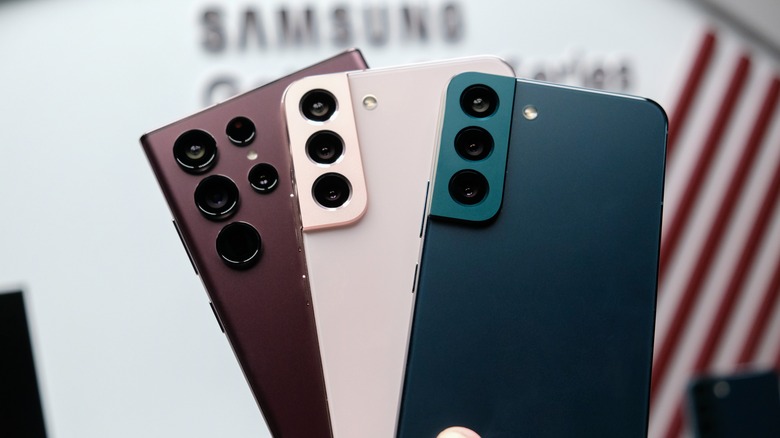 Framesira/Shutterstock
For most of us, losing our smartphone can be a painful experience — not only financially but also emotionally. Thankfully, not all hope is gone when a phone is lost because many brands provide reliable tools to remotely track, lock, and even reset lost devices. While Apple's Find My is a cherished solution for people to track any device linked with an iCloud account, a similar solution exists for Android users who have Samsung smartphones. You can use Samsung's Find My Mobile app to pinpoint a Galaxy phone's location down to within several feet. Setting it up takes just a few steps.
Samsung's Find My Mobile relies on a Galaxy smartphone's internet connection and location. This tutorial will take you through the steps to set up and use Samsung's Find My Mobile feature to locate any Samsung device. While the steps in this guide are noted using One UI 4.1, you can expect the steps to be consistent with older versions of One UI, as well.
How to set up Samsung's Find My Mobile app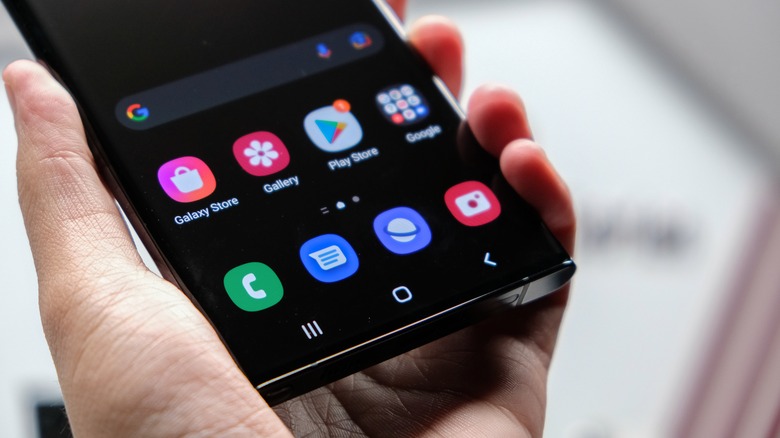 Framesira/Shutterstock
Samsung's Find My Mobile app is preinstalled on every Samsung One UI device and integrated within the Security settings of each device. Before using the feature to locate a smartphone or tablet, you must activate it in the device's Settings.
To get started, open the Settings app. Make sure you are signed in with a Samsung account, as that will help you log in to the tracking portal later. If you do not have a Samsung account, you will be prompted to create one using your email ID or phone number. You can also use your Google account to quickly sign up for a Samsung account.
After setting up your Samsung account, go back to the main page in Settings and scroll down to "Biometrics and Security." Under the Google Play system update feature, you will find "Find My Mobile." Tap the feature to enter the specific page for the feature. Make sure the toggle for Find My Mobile is turned on.
Next, you can turn on options such as:
Remote unlock, which allows you to unlock your phone in case you forget the password, unlock pattern, or PIN.
Send the last location, which automatically sends your location to the tracking server when your Samsung device's battery gets low.
Offline finding, which will allow other Galaxy phones to find your lost phone even when it is not connected to the internet. This is especially useful when your phone has been stolen or found by someone but not returned.
How to use Samsung's Find My Mobile app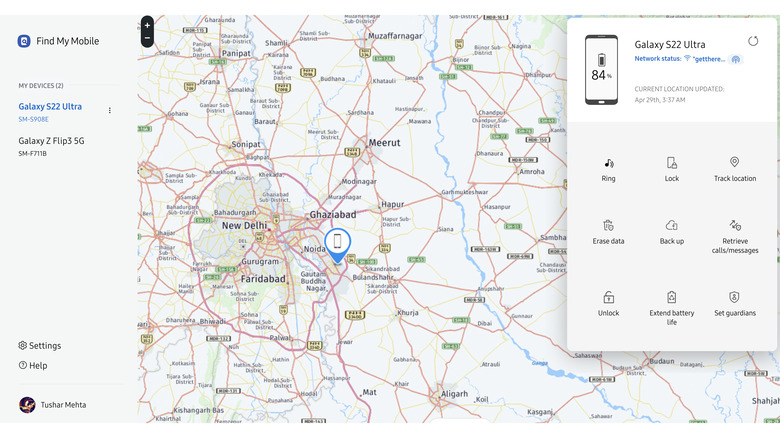 Tushar Mehta/SlashGear
Most of the challenge is complete once you have set up Find My Mobile on your Samsung device. Tracking the phone is a cakewalk — as long it has internet connectivity or is surrounded by other Samsung devices, that is.
To start the process, go to Samsung's Find My Mobile page and sign in with the Samsung account you created while setting up the device. If you open the portal for the first time, you will be asked to allow the browser to access your location and agree to Samsung's terms and conditions. With no way around that, you can get started by accepting these terms.
Once you agree to the terms and conditions, the Find My Mobile app will take a few seconds to locate your Samsung device. If you have multiple devices linked to your Samsung ID, all of them will be listed here.
You will get a map view that will show the precise location of the misplaced Galaxy phone. You can access options to lock, erase, and back up your smartphone remotely with the app. You can also use the options to restrict calls and messages, turn on battery saver mode, and assign contacts — known as "guardians" — who can also remotely control your device in an emergency. Lastly, if you have just kept the phone but can't find it, you can use the Ring feature to make the device ring at the highest volume.
How does Samsung's Find My Mobile app work?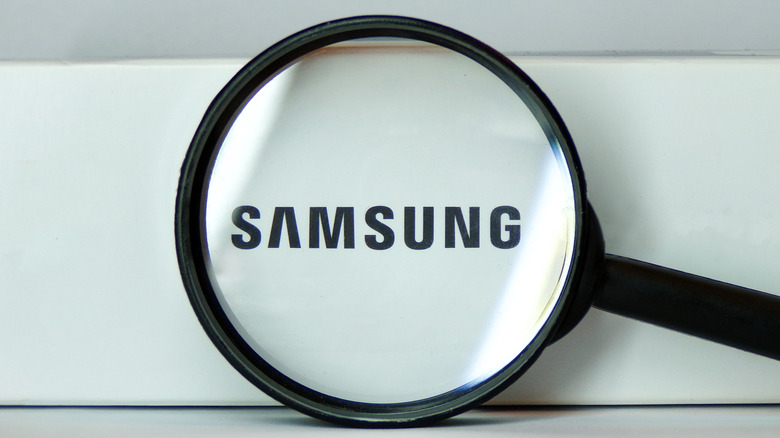 Stakon/Shutterstock
The most recent location of your Samsung smartphone or tablet can be seen on a map which is updated based on the frequency of the signals received from your smartphone. The chances of you accurately obtaining the location of your device improve with the strength of the internet connection on your phone. Likewise, tracking your phone's location without an active internet connection will be difficult unless your device is surrounded by other Samsung devices and the option for offline searching is turned on, on the smartphone.
In case the smartphone does not have cellular or Wi-Fi connectivity, it becomes more difficult to track it. So it is vital for you to try and track your smartphone as soon as possible. Before the phone's battery dies, it will automatically send the device's location to the server, and that can be retrieved later — but only if the Send the last location option is turned on. You can zoom in and out on the map to identify the device's exact location. Unfortunately, the interface does not allow you to directly navigate to the point, which would have made the discovery process much more manageable.
How to track phone location with Samsung's Find My Mobile app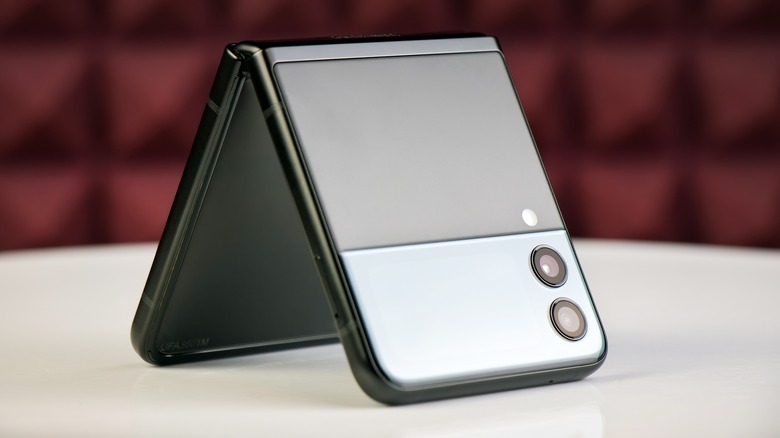 ESOlex/Shutterstock
To locate your Samsung smartphone to a T, click on the "Tap location" option placed along the right edge of the Find My Phone web application. Once the smartphone's location is determined, you can click on the button again, and the application will ask your permission to update the location every 15 minutes. This will start logging the active location of your smartphone every 15 minutes.
Besides allowing you to track a stolen phone, this option also helps you get periodic updates about your phone's location if you have handed it to someone else. If the location stops updating, it could imply the person has lost internet connectivity. Parents can also use this to track their kids' whereabouts and be sure of their security. If the location displayed on the app seems outdated to you, you can click on the refresh icon (↺) to update it to the current location.