The Samsung Electric Car You Probably Didn't Know Existed
You probably know the Samsung brand as a maker of high-quality smartphones, tablets, home appliances, and other electronic gadgets. Few are privy to the fact that Samsung or its subsidiaries have built ships, skyscrapers, and deadly weapons, too — everything from the Burj Khalifa in Dubai to machine gun robots. Samsung is a multinational conglomerate — the company's electronics division (Samsung Electronics) employs upwards of 370,000 employees worldwide (as of November 13, 2021). Looking at it another way, consider that Apple only has an estimated 154,000 employees (as of December 31, 2021, according to Fortune) despite its $2 trillion market cap and reputation as the most valuable company globally.
Like Apple, Samsung doesn't have a car (electric or otherwise) — or does it? Unless Apple fulfills its promise of unveiling an iCar this decade, Samsung has technically beaten its rival to the punch with the Renault Samsung Fluence SM3 ZE. Samsung's been selling the SM3 ZE in South Korea since 2013, and it became the country's most popular electric vehicle by 2016.
Renault Samsung Fluence SM3 Z.E.: French origins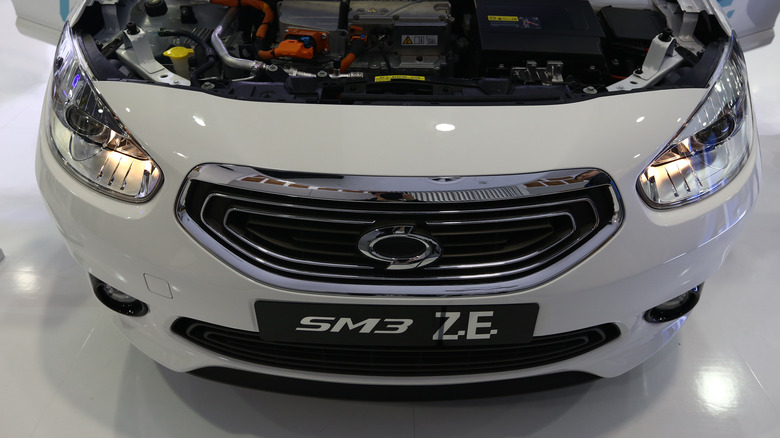 Bloomberg/Getty Images
Samsung sought the help of French automaker Renault-Nissan for its SM3 Z.E. electric car. First unveiled at the 2011 Seoul Motor Show in South Korea, the SM3 Z.E. is a Samsung-specific version of Renault's Fluence Z.E. electric car (also based on a gas-powered Fluence sedan produced until 2015) that debuted at the 2009 Frankfurt Auto Show. It was known back then as the first modern electric car with battery swapping technology, and it was the UK's most affordable electric vehicle in 2012.
However, Renault withdrew the Fluence Z.E. in France in February 2014, according to Green Car Reports – just in time to make room for the brand's newest range of E-Tech electric cars. As Renault has held an 80% stake in Samsung Motors since 2000, the French automaker formed RSM (Renault Samsung Motors) with Samsung to build a local variant of the Fluence Z.E. in Busan, South Korea, which it called the RSM SM3 Z.E.
By 2016, Samsung's all-electric sedan was so popular that one out of three EVS in South Korea was an SM3 Z.E. It was the only midsized all-electric sedan in Korea, and RSM had no trouble selling 1,767 units of the SM3 Z.E. from 2013 to 2016. The South Korean government made it their official government vehicle, and it also became the taxi of choice in Seoul city.
RSM SM3 Z.E. Specs, Range, and Performance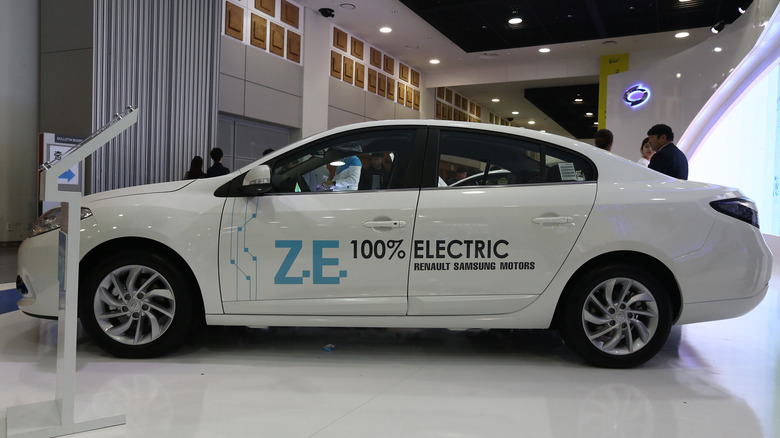 Bloomberg/Getty Images
The RMS SM3 Z.E. had a 23 kWh lithium-ion battery pack and a single 70 kW electric motor turning the front wheels. If you push the pedal to the metal, the electric motor unleashes 167 pound-feet of torque and an 84 mph (135 kph) top speed. With its dinky battery pack, the SM3 Z.E. is only suitable for about 113 miles (182 km) of range, but the driving range is not so big of a problem in a small nation like South Korea.
In 2018, the SM3 Z.E. got a battery upgrade that extended the driving range to 132 miles (213 km) per full charge, and it came courtesy of a larger 36 kWh battery. According to Renault's press release, the Korean Transportation Safety Authority (KOTSA) conducted a study in 2016. It found out that the daily average car trip in South Korea is 40 kilometers (roughly 25 miles), which meant SM3 Z.E. buyers could drive for five days on a single charge. 
With a starting price of around 37 million South Korean won ($29,100) before applying up to 12 million won ($9,434) in government subsidies, the SM3 Z.E. is a genuinely affordable electric sedan. Despite this, the onslaught of longer-range electric vehicles from Tesla, Chevy, and Hyundai/Kia made the SM3 Z.E. gradually diminish from the spotlight, and RSM pulled the plug by early 2020.