VW Wants To Take Tesla's Top Spot In The EV Market - Here's How They Could Do It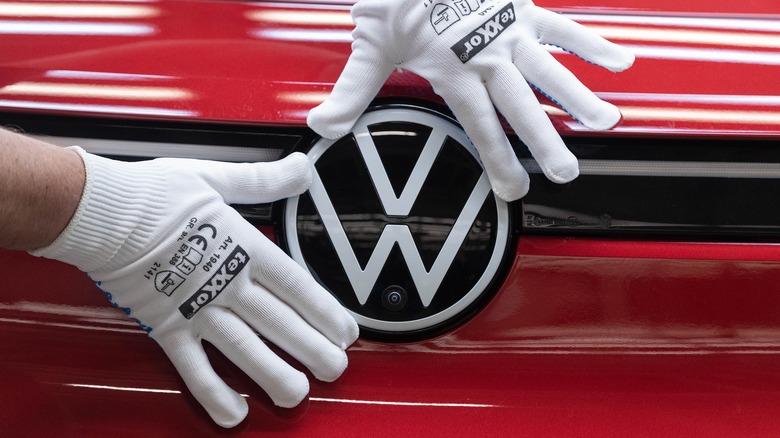 Bloomberg/Getty Images
It's no secret that Volkswagen and Tesla are competing head-to-head to take over the EV market; though 2021 closed with Tesla leading the global rank with 936,174 vehicles sold, VW followed closely with 757,994 sales (via Inside EVs). Things changed in a big way in early 2022 when record-high gas prices driven by the Russian-Ukraine war drove demand for all-electric cars to new highs.
Faced with an increased global appetite for green cars that can cut dependency on fossil fuels, both VW and Tesla drew up their game plans, and both companies came to the same conclusion: production needed to be scaled dramatically. On March 21, 2022, Tesla CEO Elon Musk tweeted details of what he called the "Master Plan 3," explaining it would be all about "scaling to extreme size, which is needed to shift humanity away from fossil fuels and AI". One day after his "Master Plan" tweet, Musk himself inaugurated the new Tesla Berlin Gigafactory, an intelligent, highly automated car plant built to double the company's global production of cars.
The new Tesla Gigafactory in Germany is just one hour away from VW headquarters where the latter company will invest $2.2 billion to build a new plant exclusively for EV manufacturing, per Bloomberg. Volkswagen dominates the European EV manufacturing market and responding to Tesla's move on Europe, it decided to take on its competitor on its own home turf, as well. The company announced it will invest $7.1 billion in the U.S. to focus on its American EV strategy with models like the reimagined electric VW bus, ID. Buzz
Robotics, smart factories, and vertical integration will change EV plants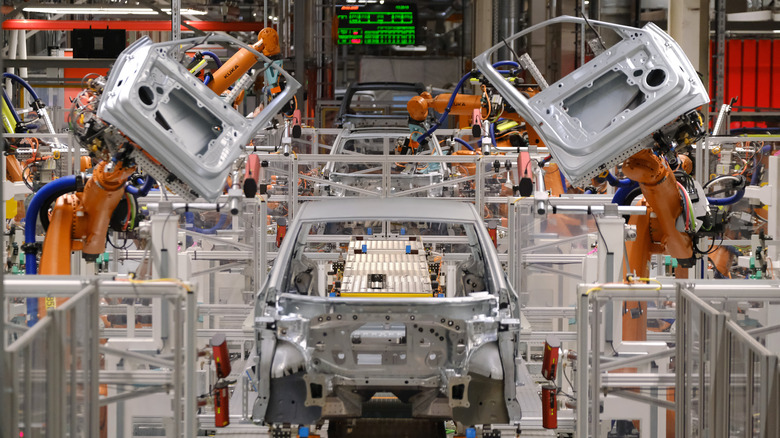 Sean Gallup/Getty Images
EV carmakers that vertically integrate their production and build most of their car parts in-house have the upper hand when supply chains are heavily affected. The CEO and President of Volkswagen Group of America, Scott Keogh, told CNN Business in an interview on April 19, 2022, that chips, nickel, lithium, and other key components needed to manufacture EVs are in serious shortages. The company is investing in vertical integration strategies.
Tesla has been working on vertical integration for years. In 2016, Electrek echoed a report from a Goldman Sachs analyst that said Tesla was 80% vertically integrated. The report highlighted how rare this model was for the automotive industry in those years. Traditionally, car factories depended on different manufacturers and suppliers to build a car, but the vertical integration approach seeks to reduce that dependency and build everything in-house. A Tesla drone flythrough video of the new Berlin Gigafactory shows what vertical integration looks like in the modern world. Additionally, the video reveals how Tesla uses extremely automated and advanced robotics to lead in global production.
While the car industry was the first to massively embrace robotics in factories, Tesla takes this concept further. The company merges robotics and automation with AI, creating a system that gets smarter for every car it builds. VW is fast to learn, even from its main competitor, and has taken the same robotics approach. "I have always admired Elon Musk and Tesla, he said 'make a cool car and good things happen,'" Keogh told CNN.