What Tesla's Stock Plunge Could Mean For Elon Musk's Twitter Takeover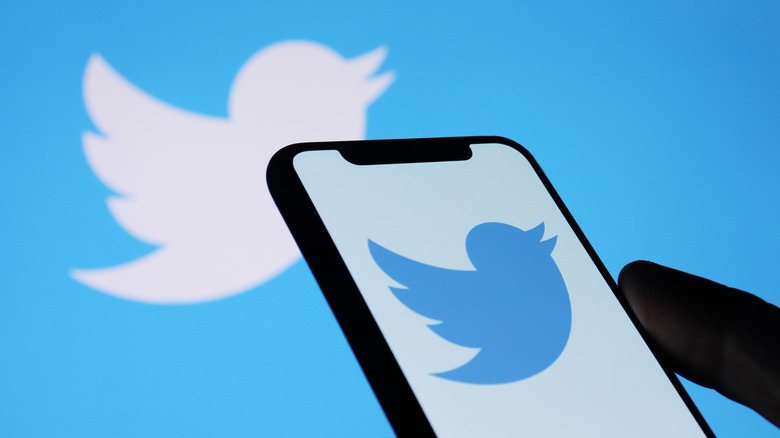 A9 STUDIO/Shutterstock
Elon Musk purchased Twitter on April 25, 2022, for roughly $44 billion, but not without some blowback. As it appears, the infamous Tesla mogul forgot to account for the effects his ambitions might have on the share price of Tesla, which dropped from a high of roughly $999 billion on the morning of April 25, to a low of $876 billion in the late afternoon of that same day, according to the NYSE as quoted by Google Finance.
According to the BBC, it's likely that Tesla shareholders sold a high number of shares in a flurry, due to growing concerns that Musk would be leveraging Tesla stock to foot the bill for his Twitter purchase. In the case that Musk sold a significant number of his own shares, the overall value of the stock would plummet, and investors seem to agree that there was a considerable risk of him doing so — triggering a pre-emptive selloff of their own. Since April 25, the Tesla stock has begun to regain value, but it's still unclear how Musk plans to manage his finances with regard to the recent Twitter purchase. 
When Elon Musk's bid to purchase Twitter first became publicized, he pledged to use $21 billion of his own money to make the purchase, but it's not entirely clear how much of that cash was implied to be coming from Tesla stock sales. The New York Times noted that Musk holds 17% of Tesla's shares, equating to about 175 million shares in all.
What's next for Twitter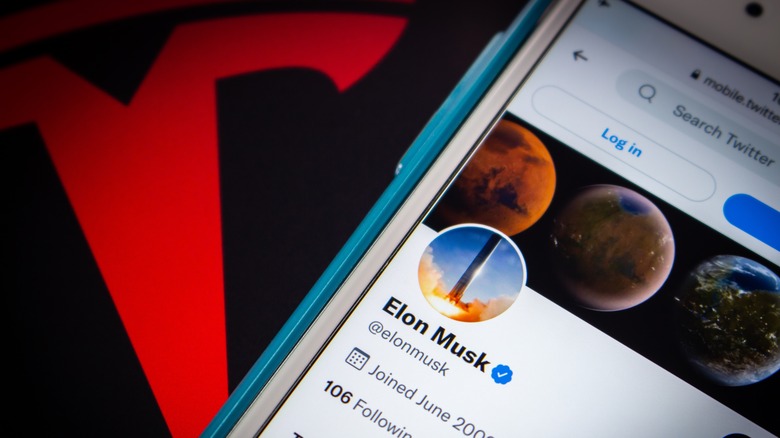 Koshiro K/Shutterstock
The dust from the explosion that was Elon Musk's Twitter buy is still settling, but some are already beginning to anticipate the effects of a soon-to-be privately-owned Twitter under Musk's ownership. The finalization of Musk's purchase has yet to entirely go through, according to the SEC, and there's still technically a chance that the deal could fail sometime before October 24, 2022, in which case Musk will be handed $1 billion and a farewell notice according to the official SEC merger document. After all, it still isn't clear where Musk is going to pull the $21 billion needed to complete the deal.
A lot could still go wrong before October, and Musk himself could be the one to screw things up. One clause in the merger contract, under Section 6.8, states that Musk "shall be permitted to issue Tweets about the Merger or the transactions contemplated hereby so long as such Tweets do not disparage the Company or any of its Representatives." Musk has already breached this exact clause as of April 26, when he tweeted a direct criticism of Twitter's safety lead Vijaya Gadde for her formal involvement in banning former president Donald Trump and his proprietary media organization from the platform, saying, "Suspending the Twitter account of a major news organization for publishing a truthful story was obviously incredibly inappropriate."
Twitter's shareholders have yet to completely finalize the transaction, but it still seems likely that they will. The aforementioned shareholders have planned to hold their next annual meeting on May 25, 2022.