Elon Musk's Starlink Internet Goes Free For Flights - But There's A Catch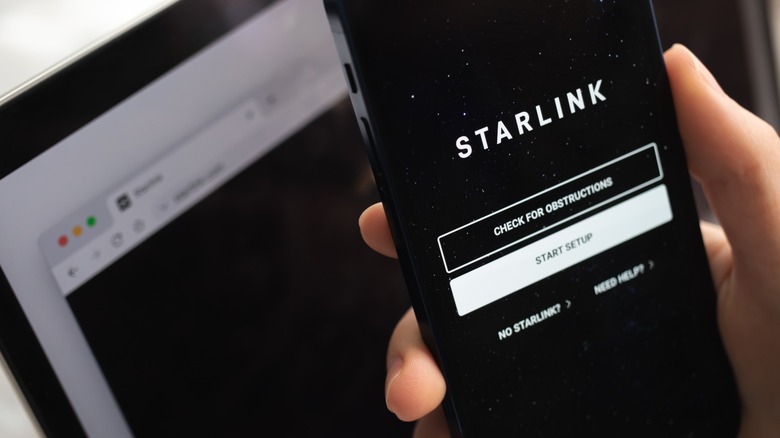 FellowNeko/Shutterstock
SpaceX has inked a deal with Hawaiian Airlines to offer high-speed in-flight Wi-Fi service using its constellation of Starlink internet satellites. Hawaiian Airlines is the first commercial passenger airline service to rope in Starlink as an internet service provider. A few days ago. SpaceX signed a deal with Texas-based JSX, which operates a fleet of around 100 semi-private chartered airplanes, while Delta Airlines confirmed in April that it has tested Starlink's satellite internet hardware on an "exploratory" basis aboard its passenger airplanes.
Interestingly, Tesla's first live service client will be offering the Starlink internet perks for free. "Our guests can look forward to fast, seamless and free Wi-Fi to complement our award-winning onboard Hawaiian hospitality," said Hawaiian Airlines chief Peter Ingram. The company has not revealed details such as the maximum speeds that flyers can expect, or if there will be any cap on data consumption. Starlink's low-latency broadband internet will initially be available on Hawaiian Airlines' fleet of Airbus A330 and A321neo aircraft, as well as the upcoming Boeing 787-9s.
The aviation company will put Starlink hardware on flights operating across the continental U.S., Asia, and Oceania. Flyers won't have to go through hassles such as payment portals or registration pages for linking their devices with the in-flight Starlink Wi-Fi network, but it will take some time before passengers can get to experience Starlink's satellite internet aboard their next Hawaiian Airlines flight.
Long wait with a long distance caveat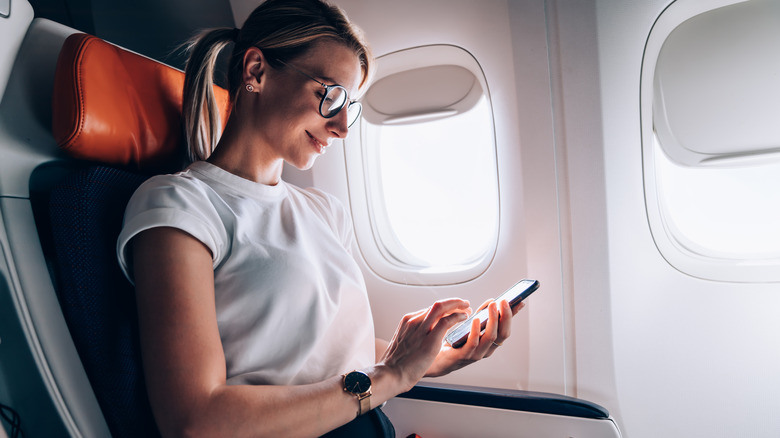 GaudiLab/Shutterstock
Both the companies are currently in their initial stages of implementation and Starlink's satellite receiver will only start appearing on select Hawaiian Airlines vehicles in 2023. Starlink satellite internet will only be available on long-distance flights, as the company has excluded its fleet of Boeing 717 aircraft that ferry passengers between the Hawaiian Islands. However, the company promises that Starlink's in-flight internet service will be fast enough for video streaming and playing multi-player games. Whether it will be capable of cloud-based game streaming remains to be seen.
As for SpaceX, the company is leveraging its laser mesh network formed by internet-beaming Starlink satellites, of which there are over 2,000 in the low-Earth orbit. This internet service competes against Gogo and ViaSat, two players that currently dominate the in-flight Wi-Fi service provider segment. However, Musk's brainchild already has a few critical advantages. Starlink satellites are positioned in lower orbits and offer a denser network, which means the internet speeds will be higher with minimal disruptions when flying across continents.
Additionally, SpaceX offers an in-house and extremely reliable infrastructure of vehicles that can inject more satellites into the orbit at any given time, a luxury rivals don't have at their disposal. Ever since SpaceX announced plans of offering in-flight Wi-Fi services to airline clients in 2021, the company has modified its antenna hardware for a wide range of airplanes. Even though bandwidth remains a mystery, Elon Musk promised half-gigabit connectivity in a tweet he posted in 2021.