Delta Is Testing Elon Musk's Starlink Internet For Planes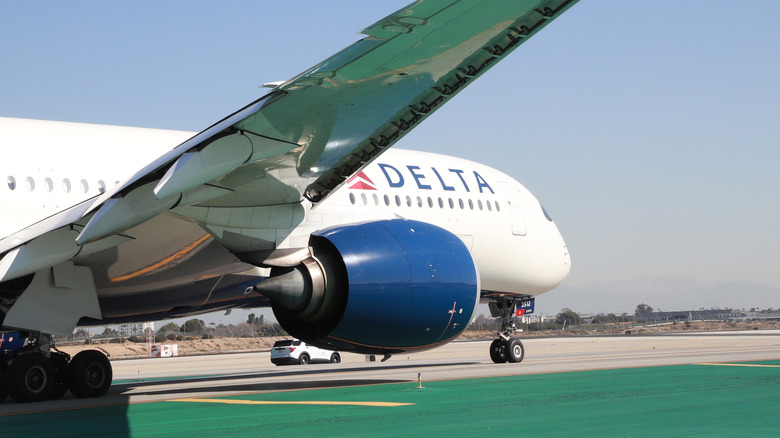 Joe Scarnici/Getty Images
Elon Musk's Starlink satellite-based internet system has slowly been gaining momentum since the first 60 of its small satellites were launched in early 2019. Musk's SpaceX has now launched around 1,800 of its satellites into orbit with 250,000 users signing up to its broadband internet services across 25 countries with more users and supported countries being added with each passing day (via Business Standard). Although many of its customers — both business and personal home users — are terrestrially based, SpaceX has long harbored ambitions to tap into the commercial airline market as the satellite internet provider of choice.
SpaceX VP Jonathan Hofeller discussed the company's plans for commercializing Starlink at the Connected Aviation Intelligence Summit last year, describing an "aviation product" that it had been testing. According to Hofeller, the Starlink product would be superior to traditional satellite internet offerings because of its "global mesh" of satellites that offer connectivity in any location.
Starlink's ambitions are taking off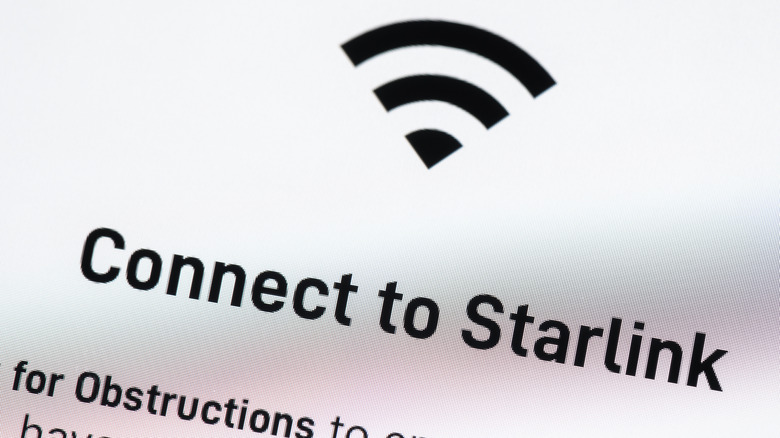 Thomas Dutour/Shutterstock
Starlink's airline internet ambitions now look as though they are starting to be fulfilled with the Wall Street Journal reporting that Delta Airlines has commenced early service testing. It is an intriguing development as Delta is already partnering with Viasat to offer in-flight Wi-Fi to customers, a service which it commenced last year. It suggests that Delta is keen to compare the two offerings based on real-world performance, rather than relying on glossy brochures or marketing spiel.
At this stage, however, Delta is calling its examination of Starlink's internet services nothing more than "exploratory tests." In a world where always-on connectivity is becoming part of the everyday norm, customers flying on airlines also expect to enjoy the option of having wireless internet connectivity throughout their trip. Offering an in-flight internet system that is both fast and reliable is undoubtedly an area where an airline can gain a competitive advantage.
Plans for ongoing expansion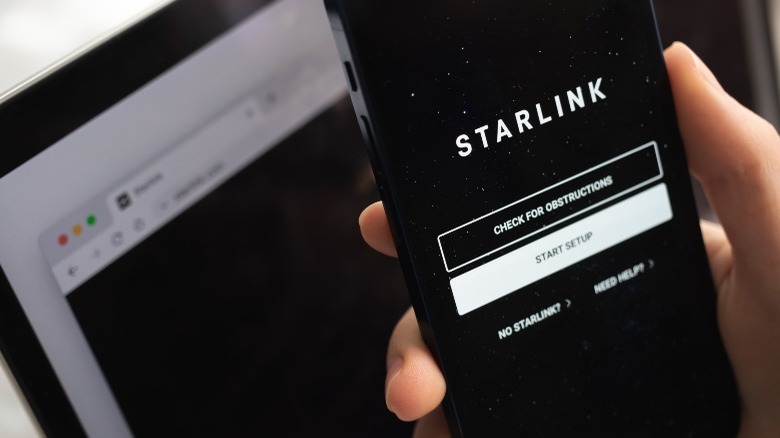 FellowNeko/Shutterstock
At around the time Starlink's Jonathon Hofeller first indicated its ambitions to get into the aviation internet service market, Elon Musk tweeted that they were focusing on internet provision certification on the Boeing 737 and the Airbus A320 as these planes "serve the most people." But Musk's ambitions for Starlink naturally don't stop at commercial airlines — the United States Air Force is also investigating whether Starlink internet connectivity can be used for its fleet. Testing is said to be focusing on the ability to transmit and receive data from two sites located on the ground and a military aircraft in flight. Ball Aerospace, an Air Force contractor, is involved in the program and is working to create low-profile antennas coupled with a faring to reduce impacts on aircraft drag and performance.
In the meantime, SpaceX is continuing to deploy more Starlink satellites as it works to expand coverage, although it has not been without setbacks. It was only in February that it lost up to 40 just-deployed satellites following a geomagnetic storm. The irretrievably damaged satellites were deorbited and destroyed on reentry into the Earth's atmosphere. Ultimately, however, Space X is aiming to have as many as 42,000 satellites active in its global internet network. This would help ensure the final Starlink network is resilient and robust to the kinds of solar disruptions it experienced back in February while also providing truly global internet service.