Chevrolet Just Dropped An Electric Corvette Bombshell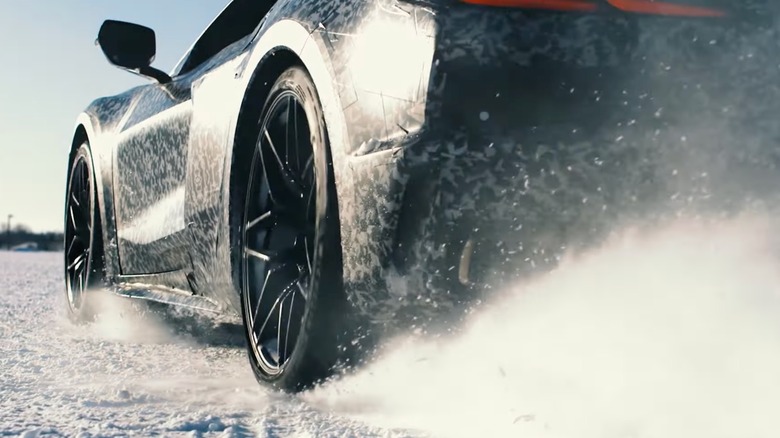 GM
Chevrolet's iconic Corvette is going electric, with the automaker today revealing its roadmap for how the all-American muscle car will fit into its transition to EVs. The first electrified Corvette will be on offer potentially as early as 2023, GM President Mark Reuss confirmed this morning on LinkedIn, helping keep the pony car relevant as gas engines dwindle in General Motors' sales. It's big news for 'Vette fans, for whom beefy internal combustion engines have long been a primary point of appeal. The current Corvette Stingray C8, for example, comes standard with a 6.2-liter V8 gas engine and an 8-speed dual clutch transmission. Together, they offer up to a 194 top speed, and a 0-60 mph time of just 2.9 seconds.
The electrified Corvette, meanwhile, will be followed by a fully electric version of the sports car. Exactly when that will happen, Chevy isn't saying quite yet. General Motors has previously said that it plans to only sell zero-emissions vehicles by 2035.
First, a hybrid Corvette
While the Corvette C8 has been resolutely gas-powered so far, just like its predecessors, Chevrolet didn't design the eighth-generation sports car with solely internal combustion in mind. Chevy confirmed the Corvette C8's potential electrification back in mid-2019. At the time, though, company execs were coy on just what form that electric drive might take. The easiest option, of course, is a mild hybrid. That typically involves a 48V electric starter-generator paired with a relatively small battery. The result would likely be no electric-only range, but the ability to fill in gaps in the gas drivetrain — such as during gear changes — with power from the electric motor. It could also contribute its performance during periods of fast acceleration, then act as a generator when the Corvette mild hybrid was slowing, feeding power back into the battery pack.
However, Chevy could go further than that, with a full plug-in hybrid option for the Corvette. The PHEV would have a larger battery and a way to charge it externally, such as from a home or workplace wall charger. We've seen some automakers experiment with that, such as the limited-edition Polestar 1, though the challenge is inevitably balancing the weight of both a gas and electric drivetrain, plus the batteries required.
The all-electric Corvette is coming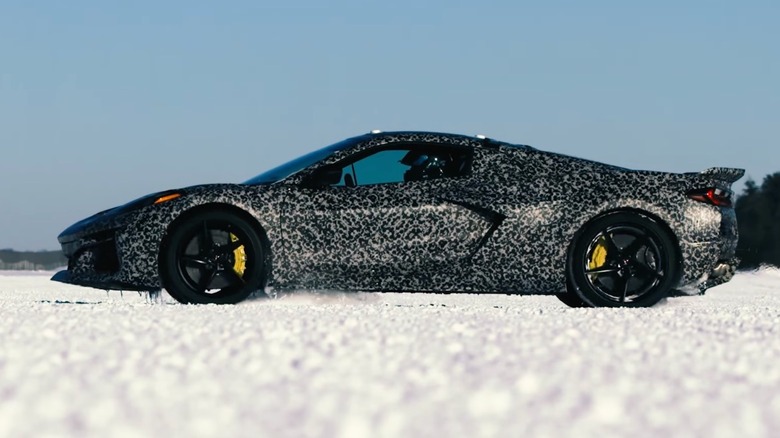 GM
As for the all-electric Corvette, that will require a more fundamental evolution of the car. Gone will be the gas engine, which in the eighth-generation 'Vette is situated in the middle of the chassis rather than — as was the case in all previous models — at the front. Instead, there'll be some combination of electric motors and a sizable battery pack. Certainly, there's no doubting that electric cars can be just as fast, or faster, than their gas counterparts. The GMC Hummer EV, for example, is one of the heaviest vehicles on sale, and yet the all-electric pickup truck can still do 0-60 mph in around 3.0 seconds. Given the aerodynamic advantages of a coupe, along with the lower weight and the arrival of instantaneous torque, there's no doubting that the Corvette EV could well be even faster.
The electric Corvette will use the same Ultium platform as the Hummer EV — and other upcoming electric models like Cadillac's Lyriq and Chevrolet's Silverado EV — though GM's Reuss is holding back on confirming details of the specific arrangement. One potential advantage to EV performance cars, for instance, is the ability to use multiple electric motors. The Hummer EV launches with three, for example, but we've also seen quad-motor vehicles such as the Rivian R1T where each wheel gets independently-controllable power. That can deliver big advantages in not only straight-line speed but also cornering prowess.
There's also the possibility of a unique name for the electric Corvette. That, too, is being held back for later announcement, with Reuss promising that more specs, technical details, and branding will follow in the coming months.